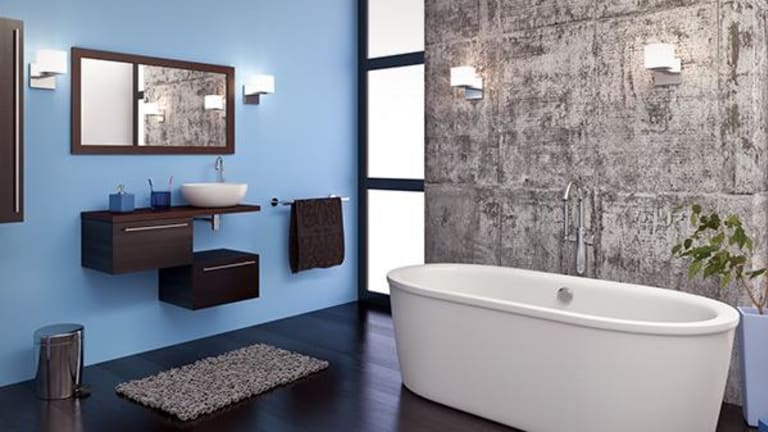 These 3 Tips Will Help You Find an Affordable Place to Live in the Scorching Housing Market
U.S. housing starts are up - what does that mean for the residential real estate market?
The U.S. Commerce Department is out with new housing start numbers, and the operative term is "rebound," as the numbers came in ahead of analyst expectations.
According to the Commerce Department, U.S. housing starts total 1.215 million in June (an 8.3% rise), ahead of the 1.16 million starts predicted by economists. The number is an encouraging one for the real estate sector, as U.S. home starts had declined the three previous months.
Even with the stronger-than-expected numbers, real estate experts say the home sales landscape remains unchanged, with sellers still calling the shots.
"Today's report reversed a downward trend in new home construction, but will do little to shift the tide from the current seller's market," says Joseph Kirchner, senior economist at Realtor.com. "In order to significantly relieve the shortage of houses on the market, we should be seeing housing starts north of 2.2 million homes, far above June's 1.2 million homes. We expect the bidding wars to continue for the foreseeable future in many inventory-starved housing markets."
That seems to be the across-the-board sentiment on the housing market right now, with inventory a major log jam to market growth.
"While housing starts beat expectations, the surge wasn't nearly enough to solve the longstanding inventory shortage issue," notes Cedric Stewart, a 13-year real estate specialist and team leader of entourage RG at Keller Williams in Washington, D.C.
However, more resale homes will enter the market because plenty of these new homebuyers are "moving-up" or downsizing from existing homes, Stewart says. Nonetheless, a big spike in lumber prices will continue to impact home building for the foreseeable future, making it difficult for starts to keep pace with overall demand," he adds. "Currently, the demand for well-priced homes in good condition looms large, which means sellers still have the power in our market."
One of the nuances that's often lost in the discussion of housing supply and demand right now is the imbalance between new construction of luxury homes versus starter homes, says Brian Davis, a real estate investor with 15 properties, and co-founder of Maryland-based Spark Rental.
Trump Just Resurrected the Ugly Practice Known as Civil Forfeiture for No Reason
"Luxury homes offer much higher margins for builders, so builders tend to focus there, but we're starting to see a glut of luxury homes while the dearth of starter homes grows worse," Davis explains. "For example, only 28% of new housing built last year were intended to sell below $250,000."
Thus, one question worth exploring is how June's housing starts break down, between starter homes, trade-up homes and luxury homes, Davis notes. "It's also worth exploring what portion of the housing starts was designed for rental housing," he says. With homeownership rates hovering near 50-year lows, many homebuilders have shifted their efforts toward rental homes."
Housing shortages across the country can make home buying "ferociously difficult," and that frustration is "especially acute" for first-time buyers, says Jill Schlesinger, a financial planner and senior ambassador at the Certified Financial Planner Board of Standards.
"The biggest hurdle for the housing market in the middle of 2017 is low inventory," explains Schlesinger. "Housing starts, housing permits, new home construction and pending home sales have all slowed this summer. This all adds up to fewer options for those looking to buy a house, especially for the first time."
For home buyers frustrated by the lack of good homes-for-sale on the market, Schlesinger advises taking the following steps:
Run the numbers: Understand how much "home" you can afford to buy and whether home ownership might preclude you from addressing other important financial issues in your life, like paying off debt, Schlesinger says. "A certified financial planning professional can help you understand how your housing choices can support your overall financial plan," she says.
Start the mortgage process/correct credit report mistakes: "Go to AnnualCreditReport.com and request a free copy of your credit report," Schlesinger advises. "It's important to correct any errors on the report before you start the mortgage process."
Conduct research: Even if you are working with a realtor, check out new listings and spread the word throughout your network," she adds. "You never know who might be about to list a home."
Keep your emotions in check: "Even with limited supply, there are a lot of houses out there," Schlesinger says. "Be careful not to blow through your budget or put yourself in a position where you own two homes."
More of What's Trending on TheStreet:
Sears Continues on Path to Close All Its Stores -- Here Are 50 Reasons the Company Is Dying
Honda Finally Makes a Cool-Looking Accord Sedan Because Everyone in America Is Buying SUVs