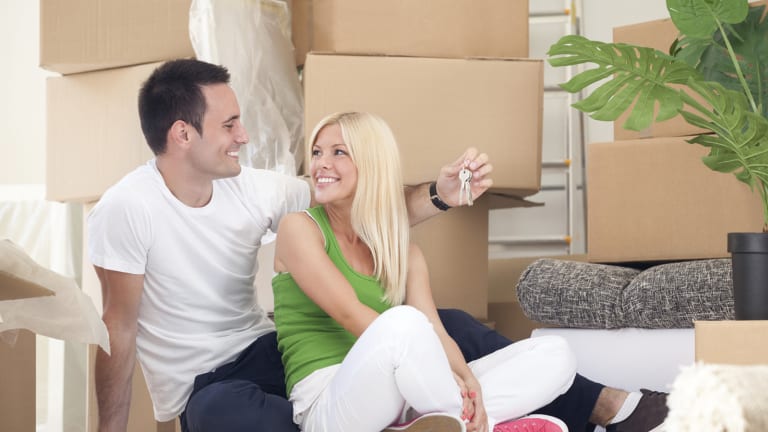 First-Time Home Shoppers Need to Hear This Advice From Recent Buyers
If you're in the 'first time' category and haven't begun your search (or have, but haven't closed a deal), pay attention — other homebuyers have good advice for you.
NEW YORK (MainStreet) — The real estate market is on the move, thanks in large part to first-time homebuyers.
According to the American Enterprise Institute, last month first-time buyers accounted for nearly 56% of primary owner-occupied home purchase mortgages with a government guarantee, up slightly from the prior February. Additionally, the number of those mortgages going to first-time buyers over the six-month period ending last month totaled an estimated 667,000, up almost 4% from the 643,000 mortgages over the same six-month period a year earlier.
The study also shows first-time buyers with weaker credit are buying homes. "February's results show that first-time buyer volume and share remain strong," says Edward Pinto, co-director of the American Enterprise Institute's International Center on Housing Risk.

If you're in the "first time" category and haven't begun your home search (or you have, but haven't closed a deal), pay attention — other homebuyers have some good advice for you.
Samantha Skidmore, a campus rep for UGapparel, a college women's online clothing retailer, says she's learned a lot in the 90 days since she started looking for her first home. "It's really important to shop around for mortgages and realtors," she says. "When shopping for a mortgage, get all of your quotes within two weeks. Otherwise your credit score takes a hit. We didn't take this seriously, and our credit fell by 20 to 30 points for too many credit inquiries."
Skidmore strongly advises doing better than she did choosing a real estate professional. "Our first realtor took no steps to actually get to know what we wanted and didn't ask us any questions about our lifestyle or our finances." Skidmore says the realtor wrote up her contract with an FHA loan with less than 3% down on the house. In reality, she had a conventional loan with a 7% down payment lined up. "An identical competing bid came in on the same day, only with a conventional loan, and the seller chose the other buyer because they didn't want to deal with jumping through FHA hoops. This crucial error cost us a house," Skidmore says.

John Leo Weber, another first-time buyer in Austin, Texas, advises solving the realtor problem by going with a brand-name professional. "Get a credible realtor who has good reviews online, because you need someone trustworthy in your corner as things move so quickly," Weber says. "Since I work long hours, six days a week, my realtor worked around the clock to fit my schedule. I'm confident that I got a better deal and better negotiation since I went with an established realty company."
Weber also advises stashing cash away above and beyond the amount needed for a down payment. "Going into the process I thought my main costs would be the down payment and then monthly mortgage payments, but the smaller things add up fast," he says. "Home insurance, bundled with new auto insurance, home inspection, foundation repairs, home warranty, cleaning service, moving company, repairs and new home accommodations — blinds, furniture — all added up quickly."
Other first-time buyers say it's a good idea to get some education upfront. "We just closed on a house in January," says Sean Coffey, media and development manager at the San Francisco-based California Reinvestment Coalition. "Our best tip was to attend a pre-purchase class at our local housing counseling agency. That'll give you a better idea about the mortgage tax break, how much it's worth, and other financial considerations from being a homeowner."

A bonus: If there are any local down-payment assistance programs (for example, for teachers, city workers, low-income families), your counselor can tell you about them and whether you qualify, Coffey says. That's a good incentive for first-time buyers.
Once you target a home, and start negotiating, have a plan in place, says Joe Houlihan, managing partner at Houlihan & O'Malley, a Bronxville, N.Y., boutique real estate agency. "If you find a house you love but there is a bidding war, figure out the highest price you are willing to pay for that home and offer it once and for all," Houlihan advises. "If you still don't get the house, you'll feel confident that you didn't overspend because of emotion and panic over losing the house and then regret it later. Another one will always come on the market, and may be an even better fit for you."
— Written by Brian O'Connell for MainStreet