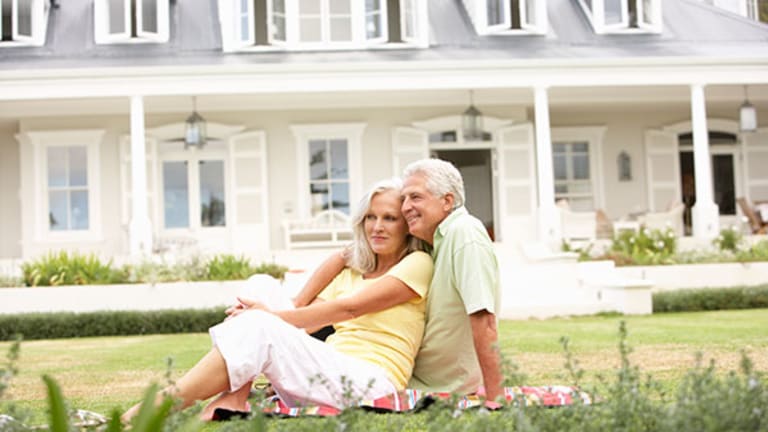 Can Seniors Get Home Mortgages? Should They?
Age discrimination in lending is illegal--and Baby Boomers are lapping up cheap 30-year fixed rate mortgages. Smart or dumb?
Editors' pick: Originally published Sept. 9
Your Money, Your Retirement, and the 2016 Presidential Election - What changes will you need to make to your portfolio should Hillary R. Clinton become president? What happens to your investments should Donald Trump become president? Join us on September 12 as our panel of the world's top financial experts provide trusted information on the investment risks and opportunities that arise with the upcoming presidential election in November.[Learn more about the event and RSVP.]
Senior citizens can and are getting approved for mortgages, and we are not talking reverse mortgages or home equity lines of credit, but - in many cases - 30-year fixed loans. Even when the borrower might be 85 and the actuarial probability of making it to the end of the loan term is nil.
The federal government is blunt: age cannot be used to discriminate against applicants for home loans. Capacity to repay is a factor - for seniors and every other borrower - but a lender cannot turn down an applicant just because he is 65...or 75...or 85. And loans are getting made.
Which raises the other question: is it wise for the borrower? Bankers can take care of themselves, but seniors need to ask: should I be borrowing a lot of money on a house at my age?
In Vancouver, Wash., Dick Kuiper - who said he is "approaching 70," as is his wife - "just purchased a new home last year and got a 30 year mortgage at just under 3%, and we both believe this was a brilliant move."
"We first made sure we made a large enough down payment so we would always have positive equity in the home," Kuiper elaborates. "With that calculated, we looked at the alternatives, either pay in cash - which would naturally come out of our savings - or take out a mortgage. We looked at what we could get by putting the same amount of money into a retirement annuity with a downside guarantee. That annuity pays a minimum of 5% for life and currently is paying in the 8% to 9% range. Do the math. We'd be crazy to pay cash for the house."
Kuiper's right. For his wife and him, it made no sense to pay cash for a house - not when mortgage rates are breathtakingly low.
Case closed? Not at all.
Ash Toumayants, founder of financial advisors Strong Tower Associates in State College, Pa., said that in his experience few seniors ever want another mortgage in retirement after they settled up on their first one. "Most are excited when they pay it off and don't want another one," Toumayants says.
Another fact: to get a mortgage, a senior has to demonstrate to a lender a capacity to repay. Age cannot be used against a senior, but lack of cashflow can. And many seniors just have sizable trouble qualifying for a mortgage. "The trick is whether they have enough income to qualify or not," said Casey Fleming, a mortgage expert in Northern California who said that he right now is working on a loan for an 85-year-old client.
Brian Koss, executive vice president of Mortgage Network, an independent mortgage lender in the eastern U.S., elaborated: "For seniors thinking about getting a mortgage, it's all about income flow. If you have a consistent source of income, and a mortgage payment that fits that income, it makes sense. Something else to consider: if you have income, you have taxes and a need for a tax deduction. With a mortgage, you can write off the interest."
Brian Le Bow, a real estate broker in Arcadia, Calif., offered this, when asked about seniors and mortgages: "The question becomes, 'Should they?' and, "What effect will it have on their family in the future?' I have many seniors that I help with real estate purchases and in California real estate, values are increasing, so there's little risk of any lost equity."
That last is key. After a senior proves to himself - and the bank - that he can handle the loan, the other question is: is this a wise purchase? Millions of homeowners across America lost money on real estate in the Great Recession, but nowadays, attitudes are much more upbeat. In a handful of markets - high-end Manhattan, San Francisco, Austin - there are worries about housing bubbles bursting. But in much of the country, optimism prevails. Housing prices seem on an upward trajectory and, just maybe, a home purchase can result in increased equity for a senior (and his heirs).
But then there is an ugly issue to confront. Is the senior arriving at this purchase decision on his own steam? Brooklyn Law professor David Reiss explained why that needs to be asked. "Seniors should discuss big financial moves with someone whose judgment they trust (and who does not stand to benefit from the decision). Elder financial abuse is rampant."
Reiss added: "What has changed in their financial profile that is leading them to do this? Is someone - a relative, a new friend - egging them on or leading them through the process?" Reiss is right in the caution, and that's a concern that has to be satisfied.
But, those worries aside, many experts said they see lot of seniors deciding to take out sizable mortgages that in all probability they will not live to repay. And they aren't worried. Call that a new reality of senior mortgages, 2016 style.
This article is commentary by an independent contributor. At the time of publication, the author held TK positions in the stocks mentioned.