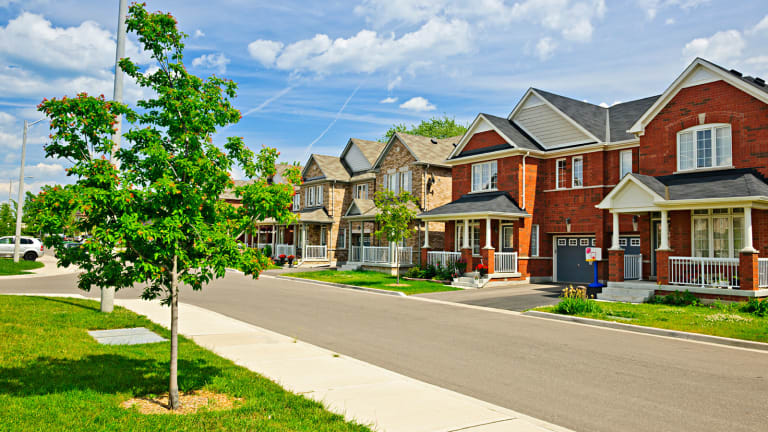 Can an Escalation Clause Help You Land Your Dream Home?
With listings scarce, homebuyers in the nation's hottest real estate markets are increasingly engaged in an arms race as they scramble to outbid each.
Editors' pick: Originally published Dec. 1.
With listings scarce, homebuyers in the nation's hottest real estate markets are increasingly engaged in an arms race as they scramble to outbid each.
Some are writing "love letters" to sellers in a bid to forge a personal connection. Others with deeper-pockets are offering cold hard cash, offering sellers a much speedier deal by cutting out the cumbersome mortgage process.
However, the escalation clause is proving to be one of the more controversial weapons buyers and their agents are wielding in an effort to gain an edge.
In an escalation clause, a buyer will pledge to top all offers that a seller may receive by a certain amount or percentage, typically up to a certain amount, or cap.
Such offers aren't always a hit with sellers, who can wonder if they are for real or whether they are leaving money on the table by agreeing to such a deal.
Still, some brokers swear by this top-all-bidders approach, arguing it has made the difference for their clients between landing a home and losing out on one bid after another.
And given how tough buyers are having it now in competitive markets like Boston, Denver and Washington, D.C., escalation clauses are here to stay - at least until the next real estate bust.
"We use it, and it works in D.C. and other hot markets," said Marshall Carey, a D.C.-based Redfin broker.
The trend, like the real estate market, is seasonal, with bidding wars - and tactics like escalation clauses - reach their peak in the spring and summer before slowing a bit in the fall and winter.
Still, in the most competitive markets, desirable homes - whether because of location or price or both - still draw a crowd.
Anywhere from a third to a majority of homes in several major metro markets were fielding multiple bids during the start of the fall market, according to brokerage firm Redfin.
Boston took top honors, with Redfin agents in the city reporting that more than 73% of the home sales they were involved drew two or more offers. Other cities where multiple bids are common include Los Angeles (60%), Seattle (57%), San Francisco (50%), Washington, D.C., (45.6%), and Denver (43.2%).
A shortage of listings, brought on in some cases by years of lackluster new home construction, has helped fuel the competition, while also driving up prices.
Brokers in a number of major metro markets say inventory is tight, while nationally the number of homes on the market dropped 6.8% in September compared to the year before, the National Association of Realtors reports.
Home prices in the country's top 20 metro markets have nearly doubled since 2000 and are closing in on peaks last reached a decade ago, according to the S&P CoreLogic Case-Shiller Indices.
And with more buyers than homes, some brokers say the escalation clause is a vital part of their sales repertoire.
Stephanie Collins, a Redfin agent in the Denver suburbs, says homes are still getting multiple bids deep into the fall market.
The number of homes on the market in the Denver area has fallen to about 10,000 from nearly twice that number five years ago.
Collins recently helped a young fireman and his wife, a teacher, buy a town home with the help of an escalation clause.
In their offer, the couple pledged to top by $1,000 any offer that was higher than theirs. As is the case with many escalation clauses, they put a cap on their offer, in this case $270,000.
The couple, who had last out on previous bids, snagged the home for $251,000.
"I have had several clients who have put in multiple offers and have lost them," Collins said. "They get to the point where they realize we have to bump up what we are doing."
Carey, the Redfin broker in D.C., says escalation clauses have become a key part of the offers his buyers make.
If anything, buyers have been forced to up the ante when it comes to escalation clauses, offering to pay 12 to 15% over the highest bid. That's up significantly from 2015, when 8% would have done the trick.
After falling short on two previous bids for other homes, a legal power couple he was working with finally landed a row home in the Capitol Hill neighborhood after deciding to go big on the escalation clause.
This time they offered to pay another 10% over the highest offer the seller received. The couple, both lawyers, wound up paying $1 million for the Capitol Hill row home, which came with nice yard and a parking space out back.
However, some brokers working with sellers aren't so thrilled when offers come in with escalation clauses.
Having to deal with four or five competing escalation clauses from different would-be buyers can be a headache, requiring a spreadsheet to keep track of it all, brokers complain.
And some argue that escalation clauses also shortchange sellers.
Sara Rosenfeld, a veteran Coldwell Banker broker who has sold homes for decades in Somerville, one of the hottest zip codes in Greater Boston, tells clients she is flat out against escalation clauses.
In order to take an offer with an escalation clause, an agent must break confidentiality and expose the offer of the other buyer who made the high bid, a no-no in Rosenfeld's book.
Sellers aren't enamored either, wondering whether the escalation clause is a real offer the buyer is truly committed to.
"They want an offer with a real price," Rosenfeld says. "The agents that are doing it are just desperate to find an edge."
And Stephanie Mallios, a Coldwell Banker broker in Short Hills, N.J., where the median listing price is $1.8 million, says she has never used an escalation clause in 29 years of selling homes.
"It's not a real offer, because you are basing it on someone else's offer," Mallios says.
Still, escalation clauses can prove useful in getting a deal done, argues Sam Schneiderman, principal broker of the Greater Boston Home Team.
In a market where sellers have all the leverage, the attitude of some sellers is "if you want to buy the house, just step up and overpay."
For buyers, who are already stretching to afford homes they probably feel are overpriced, offering an escalation clause can offer some psychological reassurance, Schneiderman says.
"Where I think an escalation clause is really useful is to get buyers comfortable with the idea that they are not going to get totally soaked, but they do have to be competitive," he says.
And while some sellers' brokers may gripe, in the end it probably helps bring more buyers to the table, fans of the tactic say.
"Buyers gravitate towards escalation causes as it provides a sense of comfort to those who are worried about competing and may refuse to submit an offer in a multiple-offer situation," writes Neda Vander Stoep, a Coldwell Banker broker who works out of Boston's Back Bay, in an email.