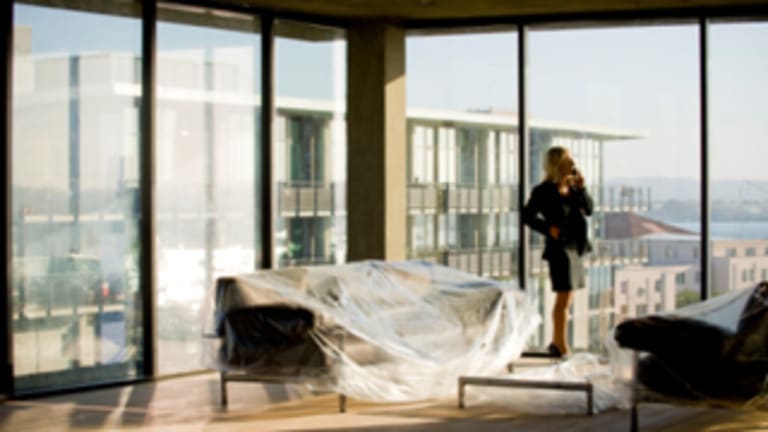 Beware of Value-Killing Home Renovations
Some home renovations that seem like a good idea can drive away buyers and drive down price.
BOSTON (TheStreet) -- Beauty is in the eye of the beholder.
That old adage should be a warning for homeowners. What you do to a home -- in terms of renovations, furnishings and additions -- is all well and good while you sleep under its roof. But if you plan to sell, your efforts could diminish rather than boost its selling price.
A miniature backyard skate park, indoor basketball court or basement lounge complete with a stripper pole and smoke machine are the sorts of extravagances that may not directly push down your home value, but could nevertheless drive away prospective buyers or provide room for them to haggle down the price. A bright pink paint job and lawn cluttered with gnomes and flamingos is going to offer little in the way of curb appeal. That koi pond you love so much may be just a headache for a new owner.
"Swimming pools and landscaping can both backfire," says Brendon DeSimone, a Realtor in California and New York and blog contributor for online real estate database Zillow (Stock Quote: Z) who has been featured on the HGTV television shows Curb Appeal, Bang for Your Buck and My House is Worth What?
"They are nice to have because they show really well and will lure buyers in," he explains. "But when buyers are assessing pros and cons of the home or comparing it to other homes, the upkeep -- or safety, in the case of the pool -- will factor in. Some people just may not want to sign up for having to do landscaping or pay the landscaper. So while a swimming pool or beautiful manicured lawn might reel in potential buyers, eventually those things could turn them off. Gardening and over-the-top landscaping is for a very specific buyer."
There are always exceptions to be had if the right buyer comes along. A pool in warm-weather Arizona or Southern California is certainly more attractive than one at a home in Maine where it gets only a fraction of the annual use.
Jacuzzis and whirlpools are other luxuries that can be a hit or a miss for sellers. A young couple may love the additions; a family with small children may see them as a waste of space and potential hazard.
Renovating your basement, attic or garage into an additional room? That man cave or spare bedroom may fit your lifestyle, but buyers may lament the lack of storage space and place to park their car. A basement or dormer apartment may run contrary to local zoning and be a red flag during a home inspection. Converting a bedroom into an office may appeal to a work-at-home buyer, but eliminating that bedroom in the eyes of local assessors will decrease your home's value.
External additions can be problematic if your bigger and better house is out of character with the surrounding neighborhood in size and style. It can be even worse if your do-it-yourself project lacks professional polish. Even more modest improvements -- such as doors, windows or awnings -- can hurt if they don't match your home's architectural style.
The National Association of Realtors and Remodeling magazine publisher Hanley Wood surveys remodeling and exterior replacement projects as part of its annual Remodeling Cost vs. Value report.
Overall, the 2011-12 report estimates that homeowners would recoup an average of 57.7% of their investment in 35 different improvement projects, down from an average of 60% last year.
According to the report, seven of the top 10 most cost-effective projects -- nationally, in terms of value recouped -- are exterior replacement projects. It deemed fiber-cement siding replacement as the project expected to return the most value, with an estimated 78% of costs recouped upon resale. Vinyl siding projects were expected to return more than 69% of costs.
Steel entry door replacement was the least expensive project in the report, costing little more than $1,200 on average, and was expected to recoup 73% of costs.
Garage door replacements have seen prices fall more than 15% nationally and can be expected to return more than 71% of the cost. A "midrange attic bedroom" is expected to return 72.5% of costs upon resale, in part because it is "the least expensive way to add a bedroom and bathroom within a home's existing footprint." A minor kitchen remodel (budgeted at roughly $20,000) is expected to recoup 72.1% of costs. A wood deck addition is expected to make back 70.1% of its price tag.
Among the least cost-returning projects are a sunroom addition and home office remodeling, both estimated to recoup less than 46% of what they cost.
Where you live can affect the return on these renovation investments, and the value of specific projects can vary region by region.
The Pacific region (Alaska, Hawaii, California, Oregon and Washington) has the highest average cost-value ratio in the country, at 71.3%, "largely because the high cost of remodeling in the region is more than offset by high values at resale," according to the report. Mid-Atlantic states averaged a return of 56.8% and East North Central states (Illinois, Indiana, Michigan, Ohio, and Wisconsin) recouped an average of 55.3%. West North Central states (Iowa, Kansas, Minnesota, Missouri, Nebraska, North Dakota and South Dakota) saw the least amount of return, with 49.5%.
While fireplaces have traditionally been in demand, even they may be slipping in popularity. In 2009, a consumer preference survey from the National Association of Home Builders ranked fireplaces as No. 1 on a list of what NAR called Home Fads That Are Falling Out of Style. Also sliding from favor are carpeted floors and vinyl and ceramic flooring (hardwood has become more desirable) and "upscale kitchen finishes" as granite countertops gradually give way to low-maintenance, more durable laminate countertops.
DeSimone cautions homeowners against relying on add-ons and renovations to improve the value of their property when more fundamental concerns should be a focus.
"First and foremost, a seller should make sure their home is well-maintained and that it looks well-maintained," he says. "Before a seller starts making improvements like adding new energy-efficient windows -- which are nice to have, but not something a buyer would truly care that much about -- I recommend they make sure the structural integrity of the house is sound. For example, if there is dry rot on the back deck or some issue with the roof or the foundation, these things need to be addressed, otherwise knowing that type of flaw exists will scare buyers off. It is not uncommon that a seller would have to spend $15,000 on dry rot just so that they can say the property is well-maintained."
"It's hard to put a value on this type of improvement since the sellers aren't really getting their money back," he adds. "But ultimately the value we're talking about with this type of improvement is getting a buyer to write an offer on your place sooner than later and not having your home on the market for months and having a series of price reductions, which end up killing the value."
-- Written by Joe Mont in Boston.
>To contact the writer of this article, click here: Joe Mont.
>To follow the writer on Twitter, go to http://twitter.com/josephmont.