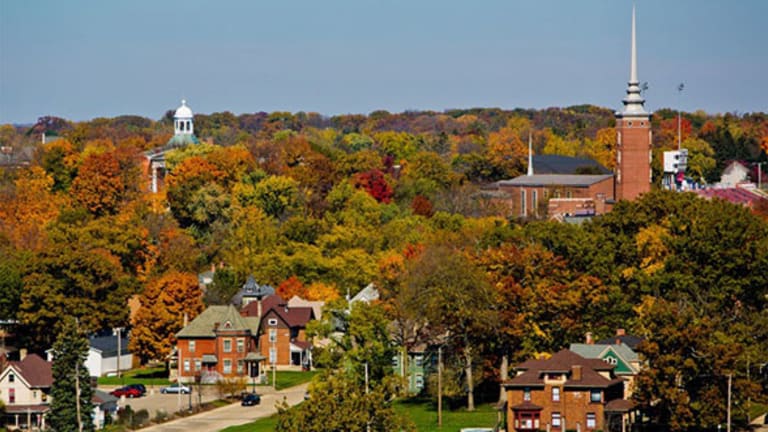 America's Top 5 'Safe-Haven' Markets for Low-Risk Landlords
Here are ideal markets for the casual investor who has some money to invest in real estate, but little wish for property management hassles.
NEW YORK (MainStreet) — Attention real-estate investors: Here's a look at five U.S. communities that market watcher RealtyTrac found offer 10% or better gross annual rental yields but below-average risks.
"These are ideal markets for the casual investor who has a day job and some extra money to invest in real estate, but who doesn't have a ton of time to deal with managing property," says Daren Blomquist of RealtyTrac, which analyzed 586 counties to find America's Safe Havens for Single-Family Rentals.
RealtyTrac's study, which covered areas representing 71% of America's total population, identified markets that combine above-average gross yields with below-average jobless and property-vacancy rates. (Researchers omitted counties that have fewer than 50,000 residents, low property-sales volume or public records that don't disclose what area homes sold for.)
Blomquist says the fact that the winning markets all have below-average vacancy rates "means that these are areas where a rental property is more than likely going to be occupied and generating income." Similarly, modest local jobless levels indicate that if a unit does become vacant, "it's going to typically be very easy to fill," he says.
RealtyTrac found that the top markets for stable returns are all in the East and generally managed to avoid the worst of America's recent housing bust. "These are primarily slow-and-steady 'Middle America' markets that didn't see a bubble that burst," Blomquist says.
Read on to check out communities at the top of RealtyTrac's rankings (or click here for a look at the firm's picks for America's Best High-Risk/High-Yield Rental Markets).
Counties are ranked below based on their projected gross annual rental yields as of the third quarter.
RealtyTrac calculated gross yields by taking U.S. Department of Housing and Urban Development projections of fair-market annualized rent for local three-bedroom rentals and dividing that by median local home prices.
For instance, a county where homes cost a median $60,000 and three-bedroom units carry a $500 monthly fair-market rent would be said to have a 10% annual gross rental yield ($500 x 12 months / $60,000).
All winning counties are considered "stable" because they have low local jobless and rental-vacancy rates when compared with the U.S. average. (Unemployment levels are as of July and rental-vacancy percentages are as of 2012's fourth quarter, the latest periods with data available when RealtyTrac conducted its analysis.)
Fifth-best safe-haven U.S. rental market:Belmont County, Ohio
Located is in Eastern Ohio just across the Ohio River from Wheeling, W.Va., Belmont County makes RealtyTrac's list to a large extent because the area boasts a tiny 0.7% rental-vacancy rate.
"This is a market where you're going to have renters lining up at your door and not have to compete with a glut of supply in the rental-property market," Blomquist says.
The 70,400-population county also enjoys a modest 6% jobless rate and a $78,500 median home price, plus a decent $788-a-month fair-market rent for three-bedroom units. Add it all up and real-estate investors can expect impressive 12.1% gross annual rental yields there.
Fourth-best safe-haven U.S. rental market:Creek County, Okla.
Oklahoma's strong energy sector, modest jobless rate and low home prices are teaming up to make Creek County a great place for property investors.
"The Oklahoma market is one that few people know about, but the oil industry's revival there is creating a booming economy in the middle of an area that has very low home prices," Blomquist says. "That makes Creek County an ideal spot to own rentals."
Situated just southwest of Tulsa, 70,000-population Creek County has a 5.2% unemployment level and 6.4% rental-vacancy rate, while homes sell for a median $93,000 and three-bedroom places fetch a $1,002 fair-market rent. That means landlords can expect 12.9% gross annual rental yields.
Third-best safe-haven U.S. rental market:Broward County, Fla.
Home to Fort Lauderdale, Hollywood and other major South Florida communities, this 1.7-million-population county is a great choice for housing investors who "don't want to go for that 'Middle America' market," Blomquist says.
While median local homes cost $166,000 -- the highest for any market on RealtyTrac's top-five list -- the county's $1,797 fair-market rent for three-bedroom places means investors can expect 13% gross annual rental yields. Broward County also offers landlords below-average risks, thanks to a modest 5.7% jobless rate and 8.4% rental-vacancy level.
Second-best safe-haven U.S. rental market: Pottawatomie County, Okla.
Brad Pitt was born in Pottawatomie County, and maybe he and Angelina Jolie should buy some rental property there just in case the whole Hollywood thing doesn't work out for them.
Encompassing part of Oklahoma City and points southeast of town, the 69,400-population county combines $81,683 median home prices with $919 fair-market rents for three-bedroom units -- meaning landlords can expect a 13.5% annual gross rental yield.
Add in a 3.9% vacancy rate and 4.7% jobless level (the lowest of any county on RealtyTrac's rundown) and Pottawatomie County definitely wins an Academy Award for reduced-risk property investment.
"This is a market where you're going to be able to pick renters who are highly qualified and shouldn't have to worry about collecting the rent," Blomquist says.
Best safe-haven U.S. rental market:Clark County, Ohio
We don't know if Homer Simpson lives in Clark County's capital of Springfield, but odds are that investors who buy property there won't end up saying "D'oh!"
That's because this 138,000-population county some 40 miles west of Columbus takes RealtyTrac's crown as America's No. 1 safe haven for single-family rentals.
Blomquist says that while Columbus is "a big hot spot" for institutional buyers who've been snapping up homes across America in the housing bust's wake, the Springfield area offers even better fundamentals.
"Springfield is riding on coattails of the Columbus economy, but [it's] a little outside of the city, so you're going to see less landlord competition," he says.
Clark County offers a 14.2% gross annual rental yield, given its $79,500 median home price and $939 fair-market rent for three-bedroom units. Add a 5.8% unemployment level and 6.7% rental-vacancy rate and even Montgomery Burns would probably smile at the thought of buying property there.
— By Jerry Kronenberg for MainStreet