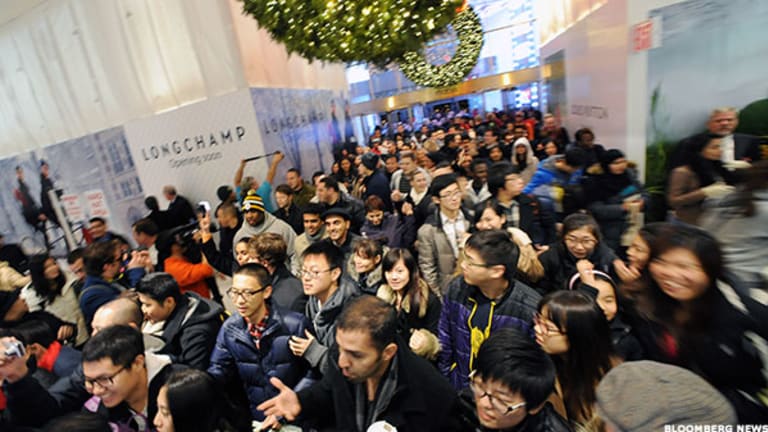 Publish date:
More Thanksgiving Shopping, Less Thanksgiving Dinner
A survey sees consumers continuing to slight food for early Black Friday shopping.
A survey sees consumers continuing to slight food for early Black Friday shopping.
NEW YORK (
) -- Thanksgiving is a wonderful time, chock full of
family
, friends, football and a dining room table groaning under the weight of turkey and all the trimmings.
At least, it used to be.
This year, more Americans are opting to spend Thanksgiving getting ready for Christmas. That is, they're spending it resting up for that other big November holiday -- Black Friday.
The discount website
PromotionalCodes.com
, along with
Harris Interactive
, confirmed that slightly disturbing trend in a survey detailing what Americans are actually doing Thanksgiving Day.
Also see: Earlier Starts Mean Less Black Friday Spending, Study Says>>
Many adults are either skipping the dinner altogether, rushing through it or avoiding travel to a friend or relative's house so they're better prepared to hit the stores hard come midnight on
Black Friday
or plugging in the laptop or tablet to wallow in some serious holiday shopping.
All told, 32 million consumers changing their Thanksgiving habits for Black Friday, with 26% saying they will hit at least one bricks-and-mortar store on the Friday after Thanksgiving and another 25% say they will go shopping online, according to the survey.
The 32 million figure is a startling jump from the 13.9 million people who were reported as in stores shopping by 8 p.m. Thanksgiving Day, although 39% were in stores by midnight,
based on National Retail Federation figures
.
The average holiday shopper will spend $737.95 (including presents, a tree, decorations, greeting cards and parties), which actually is 2% less than last year.
"Black Friday shopping has become a huge part of American culture during the Thanksgiving holiday, and with more consumers shopping online, retailers have adapted to reflect great savings on their websites as well," says Regina Novickis, a consumer savings specialist at Promotionalcodes.com. "Many Americans are now taking advantage of Black Friday savings from the comfort of their own homes as opposed to battling the crowds the day after Thanksgiving."
Also see: How Your Gift Shopping Affects the Housing Market>>
It's younger consumer (18 to 34 years old) and women who are more likely to get into the car at the stroke of midnight Nov. 29. Men are more likely to shop online, although the study doesn't say how many will do so Black Friday.
Black Friday is the undisputed king of the holiday shopping season, with 55% of shoppers hitting the stores and retail sites that day, according to separate
.
It might even threatening to supplant Thanksgiving as the biggest holiday in November -- at least for shoppers.