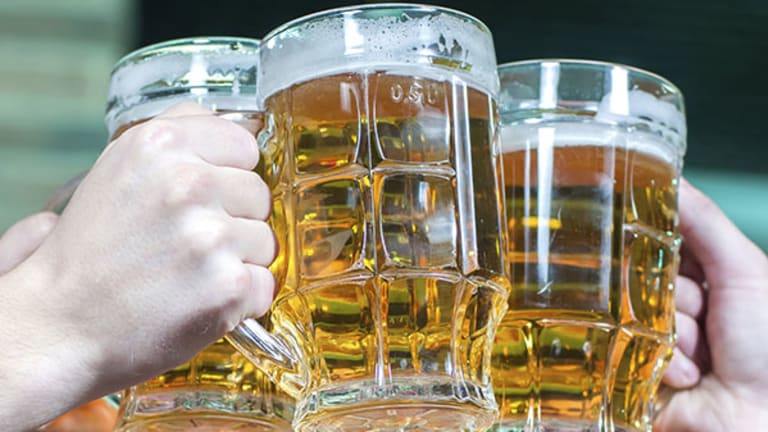 More Beer Niches and Buyouts Coming In 2014
A report says craft beer, imports and cider should keep the beer industry afloat this year, but that free-spending big brewers could continue the industry's consolidation.
PORTLAND, Ore. (TheStreet) -- If you love craft beer, imports and cider, boy are you going to love 2014.
If you like beer in general, you're probably not.
While the Beer Institute industry lobbying group notes that January beer sales were up 0.7% from the same month last year, the fact is that beer sales overall are still on the way down. The Treasury Department's Alcohol and Tobacco Tax and Trade Bureau reported a 1.5% decrease in overall beer sales and a 2.6-million barrel loss in beer production. That's basically akin to shutting down Boston Beer's Samuel Adams brand (which produced 2.7 million barrels in 2012) for an entire year.
Yet the folks at Moody's decided to look on the bright side when assessing the big beer picture for 2014. Maybe U.S. beer consumption by volume has dropped in four of the past five years, thanks largely to Anheuser-Busch InBev and SABMiller/MolsonCoors joint venture MillerCoors selling a lot less light lager. Maybe that same downturn reduced beer's share of the overall alcohol market from 55% in 2000 to 49% in 2012. But that's not so bad when craft beer volume increased by an estimated 15% last year, right?
"Major brewers Anheuser-Busch Inbev and MillerCoors have captured more than 18% of the U.S. craft market combined with brands like Blue Moon, Shock Top and Goose Island as they try to counter declining mainstream volumes," Moody's Senior Vice President Linda Montag says. "And the big brewers likely will participate in the consolidation of the craft segment, which includes more than 2,700 small breweries."
Oops. Yep, Moody's is suggesting that not only will big beer buy up more craft brands as A-B just did with Patchogue, N.Y.-based Blue Point, but that those craft brands are actually craft. They've determined that craft beer is now 10% of the market by volume and 15% by sales, but they reached that number by including folks the Brewers Association craft beer industry group and many craft brewers themselves don't enjoy associating with.
That includes Pennsylvania brewer D.G. Yuengling & Son, Magic Hat/Pyramid parent company North American Brewers and Redhook/Widmer Brothers owners Craft Brew Alliance. More importantly, it considers A-B's Shock Top, Land Shark and Goose Island brands craft, as well as MillerCoors' Blue Moon and Leinenkugel. It also expects the big brewers' craft brands to continue gaining craft market share as they expand.
Combined, the five brewers mentioned above make up 23% of Moody's craft beer market, which the firm only expects to consolidate further if suitors such as Constellation Brands make good on their vows to buy up craft brands of their own. Oh, and if craft brewers such as Boston Beer and foreign brewers such as Duvel keep buying up brands including Coney Island Craft Lagers and Boulevard Brewing.

So what about those imports, you ask? Well, their 5% growth in 2012 and estimated single-digit growth last year and this year is a bit slower than craft beer's, but no less welcome by big brewers. Together, A-B InBev and Corona distributor Constellation Brands control 54% of beers imported to the United States. A-B's purchase of Modelo would have given the company the whole 54% if regulators hadn't stepped in and forced it to cede U.S. rights to Corona, Modelo, Pacifico and other Mexican beer brands to Constellation. Without those brands, A-B will have to make do with U.S. sales of Stella Artois that have climbed 20% since 2008. Second-place Heineken will also have to settle for increased sales of its flagship, Newcastle, Dos Equis and Tecate brands.
Just about the only area not dominated by A-B or MillerCoors is cider, where Boston Beer's Angry Orchard brand holds the largest share of the market at 47%. That position once belonged to Irish cider firm C&C, which had a 53% share in 2012 after it bought Woodchuck Cider maker Vermont Cider for $305 million. But MillerCoors' buyout of the Crispin brand and introduction of Smith & Forge ciders this month have given it a cider presence, while A-B's Michelob Ultra cider and Stella Cidre have carved a share of the market that will soon be expanded by its forthcoming Johnny Appleseed brand.
Cider, like craft beer, represents one of the beer industry's final battlegrounds. With just 1% of the beer market in 2012, cider grew 81% by volume and 84% by revenue in 2012, according to Symphony IRI and Beverage World, and increased another 103% last year through November, according to Nielsen. Milennials love it and it's the only "beer" women and men drink equal shares of.
So what does this all mean? Nothing good for beer or beer drinkers. Industry consolidation in the 1960s and 1970s gave a nation that had 703 breweries after prohibition less than 90 by 1980. It also flooded the country with the same middle-of-the-road light lager that big brewers are buying up small breweries and cidermakers to avoid.
But with nearly 3,700 permitted breweries in the U.S. at the beginning of 2014, it may just mean that the best independent brewers float to the top while big breweries chug the rest like cheap swill.
-- Written by Jason Notte in Portland, Ore.
>To contact the writer of this article, click here: Jason Notte.
>To follow the writer on Twitter, go to http://twitter.com/notteham.
>To submit a news tip, send an email to: tips@thestreet.com.
RELATED STORIES:
>>Where Does U.S. Beer Go After 3,700 Breweries
>>Blue Point Sale A Blueprint For Forgotten Craft Beer
>>5 Hard Cider Brands Pressuring Beer
Jason Notte is a reporter for TheStreet. His writing has appeared in The New York Times, The Huffington Post, Esquire.com, Time Out New York, the Boston Herald, the Boston Phoenix, the Metro newspaper and the Colorado Springs Independent. He previously served as the political and global affairs editor for Metro U.S., layout editor for Boston Now, assistant news editor for the Herald News of West Paterson, N.J., editor of Go Out! Magazine in Hoboken, N.J., and copy editor and lifestyle editor at the Jersey Journal in Jersey City, N.J.