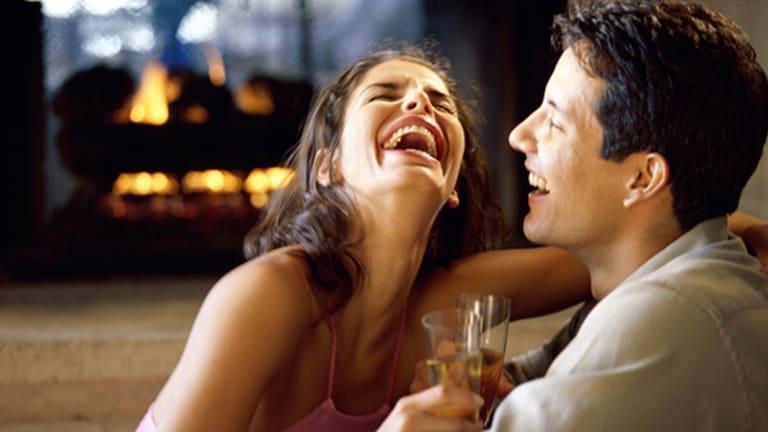 Money Matters When Choosing a Mate, but Sense of Humor Matters More
It's our leading factor in divorces, but not in getting together.
It's our leading factor in divorces, but not in getting together.
NEW YORK (BankingMyWay) -- Financial stability is a big issue for any adult. For many singles, though, financial stability isn't the most significant issue when choosing a romantic partner, although it certainly ranks highly.
No, the No. 1 factor when looking for a mate is comedy.
So says Bank of America in its latest Merrill Edge Report, which tracks money management trends among affluent Americans.
The report says the range of issues that affect the financial end of relationships "vary widely," but that having a sense of humor (named by 74% of study participants) and chemistry (66%) rank well ahead of financial stability (at 49%) in priorities applied when selecting a relationship partner.
Overall, 75% of women rank a sense of humor highest on their list for choosing a mate, just ahead of 73% for men.
Also see: How Women Suffer From Traditional Male-Female Financial Decision-Making>>
Apparently, sharing a good laugh is more important than sharing a huge bank account, as difficult as that may sound to some men and women when study after study shows that financial issues (and disagreements) are the leading factor in divorces in the U.S.
"Arguments about money is by far the top predictor of divorce," said Sonya Britt, a professor of family studies at the University of Kansas, which tracked the issue in a study last year. "It's not children, sex, in-laws or anything else. It's money -- for both men and women."
"In the study, we controlled for income, debt and net worth," Britt added. "Results revealed it didn't matter how much you made or how much you were worth. Arguments about money are the top predictor for divorce because it happens at all levels."
In that regard, seeing humor ranking higher than money in relationships is surprising, although the men and women don't necessarily rate the two issues the same way.
Also see: More Complicated Modern Families Come With Financial Complications Too>>
The Merrill Edge Report says women are twice more likely to be drawn to a partner with a "stable job" than men (51% versus 24%), and twice as likely to aim for a partner with "financial stability" (64% to 33%.)
Certainly, choosing a mate who can make you laugh and keep you loose is a laudable goal. And just as certainly, a shared sense of humor is a strong link on the chain of a solid, long-lasting relationship. But Merrill Lynch researchers warn not to laugh off the necessity to plan for a strong financial life too.
"Many mass affluent investors are taking more of a 'live for today' financial approach than you might expect given their fear of running out of money in retirement," says Aron Levine, director of Preferred Banking and Investments at Bank of America. "That type of disconnect might have a significant impact on the long-term financial well-being of these investors."
In short, partners should make a good financial plan together, then laugh all the way to the bank.