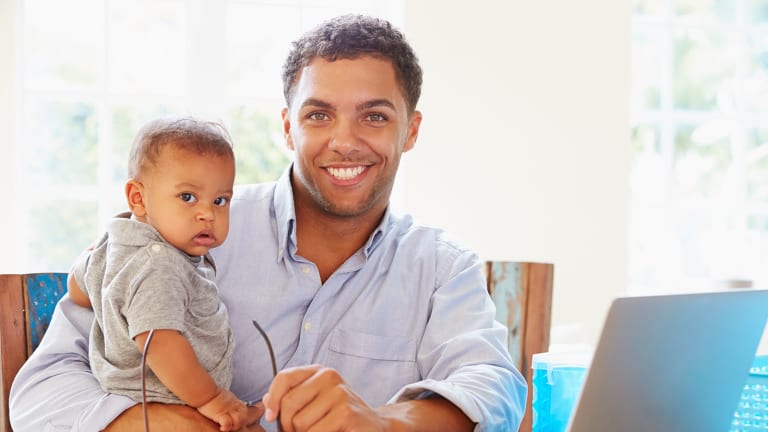 Money Advice for New Dads: Experienced Fathers Offer Words of Wisdom
Dads from around the country share important financial lessons they've learned while raising their kids.
NEW YORK (MainStreet) — Becoming a first-time dad can be a life-altering experience. While there are moments of pure joy as you hold your little one in your arms, you might also feel overwhelmed by the financial costs of supporting this new member of your family. After all, stocking up on diapers and baby food, paying for child care and saving for education costs can take a serious toll on your bank account, not to mention your stress levels.
To help ease your anxiety and get you on the right financial path for the future, we asked a handful of experienced fathers to share the money lessons they've learned while raising their kids. From the benefits of coupon-clipping to the importance of setting up a college savings plan, here are their top tips for new dads.
Name: Andrew Johnson
Occupation: Communications manager
Residence: Grosse Ile, Mich.
Children: Three kids, ages 10, 12 and 14
"You are going to be the grocery shopper and all-around getter for the next few months. Coupons and sales will be your mission, trust me. Sign up online for any new parent coupon packages.
"Learn about diapers. Once you agree upon a brand, ask all your family and friends to watch out for coupons and send them to you. If you use disposable, it will be mind-blowing how many diapers you use.
"Your washer and dryer are going to get a workout, too. You'll be washing onesies, PJs, burp clothes, blankets and everything else under the sun. Watch out for laundry coupons. Same goes for baby food, as the little one gets older. Watch for coupons and sales. Money is going to be tight the next few years, so any way you can save some money will help."

Name: Joe Loparco
Occupation: Communications professional
Residence: Avon, Conn.
Children: Two kids, ages 6 and 8
"As a father, the thought of paying for even just one child's future college bills can be overwhelming. In my case, I have two young daughters who are one grade apart. If they opt for a traditional, four-year undergraduate education right after high school, they will overlap each other in college for three consecutive years. That means a double whammy in college tuition bills.
"My piece of money advice for any new dad is to open a 529 plan as soon as your child is born. It's just as important—if not more—than all the baby gadgets, clothes and toys you'll acquire. Find a plan with low fees and a good rating—check to see if one is offered in your state, which also allows you to deduct some of your annual plan contributions off your taxable income. And make sure to save as much as you can into those plans each year. Build it into your list of year-end financial priorities, or time it for when you receive a potential bonus. Also, encourage your child's grandparents and relatives to make financial gifts into the plan for birthdays and holidays, instead of buying toys or items that will soon be forgotten once the novelty wears off.
"Bottom line: the earlier you save for your child's future education, the greater your chances are to be ready for other important expenses in life, like retirement or even a couple of weddings."

Name: Ryan Guina
Occupation: Small business owner and Air National Guard member
Residence: Elburn, Ill.
Children: Two kids, ages 3 and 6
"Being a new father is an exciting and scary experience. You want to give your children the best of everything, and you want them to be safe and to feel loved. But I'll let you in on a little secret the baby product industry doesn't want you to know: your children don't need a lot to be happy and safe. They need clean clothing, shelter, food and love. You don't need to buy them the best of everything—which often translates into the most expensive of everything. My children are ages 6 and 3, and they still love playing with boxes and using their imagination.
"The temptation to spend money will be strong, and in some ways, it never goes away. But you can balance that by asking yourself what is truly essential to meet your child's basic needs, and make that your starting point. Only add to it when there is another need, or for special occasions. By starting small, you will quickly learn that children don't need as much as you think they need, and it will be easier to manage your spending and your children's expectations in the years to come."

Name: Steve Repak
Occupation: Certified financial planner and author
Residence: Charlotte, N.C.
Children: Three kids, ages 11, 14 and 16
"I can't think of any father who was on their death bed, looking back on their life, who thought they should have spent more time at work and less time with their children. Being there for your daughter's first day of school, being there on Tuesday night watching your son play T-ball or even just being home for supper with your family more evenings than not will mean more to them. And, at the same time, it will teach them a valuable money lesson that what matters most is the time that is spent together and not how much money you spend."
Name: Les Dlabay
Occupation: College business professor and textbook author
Residence: Chicago area
Children: Two kids, ages 30 and 34
"As your kids get older, use every opportunity to talk about the role of money in our society and in our lives—in stores, while traveling and while watching television. Involve children in decisions. They should know the costs of things and the time needed to earn those items. Allow children to experience both the positive results, like the rewards of work and saving, as well as negative results, like not having money for something due to not saving.
"Also, develop an attitude of giving to those who are less fortunate. Teach your kids how to research organizations to ensure that donations are best serving those in need."