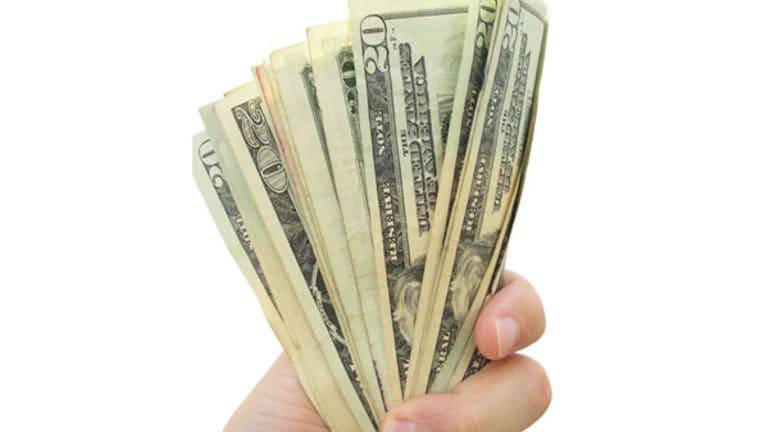 Mobile Payments Poised to Explode in 2011
The rush is on to stake a claim at the growing, and lucrative, market for mobile payments.
BOSTON (TheStreet) -- America looks ready to abandon its debit and credit cards and embrace paying by smartphone.
Startups are restless and there is some auspicious news from the nation's top tech companies. There are also some striking figures: U.S. mobile bill payments will reach $214 billion in gross dollar volume in 2015, up from $16 billion this year -- a 68% compound annual growth rate, Boston-based Aite Group forecasts.
Over the past 12 to 18 months, the United States has begun to move closer to "a tipping point that will lead to the popularization of mobile payments," says Aite in research released earlier this month that counters the perception the U.S. lags behind the rest of the world in a shift to mobile payment platforms.
The U.S. has been seen as behind in the move for smartphone payments, but the country is said to be catching up fast.
Researchers credit the rapid consumer adoption of smartphones and carriers' and handset manufacturers' adoption of
near-field communication
chips for the breakthrough. NFC is the technology that allows chips, and therefore smartphones and tablets, to transmit data wirelessly when in close range -- including to a cash register or vending machine.
"Firms missing the signs that the market is now rapidly shifting will be at a serious disadvantage in the next few years," says Gwenn Bezard, a research director with Aite Group and author of the report. "Many organizations within the industry remain unaware that mobile payments are in a period of rapid transformation. Those that have any desire to play a role in this market must wake up now."
The 60 companies Aite interviewed for the report is a hodge-podge of household names and lesser-known startups with funky monikers. The former includes
Visa
(V) - Get Visa Inc. Class A Report
,
Master Card
(MA) - Get Mastercard Inc. (MA) Report
,
Discover
(DFS) - Get Discover Financial Services Report
,
Amazon
(AMZN) - Get Amazon.com, Inc. Report
,
American Express
(AXP) - Get American Express Company Report
,
Apple
(AAPL) - Get Apple Inc. (AAPL) Report
,
AT&T
,
Facebook
,
Research in Motion
(RIMM)
,
Twitter
,
T-Mobile
,
Chase
(JPM) - Get JPMorgan Chase & Co. (JPM) Report
,
Verizon
(VZ) - Get Verizon Communications Inc. Report
,
Google
(GOOG) - Get Alphabet Inc. Class C Report
,
Starbucks
(SBUX) - Get Starbucks Corporation Report
and
eBay's
PayPal.
The latter group has such would-be catchy names as
GoWalla
,
Bill2Mobile
,
Mocapay
,
Hipcricket
,
C-Sam
,
Cashedge
,
Roamware
,
Cellfire
,
Rocketbuxx
,
Xipwire
and
Zong
.
While start-ups stake out their territory, giants such as Google and Apple are escalating the competition on a larger scale.
Speaking at the Web 2.0 conference last month in San Francisco, Google CEO Eric Schmidt announced that the coming version of its Android operating system will support NFC chips. Apple is also been reported to be adding NFC experts to its staff to implement the technology on iPhones. Similar plans are afoot by
Nokia
(NOK) - Get Nokia Oyj Sponsored ADR Report
and RIM.
Last Month, AT&T, T-Mobile and Verizon announced a joint venture for what they are calling
ISIS
, a national mobile commerce network.
The initial focus will be on building a mobile payment network that uses mobile phones to make point-of-sale purchases. The network will also push coupons and special offers from merchants.
Roughly 200 million consumers will have access to the network within the next 18 months, according to the announcement.
The widespread acceptance of mobile shipping may help speed the adoption of smartphone-based transactions.
Cyber Monday this week proved a important touchstone, according to eBay, which says its U.S. mobile commerce sales increased 146% year over year. The site expects to generate more than $1.5 billion in gross merchandise volume via mobile sources this year, compared with $600 million last year.
In the U.S., cars and trucks topped the list of products bought by mobile phones for eBay, which earlier this year had a shopper buy a Mercedes-Benz for $240,000 using a mobile phone. Cell phone and PDA accessories and women's clothing led in terms of total number of transactions.
One of the new companies staking a claim in this marketplace is Palo Alto, Calif.-based
. Rather than waiting for technology to evolve, it's taking matters into its own hands with what it calls "Bling Tags" -- small RFID-enabled stickers that attach to a smartphone. The stickers contain a small transmitter that can communicate at short range with a specially designed payment console.
The Bling Tag can be used to enhance the buying experience and expedite customer loyalty programs, linking to social media sites such as Facebook and allowing merchants to push special offers and coupons, says Meyer Malka, who shares CEO duties for the company. The payment solution links to PayPal to offer instant transactions.
Improving the "user experience" is crucial, Malka says, and what he and others offer has to be "as good, or better, than the default."
"If you want to change the way people behave at the point of sale, it is not just about paying anymore," he says. "Paying is very well covered by the traditional networks. They do a very good job, and swiping a card has become so convenient and easy that we just do it automatically without thinking about it."
"There is a lot going on in mobile payments," Malka says. "It's a very complex space and a lot of players tackling different issues from different perspectives. Ours is to make you think about what you would like to do at checkout that is different from just swiping a card."
-- Written by Joe Mont in Boston.
>To contact the writer of this article, click here:
Joe Mont
.
>To follow the writer on Twitter, go to
.
>To submit a news tip, send an email to:
.