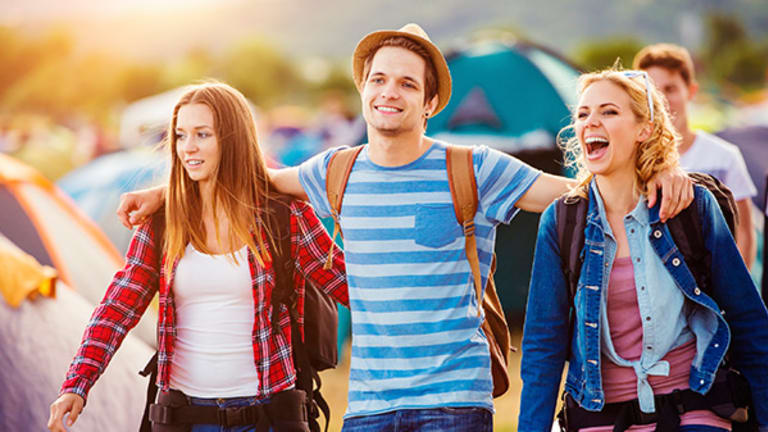 Millennials Lead the Way Toward Financial Literacy
A tough slog through the recession left Millennials cash-strapped, but financially educated. Now they want to help other generations avoid their trial by fire.
After watching their parents' finances crushed during the recession and their own financial outlook darken in the days following it, Millennials want financial literacy taught in classrooms.
Well, not only is it being taught there, but Millennials are perhaps the most financially literate generation since the World War II generation that survived the Great Depression.
According to a recent survey by LendingTree, 88% of Millennials and 90% of active U.S. teachers says a financial literacy course should be a required before high school graduation. Roughly 60% of Millennials and 56% of teachers felt passing a standardized financial literacy test should be a requirement for high school graduation. Meanwhile, a survey from RBC Wealth Management-U.S. and City National Bank found that 87% of all Americans believe that financial literacy should be taught in schools. Of that group, 15% said instruction should begin as early as elementary school, while 72% said it should be taught in middle and high school.
"Having a basic understanding of how money, investing and our broader financial system works is critical in our society today," says Tom Sagissor, president of RBC Wealth Management-U.S. "Yet there is a growing realization, particularly in the wake of the last financial crisis, that many people don't understand budgeting, investing or how simple financial products like loans work. That puts them at a disadvantage not only during their working years, but as they begin to contemplate retirement."
However, the number of disadvantaged is rapidly shrinking. Though only five states require a dedicated finance course in high school, LendingTree notes that only 35% of Americans finished school without any financial education. Roughly 52% of Millennials who discussed finance very often at home took a high school course that included personal finance, compared to 25% of Millennials who almost never discussed finance at home took a personal finance course.
Also, Millennials (ages 18-34) are far more likely than older generations to have received formal training in managing their personal finances. Roughly 21% of Millennials learned about personal finance in school, compared to just 11% of Generation X (11%) or their parents in the Baby Boom generation (9%). Meanwhile, Millennials' parents have been a lot more helpful in this regard, if only by setting an example of what they shouldn't do with money. Almost 30% of Millennials learned about personal finance from their folks, compared to just 19% of Gen X and 10% of Boomers. The percentage of Millennials left with no financial education (29%), is far lower than that of Gen X (37% or Baby Boomers (38%) as a result.
"Having an early foundation in financial literacy would significantly help the average American through critical financial decisions, like saving for retirement, financing a car or buying a home," says LendingTree chief executive Doug Lebda. "With a better understanding of basic financial concepts, not only will we be more empowered to make smarter decisions regarding our finances, but we'll be able to ask the right questions when needed."
Millennials are already making that clear. According to Bankrate, they're feeling secure in the employment and job security and have a better overall financial situation than they did a year ago. While other generations gripe about stagnant income, Millennials who are finally getting into decent-paying full-time jobs are finding their feet and accruing savings.
"A key reason why Americans aren't feeling as rosy about their finances is stagnant income," said Greg McBride, CFA, Bankrate.com's chief financial analyst. "Although the market continues to add more jobs, with the supply of workers in many fields outweighing the demand, there have been fewer pay raises."
Millennials aren't exactly sure they have it all figured out yet, as a survey by financial firm Franklin Templeton notes that Gen X-ers and Millennials are both stressed out about retirement savings and investments (76% and 70% respectively). Also, 90% of Millennials are concerned about paying for expenses during retirement, compared to just 50% of people overall. However, despite the fact that 40% of Millennials have no retirement plan in place at all, 35% of Millennials feel their retirement plans will fare better than those of past generations. In that regard, they've already broken a cycle of financial hardship that's been in place since their parents were their age.
"The approach towards personal financial literacy in the United States is currently very reactive, instead of being proactive," LendingTree's Lebda says. "Instead of having an ingrained understanding of basic financial and economic concepts, some Americans are forced to find less-than-ideal solutions when met with financial roadblocks."
Not surprisingly, 15.5% of Millennials who grew up in a household with an annual income of less than $25,000 (17.3% of respondents) discussed finance either often or very often at home. On the other hand, 28.7% of family households who earned over $100,000 annually (25% of all respondents) discussed finance often. Those most likely to be burdened with financial issues in America are also the least likely to discuss finances at home. But the trend toward increasing financial education shows that, too, may be changing.
"Money has long been considered a taboo topic, even among family," says Malia Haskins, vice president, wealth strategist at RBC Wealth Management-U.S. "We've seen many of our clients struggle with how to talk to their kids about money. In fact, many ask their financial advisor to have the conversation with their kids because they aren't comfortable doing so themselves."
This article is commentary by an independent contributor. At the time of publication, the author held no positions in the stocks mentioned.