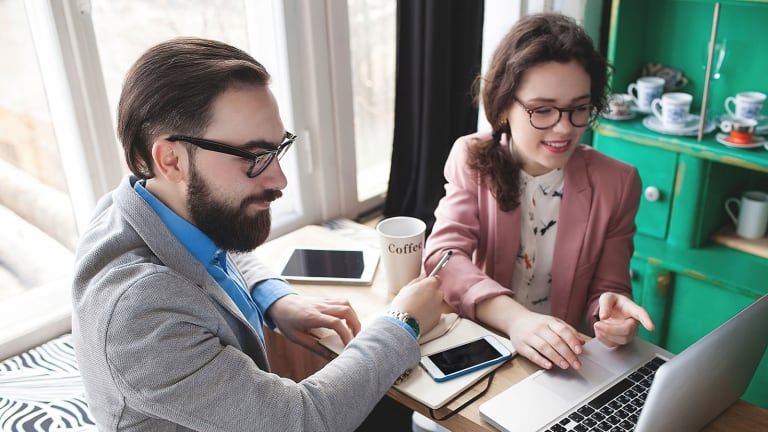 Millennials Are Looking at Work And Life Differently Than Past Generations
Whereas previous generations looked at life as going to school, working and then retiring, Millennials are challenging that idea
Editors' pick: Originally published Oct. 26.
Before going to law school, Vik Kapoor decided it was time to take a year off.
"I took almost a year off before law school, and during that 'hiatus,' I learned French in the South of France, mediated community disputes in a New Jersey court, enjoyed nature and generally had the time of my life being a total bum," said the 33-year-old president of Extra-M Coaching, a Millennial counseling firm.
Looking back on it, Kapoor, who lives in the Washington D.C. area, said it likely cost him about $40,000 in lost earning, but calls the experience "priceless."
Kapoor is not alone in his generation. A recent survey from insurance provider Allianz Life showed 69% of Millennials would prefer to "explore, experiment and travel" prior to retirement and follow a different path in terms of how they learn, work, partner and raise families. More than half also said they would prefer a more "non-traditional path," where they might work, take breaks, volunteer and try different things — and in no set order.
Whereas previous generations looked at life as going to school, working and then retiring, Millennials are challenging that idea.
"Baby Boomers, in general, have followed the common pattern of go to school, get a job and work, retire as soon as you can," said Chip Munn, CEO of Signature Wealth Strategies. "They viewed retirement as a vacation that you went on and never came back. Millennials don't view retirement the same; they focus more on living in the moment."
Munn said Millennials typically test out jobs before settling on a career, trying to find the best possible fit. Rather than rushing off to have a long retirement, they prefer the idea of doing something they like - that pays the bills - for a longer period of time.
"With the Millennial generation, work-life balance has become a 'work-life blend,' with Millennials never being 100% at work, but never being 100% away from it either," said Bryan Yackulic, adjunct professor of management at The American College of Financial Services. "Millennials have changed the rules not just on when work will be done, but where it can be done as well."
While they may be changing the rules, the non-traditional path many Millennials seek may be challenging, as they have the least savings for things such as retirement and home buying. The Allianz study showed Millennials have the highest debt among the last three generations — baby boomers, Gen-Xers and Millennials — with a reported average of $150,000 in estimated mortgage, student loan and credit card debt.
Yackulic, however, does not see the Millennial generations as not understanding retirement.
"I think it is a misconception that Millennials do not realize the importance of saving early for retirement," he said. "In fact, Millennials are actually saving at a faster rate than any generation before them. The real issue is student debt and lifestyle."
Yackulic said with the average student coming out of college with $30,000 in student loans, just paying back their debt feels like an impossibility, let alone saving for a house or retirement. This is enhanced by the difficult job market, despite Millennials being the most educated.
"Paying back student loans is a top priority for Millennials, which is one of the reasons our retirement funds are lacking," Yackulic said. "This mindset is one of the reasons why Millennials are seeking out travel experiences now."
Yackulic also adds it is important to remember it may be difficult for Millennials to focus on retirement — as it still is likely another 40 years away for most.
For his part, Kapoor said he believes Millennials can have their ideal life and also have blissful golden years — but admits there is a danger.
"If done right, Millennials can really enjoy a full 'integration' of work and life, complete with respites and exotic moments," Kapoor said. "But if folks are just escaping reality, drinking themselves into a stupor and spending like mad, then surely constant job-hopping and disengagement could very well jeopardize the long-term well-being for many in my generation."