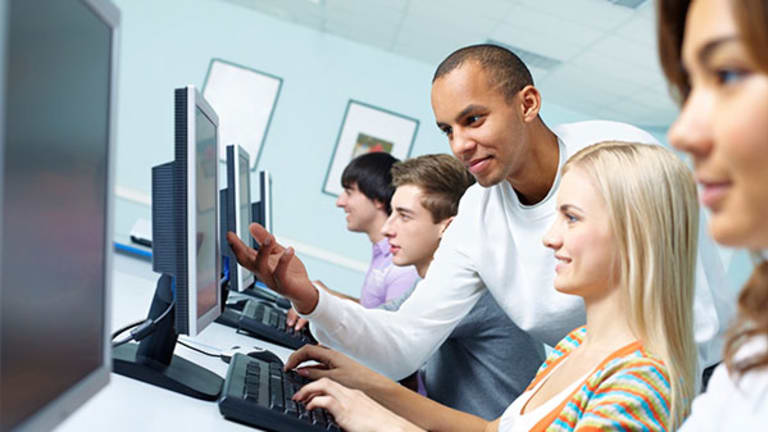 Publish date:
Millennial Investors Care More Than Boomers, Gen X
A study finds that Millennial investors are as cautious as baby boomers and diversify like Generation X, but place more value on social responsibility that either thanks to their post-recession experience.
A study finds that Millennial investors are as cautious as baby boomers and diversify like Generation X, but place more value on social responsibility that either thanks to their post-recession experience.
PORTLAND, Ore. (TheStreet) -- If you want to learn a valuable lesson about investment, heed the mistakes of the generations of investors that came before.
The financial advisers at British firm deVere Group recently surveyed baby boomer, Generation X and millennial investors to get a sense of their priorities. The group discovered that while all three were scared away from risk by the recent financial crisis, millennials want more out of their investments than just an unending stream of payouts. Social responsibility matters, and that may not be millennials' youthful ideals talking.
For baby boomers planning or embarking on their dream retirement, avoiding risk is paramount from this point on. A full 67% view it as their top priority, which is more strongly than any other generation feels about any aspect of investing.
Millennials, however, are also loath to gamble with what little fortune they've amassed. Among millennial investors, 59% marked avoiding risk as their top priority, while 18% are looking to diversify their portfolio to avoid finding their investments locked into another bursting bubble. For previous generations, ages 18 to 30 was the time to take risks, roll the dice and try to get as much reward as their youthful indiscretions would allow. For millennials, it's all about playing it safe and smart.
Also see: Baby Boomers Don't Want Your Retirement Communities>>
Who can blame them? According to a Gallup survey, a full 43% of U.S. workers are afraid they're going to have their benefits cut, down just slightly from 46% in 2009. Another 31% see a pay cut in their future, which is nearly the same as the 32% from four years earlier. Meanwhile, 29% are worried that they'll be laid off, which is a smaller percentage than the 32% in 2009 but still greater than the 26% who feared getting the fired in 2010. On top of that, 29% of U.S. workers surveyed by Cigna said they would exhaust their resources in a month or less if they left their job for any reason.
The Center For College Affordability and Productivity reported that nearly half of the college graduates from the class of 2010 are working in jobs that don't require a bachelor's degree. A full 38% have taken gigs that don't even require a high school education. According to The Associated Press, that has dropped the median wage for college graduates significantly since 2000.
Combine that with the fact that nearly half of the nation's unemployed are between ages 18 and 34 and there is absolutely no motivation for millennials to consider risky investments. Millennials are the most fiscally cautious generation since the Great Depression, with USB Wealth Management Americas noting that 34% of millennials consider themselves conservative or somewhat conservative. The most miserly millennials dedicate 52% of their portfolios to cash, compared with 23% for other investors.
Only 12% of millennials would invest some unexpected extra income in the market, while only 28% see long-term investment as key to success. Why? Because according to the Labor Department, the average 25-year-old has already worked 6.3 jobs since he or she turned 18. A Harris survey for the University of Phoenix found that 80% of workers in their 20s say they want to change careers, compared with 64% of 30-somethings and 54% of people in their 40s. That same survey indicates that the jobs millennials are working are seen as launching points for jobs in the arts and sciences, technology and health care. A survey of Harvard graduates last year found them not only shunning Wall Street, but gunning for jobs at Google and St. Jude's Children's Hospital with equal fervor.
That also explains why millennials put ranked "social responsibility" more highly as an investment strategy than any of the predecessors. With a Gallup survey finding that that 53% of millennials aren't engaged in their jobs at all and approach their work with the kind of detachment one would expect at a temporary position -- compared with 52% of all Americans who do the same -- millennials have more on their minds than what they see as a temporary employment hurdle.
Generation X investors wish they had the luxury of being as cautious and socially aware as millennials. Born into recession and whacked with two more during their careers, Generation X is going into its peak earning years scared and a little short on assets. While it's learned on several occasions to diversify its portfolio -- which 55% of Gen X investors see as the most sound strategy -- only 26% feel they're in a position to avoid risk.
Also see: Millennials Don't Want Your Risky Investments>>
That's because, as the Pew Charitable Trusts noted, Gen Xers born between 1966 and 1975 lost 45% of their wealth during the recession. According to a 2012 Insured Retirement Institute report, only a third of Gen Xers are "very confident" about having enough money to live comfortably during retirement, cover their medical expenses and send their kids to college.
Just 41% have figured out how much they'll need to save for retirement. Among those who have saved, half have amassed less than $100,000. The IRI study also noted that during the recession, 15% of Xers made early withdrawals from their 401(k) plans, 23% stopped contributing to their retirement accounts and 22% stopped contributing to college savings plans.
Professor Glenn Crellin of the Runstad Center for Real Estate Studies at the University of Washington notes that, on the whole, less than 60% of Gen X owns a home. That's well below the 70% to 80% rates of the three preceding generations, which considered homeownership a basic adult rite of passage.
With no retirement to look forward to and no lost ground to make up, millennials are figuring out their investment strategy as they go and making decisions that baby boomers and Gen X either couldn't or wouldn't. They have the luxury to contemplate and care about their portfolios, and it may be their most coveted commodity.
-- Written by Jason Notte in Portland, Ore.
>To contact the writer of this article, click here: Jason Notte.
>To follow the writer on Twitter, go to http://twitter.com/notteham.
>To submit a news tip, send an email to: tips@thestreet.com.
RELATED STORIES:
>>Why The American Worker Is Miserable
>>Millennials Don't Want Your Risky Investments
>>Baby Boomers Don't Want Your Retirement Communities
Jason Notte is a reporter for TheStreet. His writing has appeared in The New York Times, The Huffington Post, Esquire.com, Time Out New York, the Boston Herald, the Boston Phoenix, the Metro newspaper and the Colorado Springs Independent. He previously served as the political and global affairs editor for Metro U.S., layout editor for Boston Now, assistant news editor for the Herald News of West Paterson, N.J., editor of Go Out! Magazine in Hoboken, N.J., and copy editor and lifestyle editor at the Jersey Journal in Jersey City, N.J.