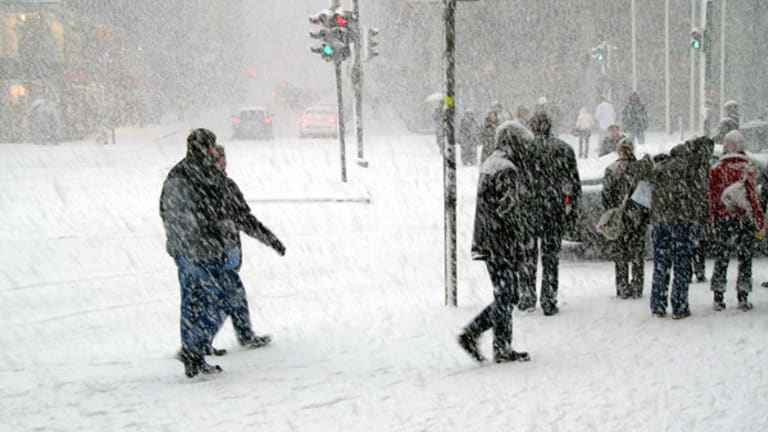 Metar Weather Offers Weather Risk Insurance to Small Business
Metar Weather is looking to help weather-reliant businesses protect their bottom lines.
Metar Weather is looking to help weather-reliant businesses protect their bottom lines.
NEW YORK (
) -- Could the impending snor'eastercane predicted to hit the East Coast be a sign of a heavy winter storm season?
While predicting weather patterns is never certain -- whether it be heavy rainfall, snowstorms or a natural disaster such as Hurricane Sandy -- one company is looking to help weather-reliant businesses protect their bottom lines.
offers weather risk protection insurance to businesses by helping clients reduce risks to earnings, expenses or revenues resulting from a broad array of "measurable meteorological phenomena," including precipitation, temperature, humidity and wind, it says.
>>>Site Lets Firms Hedge Fuel Costs
Metar Weather has an exclusive agreement with
, a leader in customized meteorological services, to give Metar access to hyperlocal weather data.
Businesses such as snow removal professionals and ski resort operators would benefit from buying Metar's products to protect from winter weather volatility in areas such as the Northeast and Mid-Atlantic, where snow, rain and ice has been more volatile and unpredictable over the past few years.
Being unable to predict whether the season will bring too much or too little snow is a big challenge for the $2 billion snow and ice removal industry. In cases in which snow and ice removal companies have seasonal contracts, they can lose money in seasons with heavy snowfall, Metar Weather says in a release announcing additional products.
Conversely, if they are working on per-occurrence contracts, they do not make money if it doesn't snow, causing many to try to find other sources of income or just close their business down, it says.
The products can also protect commercial buyers of snow removal services, such as retail businesses, shopping malls, corporate office buildings and universities that buy contracts for snow removal ahead of time.
The company does not protect against natural disasters.
Metar Weather launched in July 2011. CEO and founder Richard Nemet was inspired by a friend who owned a retail business selling winter jackets. As Nemet tells the story, the friend was lamenting an unseasonably warm fall that was cutting into his revenue.
Nemet, the former CEO of The Life Settlement Company of America in Livingston, N.J., a brokerage firm that traded life insurance policies in the secondary market, decided to create a way to bring the institutional weather derivatives market and the hedging strategies primarily used by big energy companies to the retail market.
"If we brought these out to the average retail client they would be scared of the word 'derivative,'" Nemet says. But if we used a very simple insurance product, "it would make sense to them."
"They know they have this problem, but they don't know there is a solution, nor are they looking for a solution. And so I think for us expansion is really just to bring more to specific vertical markets and really expand our reach" by developing more products and educating business on how it works and how much it costs, Nemet says.
The company is focusing on winter-weather products for the snow and ski industry, but Nemet says it is also developing a line of products for golf courses to protect against abnormally high snow or rain seasons.
The company is also looking to develop more products for places such as amusement parks, car washes and consumer retail manufacturers.
"Most people that are in the weather insurance business offer event-weather protection," Nemet says. "We truly provide seasonal weather mitigation for companies whose revenue and expenses" are weather-dependent.
Another advantage: Weather insurance is designed to pay out claims on a more frequent basis than other types of insurance.
Advanced Service Solutions
, a national facility maintenance services company in Hammonton, N.J., with a snow removal division, bought a policy with Metar Weather last year after one of its large retail clients decided to switch from a per-occurrence contract to a fixed seasonal contract.
The seasonal contract could have left Advance Service at risk should there be excessive snowfall over the 2011-12 winter season. As it turned out, last winter was unusually mild, but Advanced Service Solutions had no regrets about buying weather risk protection.
"It's like having car insurance: You sleep well knowing that you have it, even if you don't need it," Brian Morse, vice president at Advanced Service Solutions, said in the Metar release.
-- Written by Laurie Kulikowski in New York.
To contact Laurie Kulikowski, send an email to:
Laurie.Kulikowski@thestreet.com
.
>To submit a news tip, email:
.
RELATED STORIES:
>>Halloween Entrepreneurs Capitalize on Fear
>>Blood Manor's Spooktacular Business
>>Janska's Erickson Breaks Mold for Older Entrepreneurs
Follow
TheStreet
on
and become a fan on
Disclosure: TheStreet's editorial policy prohibits staff editors, reporters and analysts from holding positions in any individual stocks.