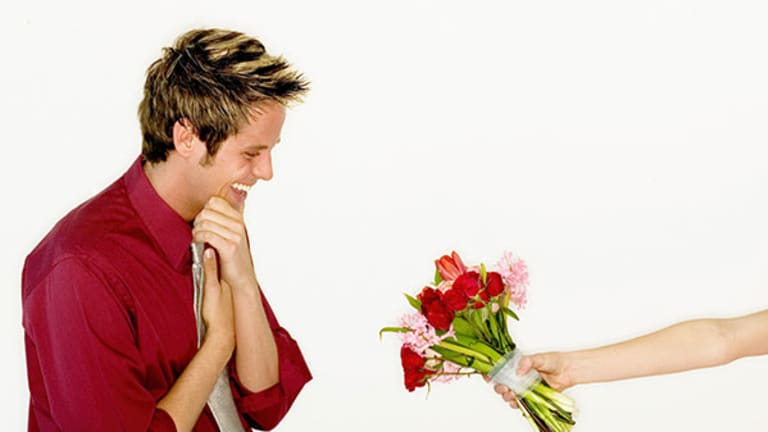 Men Want More Than They're Getting on Valentines Day
Men are demanding some Valentines Day swag of their own, and as delusional as women about the dollar amount they deserve.
NEW YORK (TheStreet) -- Tradition has it that Valentine's Day is a day men shower their spouses and girlfriends (sometimes at the same time) with roses, candy and a night on the town.
But men are turning the tables and demanding some Valentines Day swag of their own -- $230 worth, to be specific, according to the 2014 Chase Blueprint Valentine's Day Survey from Chase Card Services. Women expect only $196 in Valentine's Day treats.
Both sexes can dream on. (Actually, only a slight majority of men expect a Valentine's Day gift at all, though, and 43% say they don't want anything.) Chase surveyed 1,209 men and women to arrive at those figures and found also that women plan to spend only $71 on their Valentine's Day date, while men plan to spend $98.
The way to a happy medium and a happy holiday is to establish realistic goals, Chase says.
Also see: Smokers Are Less Likely to Find Love Online>>
"Setting expectations for Valentine's Day spending is just one way to begin talking about finances with your significant other," says Tom O'Donnell, senior vice president at Chase. "Having an open and honest conversation about your financial expectations and priorities is a key to successfully managing money in any relationship."
Nearly seven in 10 (69%) of Americans would prefer that their spouse or significant other surprise them rather than let them pick out their own Valentine's Day gift (31%), according to the survey. Here are some more insights to help you plan your Valentine's Day surprises:
When thinking about Valentine's Day and asked to choose between flowers or chocolates, 60% of Americans prefer chocolates to flowers (40%).
Nearly two-in-three (64%) Americans prefer to go out to dinner at a restaurant rather than have a home-cooked meal (36%).
Also see: You May Be in a Relationship With a Financial Bully>>
Sixty percent of Americans would prefer the latest technology item rather than jewelry (40%).
Beyond Valentine's Day purchases, couples face much larger financial decisions. According to the survey, 45% of Americans feel that being in a relationship makes it harder to manage their money, while only 26% believe it makes it easier. Yet a majority of couples surveyed still combine their finances. In addition:
While nearly two-thirds (65%) of Americans have combined or would combine all or some of their finances with their spouse or significant other, 23% of Americans have not or would prefer not to, and 12% are not sure.
A majority of Americans (66%) feel the right time to combine finances (including having joint checking and savings accounts and credit cards) with their spouse or significant other is once married. A smaller number of Americans feel the right time is when moving in together (9%) or once engaged (6%).