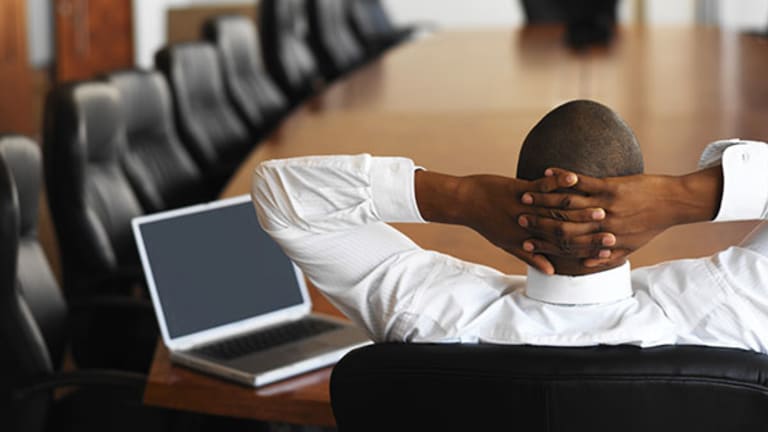 Men and Women Define Success Differently: Who Cares About the Money?
A study on gifted individuals finds men place more value on career and income than women.
NEW YORK (MainStreet) — Though many people in the United States define success by wealth, a new study indicates that men and women determine their own successes very differently.
In particular, men have more of a tendency to define success by the level of their incomes and professional achievements, whereas women generally place more emphasis on the quality of their family and community relationships.
These are some of the main findings of a study titled "Life Paths and Accomplishments of Mathematically Precocious Males and Females Four Decades Later," which were published in Psychological Science toward the end of last year. 
Support for the study was provided by a research and training grant from the John Templeton Foundation and by a National Institute of Child Health and Human Development grant to the Vanderbilt Kennedy Center for Research on Human Development.
For the study, researchers from Vanderbilt University in Tennessee spent four decades studying a group of mathematically gifted adolescents who scored in the top 1% of ability in the nation. Specifically, the research team selected 1,037 males and 613 females at the approximate age of 13 in the early 1970s and tracked them through mid-life.
The study participants--now ranging in ages 48 through 53--all reported high levels of professional accomplishment and life satisfaction.
"For men and women alike, we found that those who were identified as talented at this early age have gone on to generate creative contributions, become leaders in their professions, earn high incomes and be pleased with the quality of their lives," said David Lubinski, professor of psychology and human development at Vanderbilt. 
Among the two groups Lubinski and his colleagues studied, 35% of the first group and 39% of the second group earned doctorates, compared to less than 2% of the U.S. population. More than 4% of the participants had earned tenure at a major research university, while 2.3% were top executives at "name brand" or Fortune 500 companies, and 2.4 percent were attorneys at major law firms or organizations. Altogether, the study's participants have published 85 books and 7,572 refereed academic articles, secured 681 patents and been awarded $358 million in grants.

WATCH: More personal finance videos on MainStreet | More videos from Scott Gamm
View Today's Auto Loan Refi Rates
Yet, researchers found that how a participant gauged his or her personal success and contentment, as well as professional choices, varied dramatically by gender.
For instance, men in the study were more likely to be CEOs or to be employed in a STEM (science, technology, engineering, math) field. Meanwhile, women in the study were more likely to work in education or in the health care field—or were homemakers. And while women and men were nearly equally represented in fields like finance, medicine and law, men were much more likely to work full-time than women--90% of men, compared to 65% of women.
"Early manifestations of exceptional mathematical talent do lead to outstanding creative accomplishment and professional leadership, but with notable sex differences," said Lubinski.
Namely, men in the group generally received a higher income than the women. Specifically, men in the group had a median income of approximately $140,000 as compared to $80,000 for women. However, women participants who were married usually had spouses with incomes that exceeded $100,000, whereas male participants who were married had spouses whose median income was between $20,000 and $26,000. Though women earned about the same amount regardless of their marital status, men who were married reported significantly higher incomes than those who were single.
These discrepancies in income may reflect the distinction in scheduling choices that exists between male and female participants. While the men in the study tended to work in high-level careers that often required 50 or more weekly work hours, women placed more importance on spending quality time with their families and being active within their communities.
Specifically, most men in the group reported working an average of 51 hours per week--or more. Additionally, nearly 100% of the men responded that they would be willing to put in even more hours if allowed to pursue or advance their ideal career, compared to only 70% of women. By contrast, women in the group valued part-time work more often.
Despite these gender differences in how they viewed and approached career goals, both men and women overwhelmingly responded that family was the most important factor in their lives and cited it as their greatest points of pride.
But again, gender differences arose in how participants invested in their families. The men tended to consider their most significant investment in their family their ability to offer financial support, whereas women tended to translate their most valuable contributions to be their investments of time and emotional energy.
"Men and women valued career choices, community and family somewhat differently in constructing lives that were satisfying, yet both were equally happy with their outcomes," said study co-author Camilla Benbow. "Both genders used their intellectual abilities to create resources for themselves, and with those resources come choice and the ability to exercise preferences."
Benbow noted that it will be interesting to see whether these gender differences continue to exist in younger generations, especially as the doors to more academic and professional options become more open and welcoming to women.
"We are already seeing…that the academy has become more welcoming for women who wish to pursue careers in math-intensive sciences or engineering," said Benbow. "Even the cohorts in our study had more career and life choices available to them than did their parents' generation."
--Written by Laura Kiesel for MainStreet