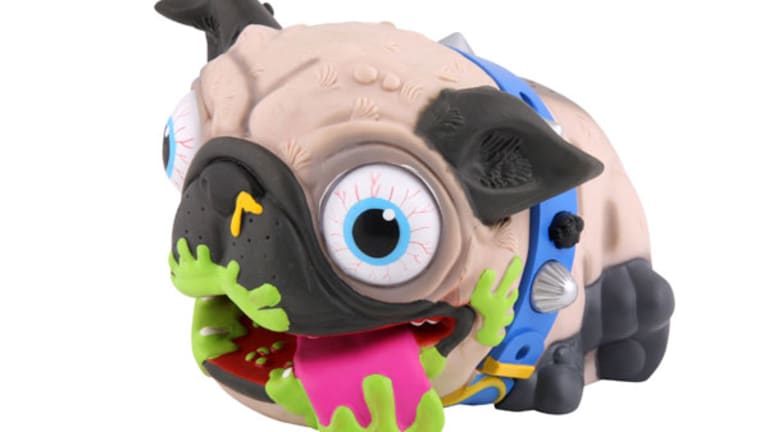 Meet the Ugliest Holiday Toy of 2013
Check out some of the new -- and sometimes gross -- interactive toys that hit store shelves just in time for the holidays.
NEW YORK (TheStreet) -- A hideous looking dog that burps and farts is becoming one of the bestselling toys this holiday season. Adults might react with an "ewww," but this toy elicits "ooohs" and "aahs" from the little ones.
Aptly named
The Ugglys
, the new electronic hand puppet from
Moose Toys
, makes rude noises such as farting and burping, in addition to snoring, growling and barking sounds. Using a button on the pup's collar, kids can manipulate the pitch, making the sounds even more disgusting.
According to
, a Web site that reviews toys, video games and entertainment products, The Ugglys pug (approximate retail price is $29.99) is very popular because many kids -- especially those between 5 and 8 years old -- appreciate a good fart joke. Blame it on the movie,
Despicable Me 2
, released last summer, which featured a fart blaster.
Ugly or not, parents will buy the toy if they know it has a lot of play value, says Jim Silver, CEO of
TimetoPlayMag.com
. "They don't want to buy a toy that their child will play with for 10 minutes and then just toss aside," he says. "They want toys that are engaging that the child would want to play with -- in different ways -- every day."
From ugly and messy to cute and cuddly, here are some more interactive toys that hit shelves just in time for the holidays.
Furby Boom
(Hasbro)
Ages 6 years & up
Approx. Retail Price: $64.99
Requires 4 AA batteries, not included
One of
Holiday 2012's hottest playthings
, the Furby is back again with all the features of its predecessor, but with a lot more content and a free
Furby Boom
app.
Through their mobile devices, kids can go on a digital adventure -- raising, caring for and playing games with their playmate. As they care for their Furby Boom, they will earn colorful virtual eggs that in time will each hatch and become a Furbling virtual friend. The owner and the Furby Boom can both feed, play and interact with the virtual Furbling creatures who speak English and "Furbish."
The interactive dashboard on the app monitors the Furby Boom, including its happiness, hunger and cleanliness levels. As kids engage with the app, their Furby Friend will react. If the dashboard indicates it's time to clean up, users can access the app's shower feature and watch as Furby Boom physically reacts to the water's temperature.
The Furby Boom also has an enhanced memory function that will allow it to remember other creatures it encounters. The personality of each Furby Boom is shaped by how the child plays with it, with the possibility of five brand-new personalities to evolve.
Trash Pack Trash Wheel Junk Yard Playset
(Moose Toys)
Ages 5 years & up
Approx. Retail Price: $19.99
The
Trash Wheels Junk Yard Playset
works with Trash Wheels vehicles that are gross and wacky, just like Moose Toys' Trash Pack figures. With more than 80 vehicles to collect, the junk yard playset is a good place for kids to get creative with their mobile Trashies.
Through imaginative play, kids can give their Trashie a new engine. And when they're ready to send it to the scrap heap, they can use the playset's pretend car crusher. Kids can create an entire Trash Wheels town by combining the Trash Wheels Junk Yard Playset with other Trash Wheels products sold separately.
Baby Alive Real Surprises Baby
(Hasbro)
Ages 3 years & up
Approx. Retail Price: $56.99
Requires 3 AA batteries, demo batteries included
The
Baby Alive Real Surprises Baby
gives little kids the experience of taking care of their very own baby -- including the ability to change wet diapers. This doll wets and soils, speaks 30 different phrases in English or Spanish and will tell you when it wants to be fed.
The Real Surprises Baby comes with food packets that can be mixed with water and fed to the doll. Just like a real baby, this one tends to be a little picky, shaking its head from side to side, letting you know what it likes and doesn't like to eat.
This doll is available in three ethnicities: Caucasian, Hispanic and African-American.
Big Hugs Elmo
(Playskool)
Ages 18 months to 4 years
Approx. Retail Price: $59.99
Requires 4 AA batteries, not included
Elmo toys have been around for a while, but the new
Big Hugs Elmo
is the largest and most interactive Elmo ever created. When you hug this 22-inch plush toy, it will wrap its flexible arms around you.
Elmo sings a song about hugs and also encourages pretend play. When you press his left foot, it will invite you to act like a rabbit, frog, horse or astronaut. When Big Hugs Elmo is in a flat position, it will become sleepy and sing a bedtime lullaby before it falls asleep and begins snoring.
Furreal Friends Cuddles, My Giggly Monkey
(Hasbro)
Ages 4 years & up
Approx. Retail Price: $79.99
Requires 4 C batteries, not included
From Hasbro's line of Furreal Friends comes
Cuddles My Giggly Monkey
, which is lifelike and engaging. It has more than 100 responses ranging from silly to sweet and offers a range of interactive emotions.
When it wakes up, Cuddles My Giggly Monkey opens its eyes and makes sweet noises. Snuggle up to it and it will lean and cuddle to you closely. Feed it from the banana-shaped bottle and it will make slurping noises, moving its lips in and out.
Swing the baby monkey and it will laugh and make silly sounds. Tickle its tummy and it will burst into a fit of giggles. Rock it to sleep and it will snooze and gently close its eyes. When you're not playing with it, your "pet" will move its head and make sounds to grab your attention.
Cuddles My Giggly Monkey comes with a bottle, pink bow and removable diaper.
Zelfs Venus Flytrap Spin Salon
(Moose Toys)
Ages 5 years & up
Approx. Retail Price: $24.99
Remember those Troll dolls in the 90s? The
Zelfs
, a group of quirky and collectible dolls from Moose Toys, look a little like them. They come from the secret garden of Zardenia, where they dwell in different "fabitats" -- from the Water Wave Garden to the Witchbrew Bistro.
Featuring colorful and spiky hair, each Zelf has its own unique persona, a Zelf power represented by a Zelfmark and matching charms and hair accessories that girls can use to style and tame their Zelfs' crazy hair.
The
Venus Flytrap Spin Salon
playset is designed to make playing with the Zelfs even more fun. Kids can twist and twirl their Zelfs' hair to give them a fun new look.
The Spin Salon comes with an exclusive Zelf named Tressa, two hair extensions, one hair clip, a tiara, hairbrush and a collector's guide. Girls can also store their Zelfs in the playset once the Venus Flytrap Salon snaps shut.
Play-Doh Perfect Twist Ice Cream Parlor
(Hasbro)
Ages 3 years & up
Approx. Retail Price: $21.99
Kids will enjoy creating realistic-looking soft serve ice cream -- either in a cup or a cone -- with the new
Play-Doh Perfect Twist Ice Cream Parlor.
Just fill the ice cream cartridge with Play-Doh and insert it into the ice cream maker.
Getting the (inedible) ice cream to swirl down perfectly from the machine may be tricky at first, but kids will get the hang of it with practice. Using the Rainbow Sprinkle Crank & Cone dispenser, kids can sprinkle on some colorful toppings to decorate their very own ice cream.
The Play-Doh Perfect Twist Ice Cream Parlor playset includes five cones, two dishes, two spoons, two standard cans of Play-Doh compound and three standard cans of new Play Doh Plus compound.
Blingles Glimmer Glam Styler
(Moose Toys)
Ages 6 years & up
Approx. Retail Price: $19.99
The
Blingles Glimmer Glam Styler
can be very messy, with glitter flying all over the place, but kids can have a lot of fun with it. They can create and design their own glittering stickers that can be used to decorate their phones, tablets, notebooks, lunch boxes or any gadget with a smooth surface.
Blingles is the popular arts and crafts line from Moose Toys that allows kids to create stickers with ease. Each box of Blingles Glimmer Glam Styler comes with four different glitter colors, gems, a glitter roller glimmer pen and brush.
Color Me Hungry Hippo
(Hasbro)
Ages 6 to 36 months
Approx. Retail Price: $24.99
Requires 3 AA batteries, demo batteries included
You can combine excitement and learning opportunities for your little ones with the new
Color Me Hungry Hippo
. "Feed" the hippo and watch its belly respond with a colorful glow. As the character chows down, he recognizes each shape, color and the food it represents.
Open the hippo's belly to remove shapes for put-and-take play. Four modes of play keep the baby engaged with numbers, colors, shapes and foods.
The hungry hippo features more than 45 sound effects, tunes and activities, and it teaches in English or Spanish.
-- Written by Marilen Cawad in New York.
RELATED STORIES:
>> Holiday Wine-Buying Guide From the Experts
>> 5 Gift Cards To Avoid For Holiday Shopping
>> 10 Best Gift Cards For Holiday Shopping
Disclosure: TheStreet's editorial policy prohibits staff editors and reporters from holding positions in any individual stocks.