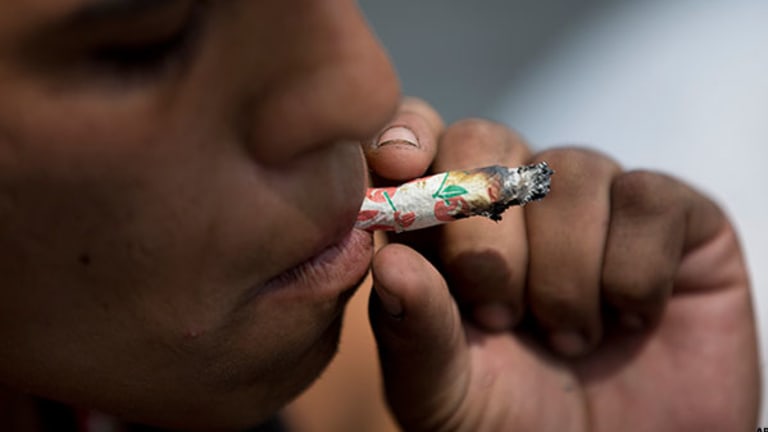 Medical Marijuana in Canada Set to Boom
But cultivators need business expertise to thrive.
But cultivators need business expertise to thrive.
NEW YORK (MainStreet) In Canada, regulation changes on April 1 will allow licensed producers to grow medical marijuana on a commercial scale. That's a radical shift, moving from a sole provider system to one with multiple providers. As a result, patients will no longer be able to grow their own medicine, but the Health Canada-run program will have eight to ten approved providers to cultivate the goods.
"The story is big, because the patient population is likely to explode," said Alan Brochstein, founder of marijuana stock subscription service 420 Investor. "There have been impediments for patients to becoming eligible, primarily a ten-week wait-list under the old regime."
Health Canada conservatively estimates the Canadian market could be worth $1.3 billion by the end of 2014. Industry analysts see that number doubling by 2016 to $2.6 billion. Added with the growth of the U.S. market, forecasts suggest the North American cannabis market should top $5 billion-plus by 2016.
The authorized Canadian licensed producers under the "Marihuana for Medical Purposes Regulations" are as follows:
Bedrocan Canada Inc.
Canna Farms Ltd.
CanniMed Ltd.
Mettrum Ltd.
MedReleaf Corp.
The Peace Naturals Project Inc.
ThunderBird Biomedical Inc.
Tweed Inc.
Whistler Medical Marijuana Corp.
Reaping the Benefits of Fertile Ground
The investor can find a wealth of opportunity in this news.
The public company play is Creative Edge Nutrition (FITX), which controls subsidiary CEN Biotech, equipped with a super grow cannabis facility in Lakeshore Ontario (still seeking approval from Health Canada to grow and sell cannabis). CEN Biotech will have a funding and supplier agreement with GrowLife (PHOT), a company that supplies specialized equipment to cannabis growers and marijuana dispensaries. In January, GrowLife through its joint venture partner OGI invested in CEN Biotech's ten-acre cultivation plant, expected to produce up to 1.3 million pounds of medical marijuana annually, with $40 million in restricted stock.
"My intention is to grow enough cannabis to supply Canada and build an export market," said Bill Chaaban, CEO of Creative Edge Nutrition in Madison Heights, Mich.
Marijuana from this Canadian facility would be sold in Israel, Holland, Colombia and Uruguay.
"We are looking for five times the return on our investment from this partnership," GrowLife CEO Sterling Scott told MainStreet.
Another play to look for: CEN Biotech will use technology company Endexx (EDXC) for its seed-to-sale tracking software. Licensed producer Tweed is looking to go public through reverse merger. Also keep an eye on seed-to-shelf cannabis cultivator Tilray, a company in Nanaimo, British Columbia that is controlled by Privateer Holdings, a highly regarded cannabis-focused private equity fund.
Growing Like Weed
Medical marijuana is currently legal in 20 U.S. states, with Colorado and Washington state recently decriminalizing recreational use. This trend is only accelerating.
Recent analysis on the American marijuana marketplace by ArcView Angel Investors forecasted that the five-year national market could grow to $10.2 billion amid rising demand and potentially new state markets.
Financiers in Canada are looking to capitalize on this expanded demand in the U.S. and growing ability in Canada by using their business acumen to help develop cannabis companies that already have technical expertise.
Harry Barr, financier and president and CEO of mining company Next Gen Metals (CSE:N), is looking to get in on the marijuana game up north.
"Recent legal changes have convinced us that this emerging, multi-billion dollar market would benefit from our expertise," Barr said. "A growing proportion of the medical community believe that medical marijuana and more specifically cannabinoids have the potential to help patients who are suffering from a variety of ailments and illnesses."
Drugs like Sativex, developed by GW Pharmaceuticals (GWPH) and expected to be instrumental in treating epilepsy, are part of an increasingly sophisticated and versatile medical marijuana market, according to Rick Doblin, the founder Multidisciplinary Association for Psychedelic Studies (MAPS), a non-profit research and educational organization working to develop psychedelics and marijuana into legal prescription drugs.
"I think Sativex will be a boon to pharmaceutics," said Doblin, who has also served on the National Organization for the Reform of Marijuana Laws since 1996. "The main advantage of Sativex for pharmaceutical companies is that it will be approved for insurance."
"Next Gen's vision is to be a leading provider of venture capital, management expertise, education and act as a facilitator for this important new industry," Barr said.
With financial and strategic backing, more lenient cultivation laws and expanded demand, the opportunity to count this Canadian growth as an investment win has arrived.
--Written by Ross Kenneth Urken for MainStreet