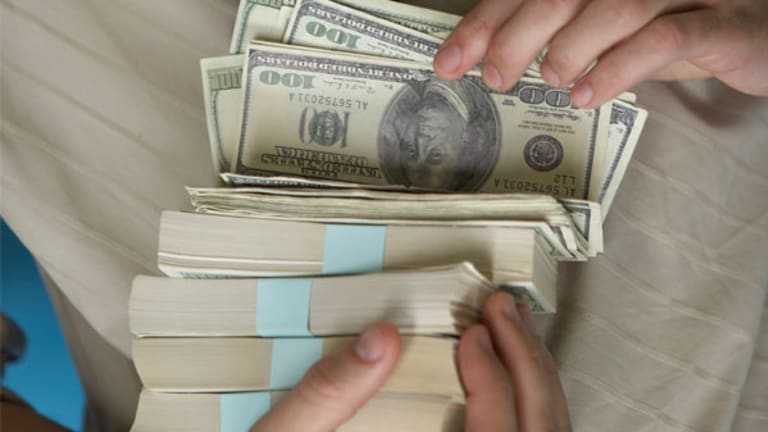 Medical Device Industry Needs Miracle Cure
Medical devices, much more costly in the U.S. than abroad, face a tax that is sending industry investment overseas. What's to be done?
BOSTON (MainStreet) -- Talk of health care costs usually revolves around prescription drugs, doctor visits, hospital stays and medical tests.
A growing debate, however, focuses on medical devices -- the physical equipment added to the body to alleviate symptoms, from contact lenses to prosthetic limbs, pacemakers to insulin pumps.
While the cost of life-saving medical devices can be astronomical in the U.S., a tax on them could drive away investment in them and punish small inventors. Is there a cure for this syndrome?
Among the industry leaders in this space are
Johnson & Johnson
(JNJ) - Get Report
,
Abbot Laboratories
(ABT) - Get Report
,
Allergan
(AGN) - Get Report
,
Covidien
(COV)
,
Becton, Dickinson and Co.
(BDX) - Get Report
,
St. Jude Medical
(STJ)
,
Quest Diagnostics
(DGX) - Get Report
,
Boston Scientific
(BSX) - Get Report
and
Smith & Nephew
(SNN) - Get Report
.
The companies that make medical devices blame health care reform and shrinking venture capital pools for higher costs and a potential decrease in innovation.
A tax on medical devices is included in last year's health care reform package known as the Affordable Care Act, a 2.3% excise tax that will be levied on the total revenues of a company (regardless of whether it generates a profit) starting in 2013. It is anticipated that the tax will generate $20 billion in revenue over the course of a decade.
That tax has not surprisingly drawn fire from the medical device industry, and there has been another full-court press in recent days to remove it.
The
Medical Device Manufacturers Association
claims "many companies will owe more in taxes than they generate from their operations," and the result will be "devastating to innovation, patient care and job creation."
"The overwhelming majority of innovation from the medical device industry comes from smaller manufacturers who work closely with clinicians and engineers to develop the therapies and treatments of tomorrow," the group says in a policy statement. "If it is not repealed, this tax will stifle innovation, harm patient care and weaken the position of the United States as the global leader in medical device innovation."
Venture capitalists also say the Food and Drug Administration's framework for product approvals forces them to invest overseas.
A study released earlier this month by the
National Venture Capital Association
, a survey of more than 150 venture capital firms, found that many identified FDA regulatory "challenges" as "the most significant factor driving away investment from start-up companies that are bringing critical therapies to market."
The respondents accounted for $10 billion of VC investment in health care companies during the past three years, the association says.
The survey found that U.S. venture capital firms have been decreasing their investment in biopharmaceutical and medical device companies over the past three years and expect to curtail investment further in the future.
Overall, 39% of responding firms have decreased investments in life sciences companies over the past three years. According to the survey, 36% and 44% of firms plan to increase investment in life science companies in Europe and Asia, respectively, while only 13% plan to increase in North America; 31% of firms indicated plans to decrease investment in life science companies in North America, while 7% and zero percent of respondents plan to decrease investment in Europe and Asia, respectively.
"While many factors are at work in driving away investment from U.S. medical innovation, it is the FDA approval process -- and the cost, time and unpredictability that it adds to the development of innovative products -- that weighs most heavily on investors," says Dr. Jonathan Root, general partner at U.S. Venture Partners and a member of NVCA's Medical Innovation and Competitiveness Coalition. "The FDA and the administration are already taking significant actions to reverse these trends, but we need the support of Congress to make sure these reforms are effective and lasting."
NVCA claims that "an estimated funding loss of half a billion dollars over the next three years will cost America jobs at a time when we desperately need employment growth" and that "the U.S. leadership position in medical innovation will be placed in further danger and economic growth with suffer."
While device makers more aggressively lobby for their case in Washington -- 10 bills to streamline FDA reviews were filed in October alone -- the FDA has offered an olive branch.
On Wednesday it announced an award of $2 million to support two regional Centers of Excellence in Regulatory Science and Innovation. The centers, which will be at the University of Maryland and Georgetown University, will focus on strengthening science and training needed to modernize and improve the ways drugs and medical devices are reviewed and evaluated. In the announcement, it called this a "a major focus within the FDA."
Talk of regulatory reform may mask another reason why medical device prices have soared: a desire by manufacturers to boost their bottom line on the backs of insurance company reimbursements.
An OB/GYN doctor, who asked that his name not be used, blasted the price increases he has seen in his practice. An IUD birth-control implant costs as much as $750 in the U.S. before doctor fees; in Canada, it sells for around $300, and even then has a considerable markup.
These devices are not covered under all insurance plans, meaning patients have to pay out of pocket for them. For those who are covered, the jacked-up price contributes to the higher rates all pay.
Why are companies raising the price of this particular device? "Because they can," is the doctor's opinion. "If they are already making a good buck on it anyway, why do they have to gouge the market?"
A study released in July by the Advanced Medical Technology Association, however, claims that manufacturers have held the line as much as possible over the years.
It claims that "prices for medical technology have risen slowly for the last two decades -- at a rate less than half that of overall prices in the economy and less than one-quarter the rate of prices for other medical goods and services."
Device and diagnostic prices have increased at an average annual rate of 1% compared with the Consumer Price Index increase of 2.8%, the Medical Care CPI increase of 4.7% and the Medical Care Services CPI increase of 5%, it says. Medical device spending has gone from 5.3% of national health expenditures in 1989 to 5.9% in 2009. "The percentage has remained virtually constant since 1992 at about 6%" of national health expenditures, the researchers say.
-- Written by Joe Mont in Boston.
>To contact the writer of this article, click here:
Joe Mont
.
>To follow the writer on Twitter, go to
.
>To submit a news tip, send an email to:
.
RELATED STORIES:
>>Health Care Hagglers Say They Save Up to Half
>>Health-Care Bill: Consumer, Business Angles
Follow
TheStreet
on
and become a fan on