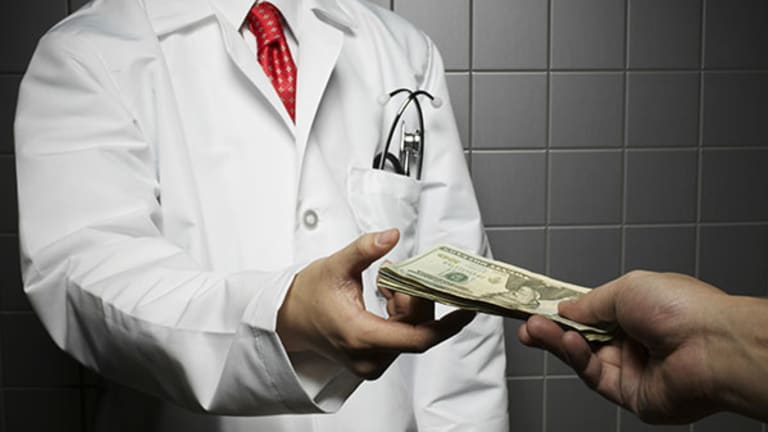 Medicaid Cuts Are Enraging Americans
Do you live in a state that said no to expanding benefits?
Do you live in a state that said no to expanding benefits?
Medicaid - the federal healthcare program for the low income - serves about  56 million Americans, or one in six of us. Total spending is about $476 billion (bigger than the GDP of nations such as Austria and Denmark). That size is the first surprise about Medicaid. After all,  Medicare - for the nation's seniors - enrolls only about 55 million.
But there's another big surprise: perhaps another six million Americans would be in Medicaid if they lived in another state.
This has sparked a loud, angry, sometimes ugly debate, with firm sides being taken pro and against. Ask Florida governor Rick Scott who - in a video that has gone viral - is loudly accosted at a Starbucks where a woman yells at and curses him, all about his Medicaid cuts. Millions of people have watched the video - so many that Scott's office has posted something of a rejoinder tape.
This brouhaha bubbled up, because Florida is one of 19 states that have not tagged along with so-called Medicaid expansion. It has an estimated 1.2 million who would be covered if it had. That's the biggest group impacted by this. Texas, with 1.18 million who would be covered if it joined in, is in second place. Georgia, North Carolina and Virginia are the only other larger states on the list - they have about 1.9 million who would be covered.
Some of the other states that refuse are smaller and hardcore Conservative - such as Utah, Idaho, Mississippi and Wyoming. Other no-go states include Wisconsin, Maine, Alabama, Kansas, Missouri, Nebraska, Oklahoma, South Carolina, South Dakota and Tennessee.
Note: those states collectively declined billions of dollars in federal Medicaid funding in 2016 and that number will grow.
Here's the back story. Built into the Affordable Care Act (ACA) - aka Obamacare - are provisions intended to result in much broader access to Medicaid. The essential change: coverage was extended to individuals making up to 133% of the poverty income in their area. Some states had limited Medicaid to people making only as much as 50% of poverty income. Others declined Medicaid entirely to working, able-bodied adults without dependents. So the expansion, if all had gone according to the White House's plans, would have extended coverage to some 21 million Americans. Sweetening the deal the feds promised to cover all related costs 100% through 2016. That falls to 95% in 2017 and keeps falling until the federal share reaches 90% in 2020.
Know that Medicaid is not an inconsequential item in state budgets. By some estimates, one-sixth of a state's budget goes to Medicaid, a number that will go up starting in 2017 when states pick up a share of the expansion costs.
Initially Medicaid expansion was forced on states in the ACA but in 2012, the Supreme Court ruled that states could opt out of Medicaid expansion. And the 19 states took the plunge.
That means if you live in Texarkana, Texas and earn 105% of poverty you are not eligible for Medicaid. Cross State Line Avenue into Arkansas and, guess what, you may be eligible.
(Medicaid eligibility in the particular, individual case is a thicket of complications. Dependent children matter. So do cash on hand and the value of any car that is owned.)  
So why did the states say no to Medicaid expansion? Two reasons, said experts. For one, said Adam Beck, a professor who specializes in health insurance at the American College of Financial Services in Pennsylvania, some states did not want to go on record supporting Obamacare expansion - which is how they construed Medicaid expansion - and a lot of that is because of their politicians' personal dislike of President Obama.
Reason two, said Medicaid expert Kip Piper in Washington, DC: some states just did not trust the federal government promise that it will always pick up no less than 90% of the cost of Medicaid expansion. That could change with enactment of a new law. Piper added: "Undoing an offer would be difficult for the states."

That is, it would be easier for Congress to erase the federal funding than it would be for the states to claw back this healthcare benefit. Joel Shalowitz, a professor of medicine at Northwestern, said that such a scenario is entirely plausible. In other words, the states are not necessarily wrong to distrust the permanence of federal funding guarantees.
So some states just decided to say no thanks to Medicaid expansion.
But some may change their minds and embrace expansion precisely, because in 2017 Obama is out of office and thus he may no associated with expansion. Beck said that is his expectation.
Piper, for his part, is more cautious. He sees some states possibly edging into expansion. Others, he believe, are plain against it no matter Obama's status.
That means if you are in a state where you are declined Medicaid but you would get it in many others, moving remains your surest option. Just check the exact coverage terms in your intended state. That's because a handful of states initially declined expansion - then won federal acceptance of a so called waiver proposed by the state that in most cases shrunk the coverage mandate.
Did it take away your coverage? Don't assume. Ask. That's the only way to be sure.
This article is commentary by an independent contributor. At the time of publication, the author held TK positions in the stocks mentioned.