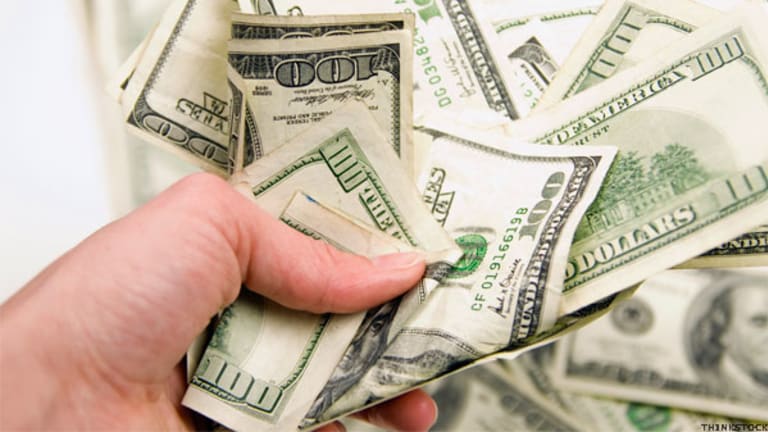 Market Mayhem Means Lower Mortgage Rates
Mortgage rates continue to fall despite the financial turmoil stemming from the U.S.'s credit downgrade.
NEW YORK (MainStreet) -- The roiling global financial markets have claimed a lot of victims in the past two weeks, as about $6.8 trillion worth of equity has been lost in the stock market since July 26, but the outliers are affecting bank consumers in other ways as well.
Take mortgage rates: After Standard & Poor's
downgraded the U.S. debt standing
last Friday, economists expected interest rates to rise, to reflect the higher price Uncle Sam would have to pay to borrow money, primarily through the issuance of U.S. Treasury debt.
Mortgage rates continue to fall despite the financial turmoil stemming from the U.S.'s credit downgrade.
To be fair, that still could happen, but it certainly hasn't happened in the U.S. mortgage market. The
BankingMyWay Weekly Mortgage Rate tracker
shows rates continuing to drop for almost all terms:
This Week
One-Year ARM: 3.242%
Three-Year ARM: 3.225%
Five-Year ARM: 3.353%
15-Year Mortgage: 3.691%
30-Year Mortgage: 4.496%
Last Week
One-Year ARM: 3.82%
Three-Year ARM: 3.504%
Five-Year ARM: 3.331%
15-Year Mortgage: 3.829%
30-Year Mortgage: 4.540%
With the exception of the five-year adjustable rate mortgage -- usually the most stable of the ARM family -- all other rate categories are in freefall. One- and three-year adjustable rate mortgages have swung wildly, and are now in a solid downward trajectory, with the one-year version dropping by a whopping 580 basis points and the three-year ARM falling by almost 300 basis points.
That makes those
adjustable-rate loans much cheaper
, but note this: ARMs include the term "adjustable" for a good reason. They reset or adjust at the one-year or three-year mark, and that reset could push your mortgage rate up if the economists are correct and interest will be rising soon.
Fixed-rate mortgages are also down this week, and substantially so, although they're not as volatile as ARMs. Fixed-rate and adjustable-rate mortgages are tied to the U.S. prime rate -- the most common benchmark used by banks for short-term interest rate guidance. (That rate stands at 3.25%.)
By and large, interest rates on 15- and 30-year fixed-rate mortgages are viewed as more stable, and don't swing nearly as wildly as adjustable-rate mortgages do, which are shorter in duration and thus significantly more prone to big swings in price.
But both types of mortgages are falling because of uncertainty over the economy, and even the 30-year rate is at the lowest point it's been all year. According to Frank Nothaft, chief economist at
Freddie Mac
(FRE)
, the low rates we're seeing are all about nervous investors plowing huge piles of cash out of the stock market, and into Treasurys, which mortgage rates closely follow.
Here's what Nothaft had to say about the low mortgage rates we're seeing this week:
"Renewed market concerns about the European debt markets led investors to shift funds into U.S. Treasuries, pushing long-term yields lower. Further, in its Aug. 9 Federal Open Market Committee statement, the Federal Reserve noted that economic growth so far this year had been considerably slower than it expected and that overall labor market conditions had deteriorated in recent months, leading the cto conclude that an exceptionally low federal funds rate should be maintained at least through mid-2013. These developments helped to ease mortgage rates lower this week."
Don't expect this trend to revert next week, either. The markets will still likely be volatile, and may continue to take down mortgage rates if investors believe the economy is still in peril.
>To submit a news tip, email:
.
RELATED STORIES:
>>Car Shoppers Have Little to Fear From Debt Downgrade
>>Despite Hints of a Double-Dip, Banks Loosen Lending Standards
>>5 Things That Scuttle Your Loan Application
Follow TheStreet.com on
and become a fan on