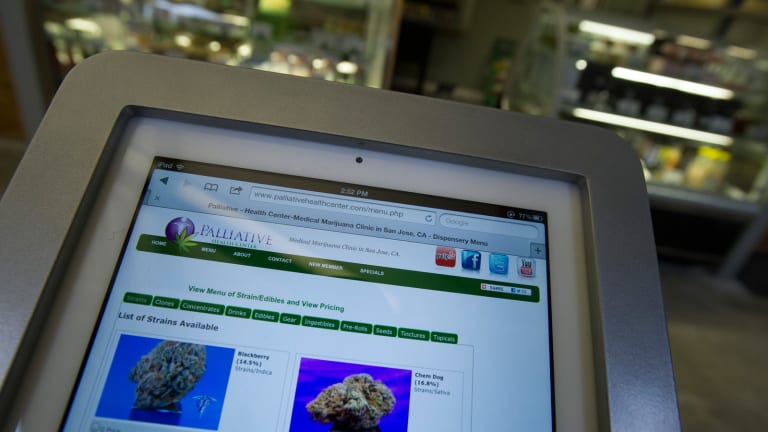 Marijuana's Horticulture High Tech Industry Is Budding in Colorado and California
Technological advances in the marijuana industry are ramping up as more states have legalized the adult use of cannabis.
NEW YORK (MainStreet) — Technological advances in the marijuana industry are ramping up as more states have legalized the adult use of cannabis.
Marijuana companies are adopting more technology such as apps and software not only to meet client and regulatory demands, but to attract more mainstream customers, emerge as leaders from the mom-and-pop shops and generate returns for its investors, especially as more states are set to legalize adult or recreational use.
Customers are seeking more now and are shunning the days of dropping by a dispensary with rusted bars on its windows. Instead, they want the convenience and flexibility of having cannabis delivered to their front door step with the touch of a few buttons like food from a local restaurant and knowing exactly how many milligrams of tetrahydrocannabinol (THC) and other cannabinoids are in an edible.
Colorado, Washington, Alaska, Oregon and Washington, D.C. have approved adult use of marijuana and at least six states are likely to regulate the adult-use cannabis industry in the next four years, including Massachusetts, Maine, Rhode Island, California, Nevada and Hawaii. The legal marijuana markets are currently generating $1.53 billion in revenue a year and are estimated to reach $10.2 billion in five years, according to The ArcView Group, a cannabis investment and research firm based in San Francisco. Between retail and medical marijuana, Colorado generated more than $60 million in tax and licensing revenue in 2014.
Product Development Is Heating Up
As the adult use of cannabis has grown in popularity, the number of consumers using vaporizers to "vape" marijuana, similar to the use of e-cigarettes, has also risen exponentially. Consumers also have a larger amount of products to choose from and are no longer limited to smoking only from pipes, bongs and joints.
Innovation from other industries such as Apple and Cisco has driven technology developers to create products which are more portable and allow consumers to switch from loose leaf to oils in the same vaporizers, said Aaron LoCascio, CEO of VapeWorld, a Boca Raton, Fla.-based vaporizer distributor. The technology is similar to the use of liquid nicotine in e-cigarettes. Vaporizers now not only look better, but perform better.
"We anticipate an increasing shift away from traditional methods of consumption," he said. "As the category continues to evolve and improvements to the products and user experience occur, consumers will continue to adopt vaporization technology across the category as a whole."
Apps Provide Convenience and Privacy
The emergence of web- and app-based solutions gives consumers more privacy and provides personalized recommendations, said Leslie Bocskor, managing partner of Electrum Partners, a Las Vegas-based boutique consulting firm. Companies such as Denver-based software company Cannabuild can create an app for a dispensary so the selection process for a customer is easier and can take place prior to them arriving at the dispensary.
"Technologies such as this can be applied in other industries and will help bring the cannabis industry into the next phase of maturity," he said.
Delivery apps are very popular among medical marijuana patients right now, said Ryan Hunt, CEO of Weedy.com, the San Mateo, Calif.-based dispensary location service. In several major cities, an app creator will partner with a dispensary and deliver marijuana to your doorstep within 10 or 20 minutes.
"It's quite remarkable to have front door delivery," he said.
Some apps will even send a doctor to your house to evaluate you for a medical cannabis card, which alleviates the apprehension of going through an unknown process, said Hunt, whose company also educates new patients on the benefits of medical marijuana using a step-by-step guide to take them through local laws, doctors and strain recommendations based on their medical condition.
"I think a lot of people are scared by the process of getting medical marijuana," he said. "You need to see a doctor and find a dispensary. These are all new experiences that make many people very anxious and delivery apps help in that transition."
As more states legalize adult use, software is becoming a valuable asset in managing inventory as well as sales of merchandise and plant-based products, said David Bernstein, CEO of Weedhire.com, a Fair Lawn, N.J.-based career website targeting employment in the legal cannabis industry.
"Inventory management is a key component because of the legal issues with cannabis and technology will be a critical part of this," he said.
Testing Impacts Consumers Directly
The market now routinely tests its products so consumers know how much to consume for both medical and recreational use. Most dispensaries now have all their products tested and labeled so the patient knows what and how much they are getting in cannabis's active ingredients like THC, said Hunt. Down the road, the industry will test specific strains, if it was grown indoors or outdoors, where it was grown, and what components it has from cannabinoids to terpenes.
"I think people want labeling, because we want to be informed patients," he said. "In the past, there was so much unknown about what you are getting because someone just handed you something and said it was good. Now that we are treating it as medication, we want to know exactly what we are taking and what the effects will be."
The advancements in technology have now extended to patients and how they react to certain strains for their medical condition. PotBotics is a New York biotech startup for medical marijuana which focuses on EEG scans, which tests electrical activity in your brain. The company can recommend specific strains in an attempt to reduce patients' reliance on a "roll of the dice" for marijuana recommendations, said Alex Topchishvili, spokesman for PotBotics. The company can identify and quantify the effects different cannabinoids have on patients with various symptoms and conditions such as multiple sclerosis, cerebral palsy and cancer.
"Our goal is to streamline the selection process to a point where personal recommendations can be made without the need for patients to experiment with different strains themselves," he said.
The industry is adopting technology so that the genetic purity and integrity of the strain will have been researched, similar to grapes used in the wine industry, said Bocskor.
"When someone goes to buy a particular strain of cannabis, such as 'Harlequin,' there are questions about the strain you will actually get," he said. "Since all cultivators produce different results, we need to see some standardization throughout the industry in regards to genetic purity, cultivation methodology and regulation whether it is provided by governmental organizations or self-regulatory bodies."
--Written by Ellen Chang for MainStreet