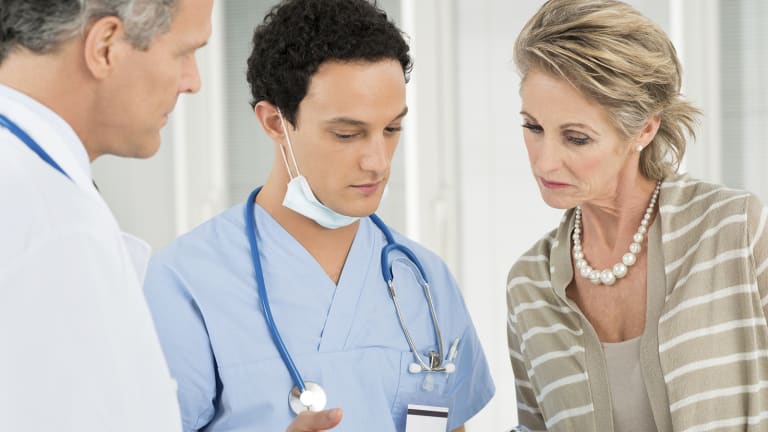 Male Nurses Make An Average of $5,148 More Annually than Female Nurses
Recent research finds that men who work as registered nurses make higher salaries than women in the same field--a pay gap that has persisted for the past 25 years.
NEW YORK (MainStreet) — Sarah Harwood loves her job as a registered nurse in the critical care division at the University of Vermont Medical Center.
"I never thought I'd be here for longer than my two year commitment," says the 33-year-old Harwood. "But here I am going on seven!"
One thing Harwood particularly appreciates about her position is the equal treatment she receives in the field--equal treatment that extends to her wages.
"There is a base starting salary and then depending on 'steps' [you take toward] seniority, you get a raise every year," says Harwood, who explains that there is no difference between her wages and that of her male colleagues. "We are all valued for our knowledge and ability to work together equally."
But Harwood's experiences may be the exception rather than the norm.
New research published at the end of March in the Journal of the American Medical Association found that male nurses earned substantially higher salaries than their female counterparts, regardless of specialty--and that this pay gap has persisted for 25 years.
For the study, Ulrike Muench, Ph.D., R.N., of the University of California, San Francisco, and her colleagues analyzed trends in salaries of registered nurses (RNs) in the United States from 1988 through 2013. To do this, they examined representative data from the National Sample Survey of Registered Nurses (NSSRN) that occurred from 1988 to 2008 (after which it was discontinued) and from the American Community Survey (ACS) from 2001 through 2013. The NSSRN sample included 87,903 RNs, of whom 7% were men, while the ACS sample included 205,825 RNs, of whom 7% were also men.
The data revealed that male RNs received higher wages than female RNs during every year in the period of both surveys, with no significant narrowing of the pay gap over time. Overall, the adjusted earnings difference was estimated to be an average of $5,148. In ambulatory care, the gap was higher ($7,678), while in hospital settings it was found to be lower ($3,873). The gap was also present in all specialties with the exception of orthopedic care. For instance, male RNs received an average annual salary of $3,792 higher for chronic care and $6,034 higher for cardiology than female RNs.
"A salary gap by gender is especially important in nursing, because this profession is the largest in health care and is predominantly female, affecting approximately 2.5 million women," the study authors write in JAMA. "These results may motivate nurse employers, including physicians, to examine their pay structures and act to eliminate inequities."
Muench and her co-authors elaborate in the paper that the gender pay gap has even more applicability since the roles of RNs are expanding with implementation of the Affordable Care Act, which emphasizes team-based care delivery.
However, there are some policies in effect that can protect pay discrimination that RNs can look toward for recourse.
"Beyond the Lilly Ledbetter and Paycheck Fairness act, current government efforts encourage pay transparency through an executive order that bans federal contractors from retaliating against employees who discuss their compensation and regulations requiring federal contractors to submit data on compensation paid to their employees by gender and race," says Muench. "Employers can consult a guide on equal pay produced by Department of Labor which has suggestions regarding introducing open pay policies."
Though the gender pay gap is nothing new, it is especially surprising to find it in such a female-dominated field, with men comprising just 9.6% of nurses in the United States as of 2011. One would think this would put men at a disadvantage when entering the field.
"I think that nursing is perhaps an area where a woman with equal skills might have an edge over men thanks to history," says Harwood. "We often have patients that request no male caregivers and only once have I encountered a patient request only male [nursing] caregivers."
Yet, male nurses are on the rise. In 2013, the U.S. Census Bureau reported that the number of male nurses has tripled since the 1970s.
This phenomenon of men flocking into fields that have been traditionally filled by women in recent decades may be due to the increased job security implicit in such positions.
"I think that high school and college age men are choosing careers in…health occupations, because they recognize the instability in manufacturing and other male-dominated occupations," University of Akron sociology professor Janette Dill told MainStreet last year.
Dill also warned that men who enter these fields could wind up displacing women in management positions.
"There is evidence that when men enter feminized occupations, they experience a 'glass escalator' and are more likely to be promoted to supervisory positions," said Dill, who noted that men will also likely be able to leverage higher wages in their positions than the women who otherwise dominate the field.
One potential way to equalize wages between men and women in the nursing field might be participation in a union.
"Union representation is one way to reduce wage disparity based on gender," says Steve Rooney, RN and president of the National Federation of Nurses, or NFN, which is a leading national labor union for registered nurses and represents 34,000 RNs in Montana, Oregon, Ohio and Washington state. "Our contracts level the playing field and set wage levels based on seniority, education and job responsibility."
Harwood believes being part of a union has contributed being treated as an equal with her male colleagues.
"We are all in the UFT [United Federation of Teachers] union and I truly believe we are all treated the same," says Harwood. "I think the union plays a role in keeping our wages equal."
Despite this, only 18% of RNs in the U.S. were estimated to be in unions as of 2012, even as RN union members received more than $224 per week than those RNs who did not have union representation.
Muench and her team did not did not tease out union membership for the JAMA study.
"We do not know whether nurses who are part of union also experience these pay differences and this would be a great area for follow-up research," says Muench.
Meanwhile, though Rooney believes increasing the number of union represented nurses would reduce the wage gap, he does not think it will succeed in fully eliminating it.
"The only way to end it is to end the prejudices that exist in our society," says Rooney.
--Written by Laura Kiesel for Main Street