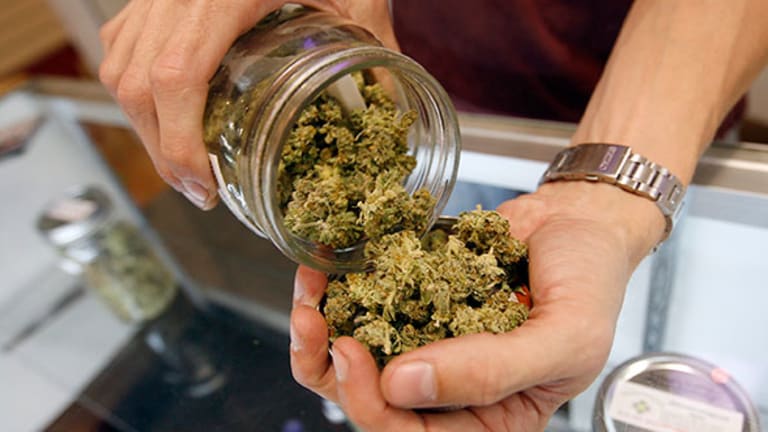 Making the Right Budding Investment: Medical Versus Recreational Cannabis Companies
Investors choosing among the hundreds of cannabis businesses are often caught in a conundrum as to whether medical companies are a safer investment compared to recreational businesses.
Investors who are choosing among the hundreds of businesses involved in the emerging, yet growing cannabis industry are often caught in a conundrum as to whether medical companies are a safer investment compared to recreational businesses.
The legal marijuana markets are currently generating $5.7 billion in revenue in 2015, an increase from $4.6 billion in 2014 in revenue and are estimated to reach $22 billion by 2020, according to The ArcView Group, a cannabis investment and research firm based in San Francisco.
Some investors view both types of companies with the same amount of skepticism because marijuana remains a federal drug, although four states have approved the use of them recreationally and 25 states passed the use of them for medical purposes. Currently, 86% of Americans live in a state that allows some level of legal marijuana use, The ArcView Group said.
"Right now, I view them as the same," said Matthew Mills, COO of Med-X, a Canoga Park, Calif.-based medical enterprise and the first cannabis-related company to utilize crowdsourincg to expand. "I only want to participate in companies that hold ancillary positions in the cannabis sector. This way I feel my investment may be a little safer as the revenue that is coming in can be audited in a clean manner."
How Medical Cannabis Companies Stack Up
Only a handful of cannabis companies are listed on the Nasdaq, limiting options for investors. These include GW Pharmaceuticals (GWPH) - Get Report , a U.K.–based biotech company with a cannabis-based epilepsy drug; Insys Therapeutics (INSY) , a Phoenix company known for its cancer pain management drug but is developing a cannabis-based drug for the treatment of epilepsy; Cara Therapeutics (CARA) - Get Report , a Shelton, Conn.-based clinical state biopharmaceutical company that develops and commercializes pain relief drugs; and Zynerba Pharmaceuticals (ZYNE) - Get Report , a Devon, Pa.-based company focused on developing and commercializing synthetic cannabinoid therapeutics. Another potential newcomer is MassRoots, a Denver-based social networking company for cannabis users is attempting to list on the Nasdaq again to raise much-needed capital.
The public companies, especially GW Pharmaceutical, Insys Therapeutics and Zynerba Pharmaceuticals are all very "liquid" companies and represent "easy, legal and safe investments" without investors having to conduct a large amount of research, said Seth Yakatan, interim CEO of Kalytera, a Manhattan, Beach, Calif.-based company developing a portfolio of non-psychoactive cannabinoid and endocannabinoid-like medicines for bone diseases such as osteoporosis.
"I recommend buying one of these stocks, because the companies have millions of dollars in cash and are more sustainable," he said. "The volatility of smaller stocks makes it more difficult for investors and might not have long-term value."
While businesses such as grow facilities possess predictable, yet well-defined models, risk is still involved as states continue to legalize the adult use of cannabis, Yakatan said. Medical marijuana companies obtaining approval for a product will "take longer and cost more to get a return," he said.

"Since we are in the infancy of the both of these markets, investors need to make a selected bet now or wait for other companies to develop," Yakatan said. "The opportunity in the sector is huge and as it matures, you will see more and more companies listed."
The majority of the 350 cannabis-related businesses are thinly traded on the OTC and 195 partake exclusively in the sector, said Eddie Miller, CEO of InvestInCannabis.com, a New York-based cannabis technology investor. The glaring issue is that most of these companies have relatively low market capitalizations and low daily trading volume, making it risky for investors, Miller said.
Since these stocks do not warrant coverage by broker dealers, investors must rely on the data found in the company's filing and examine their capital structure as well as checking for convertible debt, said Jason Spatafora, co-founder of Marijuanastocks.com and a well-known Miami-based cannabis trader known as @WolfofWeedST on Twitter.
"If it is an OTC stock, I say start slow by paper trading or with a small amount of money you can play with and learn from," he said. "Investors want to look into stocks that own the intellectual property or patents behind the product, real revenue and scalability." 
Since cannabis remains a nascent industry, investors need to hold their stocks longer and wait for the companies to mature since fewer companies are being acquired, said Mike Bologna, CEO of Green Lion Partners, Boston-based consulting company which has founded several cannabis companies and invested in others. Holding the positions for twice as long for their other stocks is a good strategy to maintain.
"Investors need to be comfortable riding the lows and highs since it's not all smooth sailing," he said.

Adult Use Marijuana Businesses
The lack of widespread adoption of the recreational or adult use of cannabis poses a risk for investors who want to invest in dispensaries, edible companies or other ones which "touch the plant." Many investors recommend sticking to the companies which make ancillary products such as software, machinery, testing or media.
A gap exists for investors to invest in public recreational use companies, said Leslie Bocskor, managing partner of Electrum Partners, a Las Vegas-based cannabis consulting company.
"We have not seen a lot of opportunity, if any, to invest in actual adult use businesses," he said.
Which Market Yields Better Returns
The two sectors that tend to be the most promising are the pharmaceutical grade companies such as Insys Therapeutics and GW Pharmaceuticals and media companies such as MassRoots, Miller said.
While it is estimated that the "adult use markets will be substantially larger in size than the medical marijuana market," considering the jurisdiction of the company, its competitors and intellectual property are factors that should be considered, said Bocskor.
"I do not currently know of any public companies in the recreational markets that have any exposure to the adult use markets of Washington, Colorado and Oregon," he said.
Another option for investors is to consider companies such as Terra Tech (TRTC) , a Newport Beach, Calif.-based company providing medical cannabis and agricultural products that has assets in both California and Nevada, states which have approved the use of medical marijuana, said Bocskor. GrowBlox (GBLX) , a Las Vegas research and biotechnical development company for medical cannabis, is also involved in the medical marijuana market in Nevada.
The sectors that will demonstrate the most potential for growth as the industry matures will be adult cannabis use, medical marijuana, pharmaceuticals, ancillary, veterinary, nutraceuticals and supplements and industrial hemp, he said.
Software and supply chain technology companies present the most opportunity to scale while businesses involved with medical products and testing have a good outlook as well, said Bologna.
Although some investments in private companies could yield higher returns, the risk and holding period are also greater. With early stage companies, keeping the investment for five to seven years is not unusual, said Miller, who has made eight investments in the legal industry.
"In order to truly see a 100 times return on capital, the time horizon goes all the way until there is federal legalization or over 35 states having legalized cannabis," he said.
The private sector is also heavily saturated with new startups emerging often, so choosing the right technology or product is trickier, said Spatafora.
Both markets present "incredible" opportunities and investors need to decide where they want to "see their money going to work," said Bocskor. "It's about finding your tolerance for risk and putting stock in the teams that you feel are going to perform at the highest level possible."