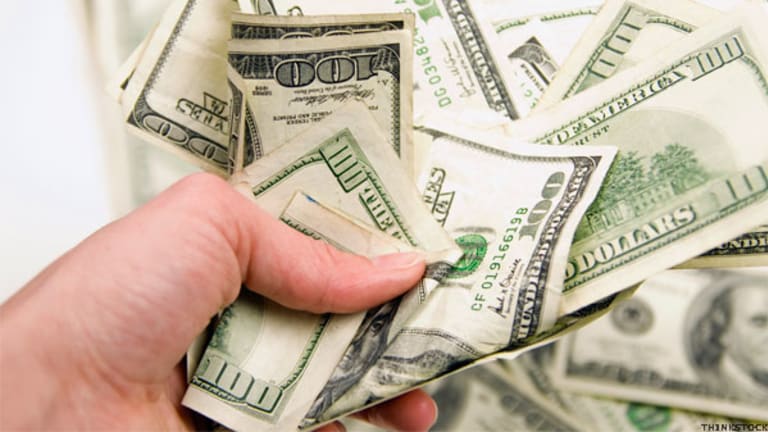 Machines Taking Over With Consumer Kiosks
Self-serve kiosks are not just for movie tickets anymore.
NEW YORK (MainStreet) -- For decades, science fiction has been warning us machines would replace humans. Now that it's happening, humans don't seem to mind too much.
A survey conducted last year found that air travelers show
a clear preference
for the check-in and boarding kiosks that have become ubiquitous at the nation's airports. And if you've been to the movies lately, you've probably noticed many moviegoers skipping the lines at the box office in favor of printing out tickets at kiosks.
Self-serve kiosks are not just for movie tickets anymore.
But as it turns out, movie and plane tickets were just the beginning. Companies in various industries have realized the convenience and savings associated with self-service kiosks, and consumers are taking advantage. Here are some of the innovative kiosks that have come along in recent years.
minuteKEY
As its name would indicate,
will make a key for you in a minute or less, and without having to wait for an attendant at the back of the hardware store. It also offers a variety of styles of key, including plaid patterns and the American flag. Still, we think the company missed an opportunity by not calling it a "Keyosk."
B-Cycle
is a bike-sharing program, which means it works a lot like
Zipcar
(ZIP)
, only with bikes. Once you're signed up for the service, you go to one of these kiosks, select one of the bikes and follow the on-screen instructions to unlock it. When you're done with the bike, you return it to the nearest kiosk. And to further burnish the company's green credentials, the whole thing is solar-powered.
Our favorite thing about it, though, is that the bikes have that little basket in the front that is the perfect size for a bag of groceries -- or your extra-terrestrial friend.
Powerport
Now that we're all tethered to our smartphones, our hopes rise and fall with our battery life. And if you're stuck in an airport with a delayed flight, the last thing you want is for your beloved gadget to die on you and force you to buy a book to pass the time.
Fortunately, a number of airports now offer charging stations where you can juice up your phone. One such station is the
Powerport
, a kiosk that also provides wireless Internet and media downloads. The company claims that the kiosks can charge 1,200 different kinds of phone, offers over a million songs and thousands of audiobooks for download, and will even rent you a laptop.
Just be sure you've taken some security precautions by picking a trustworthy-looking machine, as
"juice-jacking"
has become an increasingly popular way to steal your private data.
iSports Stand Plus
Slot machines have liberated us from the need to make small talk with blackjack dealers (or, for that matter, to learn how to play cards), so why do we still need to wait in line to take the over on the Patriots-Jets game?
The answer is that we don't. The iSports Stand Plus can be found in casinos and sports books, where it's used to place bets on sporting events and races without having to wait in line and place a bet manually. And when there's no sports betting going on, it can be used for video poker, Keno and other forms of gambling.
Dr. Scholl's custom fit orthotic center
You could go to a foot doctor to get custom orthotics made, or you could go to Dr. RoboScholl (which is what they should have called it, in our opinion). The kiosk, which can be found in certain drugstores, asks you to take your shoes off and stand on the floor of the machine. It then measures the weight distribution in your feet, and prescribes one of the company's custom orthotic products based on those pressure points. We can't testify to its effectiveness, but having a robot orthopedist read your feet is pretty cool regardless.
Greenopolis
There has to be a middle ground between collecting bottles and cans from other people's trash to get the nickel deposit and simply tossing your recycling out on the curb. Waste Management may have found it with the Greenopolis recycling system, which allows you to scan the barcodes of bottles as you toss them in. Each bottle you recycle credits points to an account that works in much the same way as a rewards credit card, and can then be redeemed for discounted movie tickets, travel benefits and at eating establishments such as
Domino's
(DPZ)
and Ben & Jerry's. Hey, you deserve more than just good karma for recycling. You can sign up for an account and find a nearby kiosk on the
Greenopolis website
.
Wine kiosks
Here's a kiosk that might not be around much longer: Pennsylvania's strange liquor laws mean that wine can be sold only in state-owned stores, which is a bummer for people who would rather get all their food and drink from the supermarket. The solution instituted last summer was to install
kiosks in supermarkets
where shoppers could show ID and have their image beamed remotely to a state employee, who would then approve the sale. Unfortunately, the experiment may soon be deemed a failure as a result of ongoing disputes with the contractor who supplies the kiosks.
Book printing kiosks
Even large bookstores don't carry every book, especially the self-published ones. You could go the e-book route, but if you prefer to turn real pages there's the Espresso Book Machine from On Demand Books. The self-serve kiosk allows you to order a book, which it prints and binds while you wait. You wind up with a paperback that looks just like one you'd find on a bookshelf at
Barnes & Noble
(BKS)
and the satisfaction of knowing this copy was printed for you and you alone. There is only a handful of locations so far, which can be found on the
.
>To submit a news tip, email:
.
RELATED STORIES:
>>The Weirdest Vending Machines
>>Back-to-School 2011: The Best Smartphone Apps
>>7 Odd Things You Can Buy at Costco
Follow TheStreet.com on
and become a fan on