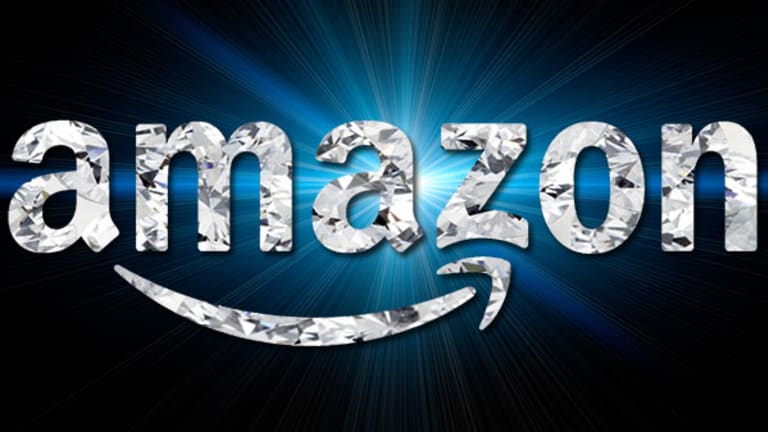 Luxury Retailers Better Brace Themselves for Amazon
Retailers are in the road and a steamroller is coming, warns the author of a regular luxury and affluence report.
Retailers are in the road and a steamroller is coming, warns the author of a regular luxury and affluence report.
SAN DIEGO (TheStreet) -- This year Amazon quietly unveiled its luxury beauty products store, a slick online destination offering thousands of high-end makeup, skin care and hair care products from brands such as NARS, Dr. Brandt, Jack Black and Deborah Lippmann.
In launching the store, Amazon continued its positioning to be a serious contender in the luxury marketplace, a quiet march bricks-and-mortar luxury retailers ought to take notice of and start preparing for, according to a new report.
"Amazon, to me, has very quietly, in the background, become the No. 1 'store' for upscale people. And when I tell people that, they look at me like I'm nuts," says Bob Shullman, author of the Shullman Luxury and Affluence Monthly Pulse.
Shullman's December report about Amazon and the luxury and affluent marketplace provides a variety of revealing statistics. As household income increases, so does Amazon's penetration of the upscale household segments.
69% of the adults in the $250,000-plus household income segment have shopped on Amazon in the past 12 months.
64% of the $500,000-plus household income segment shop on Amazon once a month or more frequently.
The report also reveals that Amazon's customer base overlaps significantly with other top 20 retailers and that the Internet giant shares at least 30% of its customer base with more than one dozen stores Shullman describes as upscale.
Some of the stores vying with Amazon for customer dollars include Nordstrom, Apple, Macy's, Barnes & Noble and Costco, according to the report.
Also see: How Amazon's New High-End Beauty Shop Takes Away a Luxury>>
Shullman says he can't predict what other moves Amazon might make in the luxury market segment, but warns that luxury retailers need to start thinking seriously about how they will compete if and when Amazon starts courting their customers more overtly.
"Amazon to me -- are they per se a luxury marketer? Like major luxury brands today? Probably not," Shullman continues. "But let's put it this way: We know Amazon has warehouses everywhere, and the bottom line is they are upping the ante with their delivery and now Sunday deliveries in New York and Los Angeles ... I mean, they just have to get the goods. That's all. Which to me, is they have to get wholesalers or luxury brands that want to sell through them."
"The convenience Amazon offers is becoming more and more a part of the luxury experience ... Not only is luxury about the pampering, or the enchantment. Now luxury is convenience," he adds.
Shullman is not alone in his his belief about the importance of Amazon's convenience and rapid delivery for luxury buyers.
The 2014 Future of Retail study, produced by Walker Sands Communications, found that consumers are buying online frequently and are willing to spend hundreds of dollars without seeing a product first.
According to the study, about 6% of consumers bought luxury or high-end items online in the past year. The figure increases when you add expedited shipping and free returns to the mix, and a majority of respondents followed up to say they'd be more likely to buy if "guaranteed free and expedited shipping or free returns."
Now consider Amazon's drone delivery plan, which would drop packages on a customer's doorstep in a half-hour, in conjunction with these Walker Sands statistics:
40% of consumers would be willing to buy anything from Amazon.com.
66% of consumers would be more likely to buy online with one-day shipping.
Also see: Most of Our Richest Don't Care About Brands>>
"As shoppers become more comfortable purchasing products online, retailers must ensure they're making the path to purchase -- and return -- as easy as possible, or they'll go elsewhere," said Tory Patrick, account director and lead of the retail technology practice at Walker Sands. "Consumers are ready to jump into the convenience of regular online purchases, but want less risk and hassle associated with making a mistake and needing to make a return."
As Amazon continues its efforts to be everything to everyone, including the luxury market, it is helping change forever the way shopping takes place. Shullman sees the examples all around him.
"The PR guy I work with did 85% of his shopping on Amazon for Christmas," Shullman says. "There's a bunch of empty stores near my house that all used to sell stuff that you can now buy on the Web."
It's not just luxury retailers that Amazon is taking on.
Amazon is also in the midst of a battle with Google to be the preferred entry point for Internet shoppers, inspiring Google last year to revise the way search results appear, allowing retailers to include pictures, descriptions and prices of their products at the top of search pages.
So how can luxury retailers, marketers and others prepare to defend themselves against Amazon moving into their territory, as Shullman's report warns?
"I don't have a solution in terms of what retailers can do to compete with Amazon," Shullman says. "To me it's like they are in the road and a steamroller is coming."