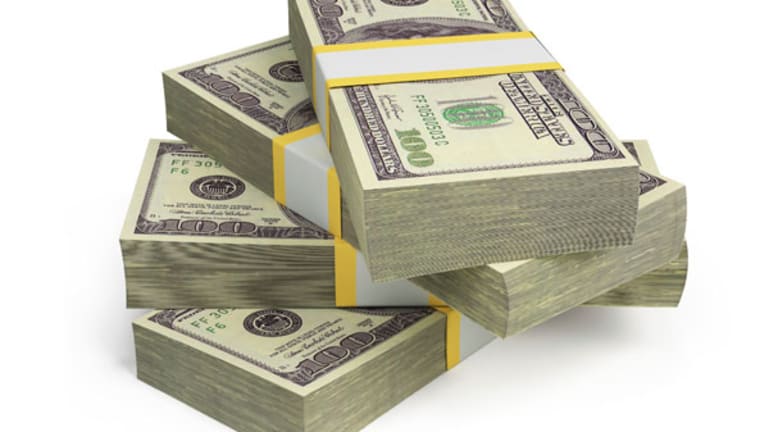 Loan Options for the Credit-Score Challenged
A terrible credit score may not preclude you from a car loan, small-business loan or mortgage.
A terrible credit score may not preclude you from a car loan, small-business loan or mortgage.
BOSTON (TheStreet) -- More than a quarter of Americans have credit scores of less than 600 (on a scale of 350-800) and most banks these days won't even consider a score below 620 when issuing mortgage loans backed by Fannie Mae (FNM) and Freddie Mac (FRE) , according to Fair Isaac Corp. (FIC) .
But a less-than-stellar credit score doesn't necessarily preclude someone from buying a house or car or from opening a small business. Here are some loan options for the credit-score challenged:
Car loans:
Say, for example, a young couple opens a joint bank account and credit card. Then one of them secretly maxes out all the credit cards, empties the bank account, drives the family into bankruptcy and drives away forever in the family car. The other, newly single spouse is left with ruined finances and no car -- a terrible combination in areas where driving is the only way to get to work.
Or, say, someone has a lifelong history of bad financial choices.
Enter
. The New England-based nonprofit runs a mandatory six-week financial-education program for prospective buyers with bad credit, then negotiates with dealers and local banks to secure low pricing and low financing for those who really need cars but might not otherwise be able to afford them. The program helps clients avoid predatory lenders and predatory dealers.
"We do all the negotiating," says Debby Miller, executive director of the organization's Manchester, N.H., office. "Our clients never overpay for a car. Never."
For those in the direst of straits, the organization will provide a "bridge car" -- a rental that allows a would-be buyer to drive to work while working to qualify for eventual financing. The fee for a bridge car is $250 per month -- about what clients will end up spending on a car payment.
"We're ultimately trying to change behavior and the relationship people have with credit and money," Miller says. "The fee is part of changing that behavior ... it's almost like a laboratory to show that they can change."
The program is limited to New England, but the organization is considering requests for expansion into other areas of the U.S., Miller says.
Small-business loans:
Bank loans to small businesses dropped from $710 billion in the second quarter of 2008 to less than $670 billion in the first quarter of 2010, according to the Federal Financial Institutions Examination Council, indicating how tight lending restrictions have become in the wake of recent financial crises. While those with credit scores below 640 are unlikely to qualify for a traditional small-business loan, they may be able to secure a microloan.
While many people associate microlending with modest business ventures in third-world countries, microloans are also a viable option for cash- and credit-strapped entrepreneurs in the United States. The microlender
Accion USA
offers business loans up to $50,000, and will consider anyone with a credit score above 575 who doesn't have past-due accounts in excess of $3,000 -- and whose business doesn't involve real-estate investing, pyramid marketing, adult entertainment or firearms. They must also rent their space or hold a fixed-rate mortgage and own fewer than three properties.
"Recently, we've seen a 20% increase in applications," says Laura Kozien, communications director of Accion USA in New York. "It's really become an important movement in the United States."
Home mortgages:
The best bet for credit-damaged mortgage seekers is a government loan insured by the
Federal Housing Authority
. Historically, FHA loans have had no minimum credit-score requirement and can be had with a down payment of as little as 3.5% of the cost of a home.
Recently, the FHA voiced intentions to tighten its restrictions so loan applications with a FICO score below 580 will require a down payment of 10%, and those with a score of less than 500 won't qualify for a loan at all. Still, the restrictions are less stringent than those of conventional mortgages backed by Fannie Mae and Freddie Mac, which require a minimum score of 620.
A loan for the sake of boosting credit:
Establishing a good credit history through financing is the key to improving a credit score, but that may feel like a Catch-22 for those who can't qualify for financing of any kind -- because their credit scores are too low.
For them, there's the possibility of applying for a secured loan, just for the sake of improving a credit score. Many credit unions will consider such a loan, which works like this: An applicant will open a CD or savings account of $500, while at the same time taking out a loan for $500, and arrange to pay off the debt in the course of the year. There's often a 5% interest fee on such a loan, but if the savings account carries a 1% interest rate, the net loss is 4%.
It may sound silly to pay off a loan equal to money the applicant had in the bank anyway, but here's the thing: Secured-loan borrowers who start with credit scores of 450 to 575 at the beginning of the loan can end up with scores at least 100 points higher when the year is up, according to Ali Mahood, owner of
Mahood Financial Education Consulting
in Boston. And that credit boost means they might be able to qualify for conventional car loans, home loans and small-business loans that would have been otherwise out of reach.
"The most important thing to think about is that the monthly payment fits into your monthly budget," Mahood says. "If you can't afford the monthly payment, you're shooting yourself in the foot and your credit will get worse."
-- Reported by Carmen Nobel in Boston.
>>Spouse's Bad Credit Means Mortgage Mess
>>3 Roadblocks to Success as a Starup
>>Bernanke Urges Support for Small Businesses
Follow TheStreet.com on
and become a fan on