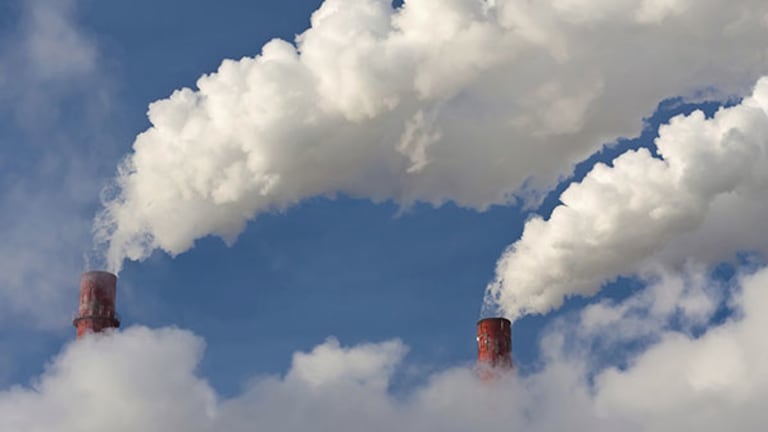 Legal Loophole Lets Fossil Fuel Emit Toxins in 6 States, Report Says
The EPA punted on adding oil and gas wells to its reporting rules, but the fracking boom has sparked new interest.
BOSTON (TheStreet) -- Hundreds of oil and gas facilities are together emitting 8.5 million pounds of toxic chemicals annually that go unreported to the EPA's Toxic Release Inventory because of a loophole, according to a letter addressed by the Environmental Integrity Project to the U.S. Environmental Protection Agency. The emissions are in six energy boom states including Texas, Wyoming, Colorado, Louisiana, North Dakota and Pennsylvania.
When the inventory was established by the EPA in 1986, it applied solely to manufacturers. In the 1990s, there was a push by the Clinton administration to add other industries, including coal mining, oil refineries and oil and gas extraction facilities -- which the EPA has acknowledged involves the release of toxic chemicals. But there was uncertainty on how to define or categorize oil and gas wells (whether as individual wells or in a group). The agency punted on the decision and never returned to it.
In 2012, the nonpartisan, nonprofit EIP, founded a decade earlier by former EPA enforcement attorneys to advocate for the enforcement of environmental laws, petitioned the EPA to finally close the loophole and say the oil and gas extraction industry had to report their emissions.
"We are in the middle of an oil and gas boom, but have far too little information about the environmental consequences," said EIP's executive director, Eric Schaeffer, in a press release. "We need this industry to report that pollution to the Toxics Release Inventory where everyone can see it -- just like chemical plants and other facilities have done for more than 20 years."
Richard Metcalf, director of environmental affairs with the Louisiana Mid-Continent Oil and Gas Association, told The Times-Picayune of New Orleans last month that not only would registering with the TRI be costly and impractical for the hundreds of smaller oil and gas facilities scattered across the state, but that those types of facilities arent the kinds the TRI was designed to monitor. A statement on the Colorado Oil and Gas Associations website looked at the 1990s evaluation and said it simply "concluded that the oil and natural gas production industry should not be added to TRI reporting."
Also see: We Just Can't Quit That BPA>>
In the absence of inventory-recorded data, the EIP launched its own investigation on the impact of the reporting loophole. Their findings were submitted to the EPA in January on behalf of 13 advocacy groups including the Center for Effective Government (formerly OMB Watch), Clean Water Action, Environment America and the Natural Resources Defense Council.
The EIP found that 395 oil and gas extraction facilities were each emitting more than 10,000 pounds of at least one toxic chemical. Texas, which has the most facilities at 209, was found to have the highest rate of emissions. This was followed by Colorado at 124 facilities and Louisiana (34), Wyoming (14), Pennsylvania (13) and North Dakota (one). Nearly 200 of the sites in question were found to have surpassed the 10,000 pounds-per-year threshold of toxic emissions that usually triggers a registration requirement with the inventory. Most of the facilities emitted toxins in excess of 10,000 pounds for more than two years in a row.
To come to its findings, the EIP took 10 toxic chemicals often listed with the inventory -- including formaldehyde, benzene and hexane -- and surveyed the industry for these chemicals using data from the federal and state inventories and extrapolated to account for gaps and missing information.
Since reported emissions usually represent just 1% to 2% percent of the total amount used or processed, the EIP extrapolated that many of the facilities they analyzed might be processing or using more than 500,000 pounds of each toxic chemicals.
"When a facility is looking to report to the TRI they have to assess how much of the chemical they actually used," said Adam Kron, an attorney with the EIP, who noted that state and national inventories require only reports of emissions released in the air. "Air emissions only account for a small fraction of the amount of chemicals used by the industry. [Unlike the TRI], these other inventories don't account for the entire amount of chemicals used ... what is released in land or water or landfilled."
Also see: World Bank: Waste Will Triple by End of the Century>>
The EIP also found that six of the facilities they analyzed did report to the inventory for 2012, but five of those reported only hydrogen sulfide emissions for a sulfur extraction process, despite engaging in other gas development activities resulting in other releases.
The report comes at a time of increasing speculation over the short- and long-term health impacts of hydraulic fracturing, or "fracking." A state health department study in Pinedale, Wyo., which is surrounded by two large natural-gas drilling fields, found that for every 10 parts per billion increase in ozone in the air, there was a 3% increase in visits to local health clinics from people with respiratory-related conditions.
Additionally, a 2012 National Institute of Health-sponsored study concluded that aspects of gas drilling "may lead to health problems" and that without more rigorous scientific analysis of drilling's potential health effects "the gas-drilling boom ... will remain an uncontrolled health experiment on an enormous scale."
Kron hopes that requiring the oil and gas extraction sector to report toxic chemical releases to the inventory will not only enable transparency but encourage the industry to start taking steps to voluntarily rein in their releases to remain competitive.
"Communities ... are literally being surrounded by dangerous emissions from major gas processing facilities that are not being properly controlled or reported," said Robert Donnan, a citizen activist from McMurray, Pa. "These communities have a right to know what they are being exposed to."