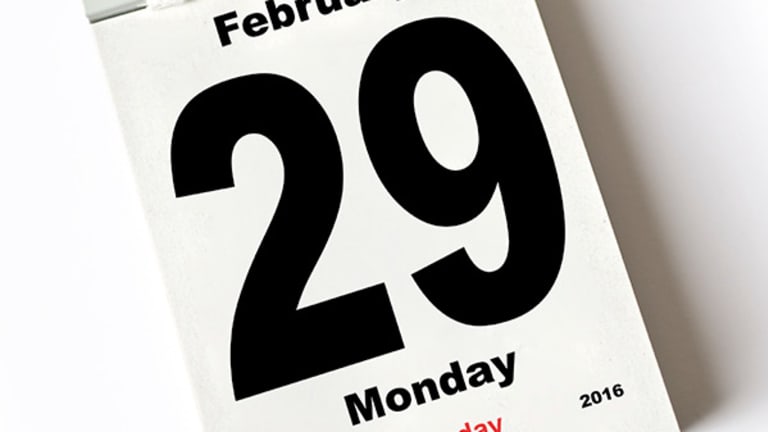 Publish date:
Leap Day Is a Gem For Discount-Minded Shoppers
It only arrives once every four years, but when it does, Leap Day is a boon for shoppers.
It only arrives once every four years, but when it does, Leap Day is a boon for shoppers.
Perhaps it's the distraction of the Sadie Hawkins dance, but February 29 doesn't usually show up on our radar as a bastion of great shopping deals. 
All that could be changing as retailers struggling for a wider, clearer path to profits, are pushing Leap Day as yet another national shopping "holiday" -- even if it only pops up on the calendar once every four years.
Sure, it's no Black Friday. Heck, it's not even Boxing Day, and that's a Canada thing. But evidence is mounting that this year, Leap Day should be a hum-dinger for passionate, cost-conscious shoppers.
"So far this year, we've seen announced Leap Day giveaways from custom T-shirt maker Big Frog, as well as restaurants Legal Sea Foods, Dog Haus, and Margaritas," says Benjamin K. Glaser, features editor with DealNews. "We've also seen restaurants Hard Rock Cafe, Holsteins, Great American Cookies, Olive Garden, and Achatz Handmade Pie Co. advertise freebies for those who were born on February 29th."
Historically, Leap Day deals often aren't publicized much ahead of time, Glaser adds. That started to change in 2012, when stores like Hanes, Timberland, Banana Republic, Charlotte Russe, Urban Outfitters, Bare Necessities, Ace Hardware and eBags, as well as restaurants like Chili's, Subway, Denny's, Caribou Coffee and Bucca di Beppo, all had Leap Day deals.
Many involved a 29% discount on select items, a $29 price or a "free" item (for the extra "free" day), Glaser notes
"The best bets seem to be freebies and discounts from restaurants, so you'll have to go in store to get those," he advises.
Where can you go to land some good Leap Day deals?
Coupon Sherpa is pitching in with a list of Leap Year day sales (check out its dedicated page to the holiday.) The list includes Carrabba's, Olive Garden, Zales, Finish Line, Ace Hardware and any others.
Also, to get the best deals at the checkout counter, try Honey, a free online shopping tool that "scrapes the Internet for discount codes and applies the best one at checkout, in no time at all," the company notes in an email to TheStreet.
If you're looking for a quick getaway, Leap Day has you covered there, too.

"Leap Day absolutely is a day that retailers leverage for unusual offers and we see plenty come through our site, Promotions.org," says Mike Catania, a consumer savings expert at the company. "It's historically been a good day for travel deals; in 2012 Disney offered a 'free' day on the 29th and this year appears to continue that trend with similar offers such as Jet Blue offering $29 fares to select cities on the 29th."
Retailers and hotel and travel firms are getting creative in rolling out Leap Year day discounts.
Check out Utah-based Hotel Monaco Salt Lake City, which aims for some big Leap Day birthday discounts. The hotel is offering "unheard of room rates," it notes to TheStreet.
If you're born on February 29, you can get a deep discount at the hotel that's good through all of March. It works like this -- on Monday, February 29, the hotel will host a birthday party in their lobby serving wine, champagne and cake made by an award-winning award winning pastry chef. There will be balloon makers, massage therapists and an astrologist on site (all guests can attend.) But if your birthday is February 29, the hotel offers you a room rate of their actual age.
"For example, if a guest is 40 years old, they will have had 10 actual birthdays, making the cost of their stay just $10," the hotel states.
Expect to see more and more of these deals this February 29, and watch them really take off in 2020 -- even if Leap Day revelers have to have the patience to wait that long.