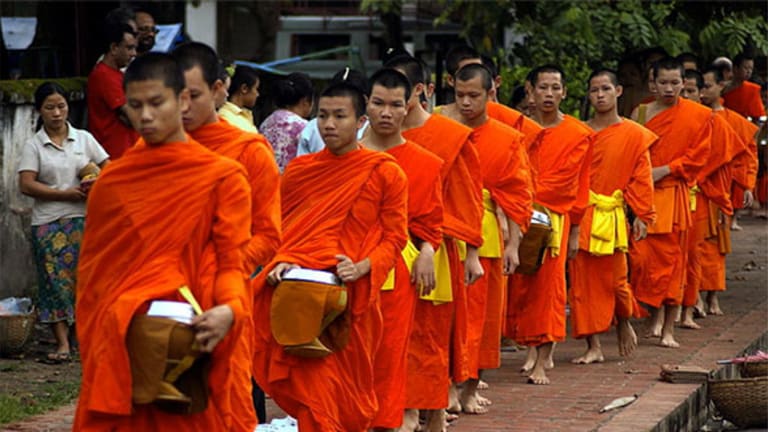 Latest Trend in Luxury Travel: Selling You Blissful Silence
From Nantucket to Bali, hoteliers are eager to lock up your phones and get you to experience their sumptuous or blissfully simple settings.
NEW YORK (MainStreet) — Put down the cellphone.
Unplug the laptop.
Now slowly back away from the technology and try this: Don't pick up your phone or computer again for 24 hours. At a minimum.
No Facebook. No Twitter. Bye-bye, Instagram.
Reconnect with nature, your loved ones or perhaps (yes, as shocking as this may sound) yourself.
That's the message at high-end hotels and exclusive resorts across the globe as part of a growing promotion of a luxury most of us have gotten used to doing without in our hectic daily lives - silence. Extended periods of it. Luxurious, contemplative silence.
"Everybody needs to try at least once to disconnect from their devices and to reconnect with their partner, wife or family, " says Pascal Forotti, general manager of the Four Seasons Costa Rica at Peninsula Papagayo. "Everybody needs to reconnect and simply look at nature, try to find the monkey in the tree and don't look at your Facebook page every half-hour. Enjoy the nature around you. If you're on your laptop or iPhone, you will miss out on that."
The luxury of silence, or at the very least a lack of modern technology, is being delivered in a variety of ways by hotels and resorts. Trendy digital detox packages that include a hotel locking your phone away for safe-keeping is merely one approach growing in popularity.
Other hotels are developing spaces known as "quiet zones," while still others promote activities designed specifically to slow you down, tone down the noise and allow you to tune into your inner voice — and spot that monkey in the tree.
Here's a look at some of the ways hotels are finding to help you luxuriate in silence:
Digital Detox at the Four Seasons Resort Costa Rica at Peninsula Papagayo
When you disconnect at the Four Seasons Costa Rica you will notice stunning beaches and one of the world's last intact dry tropical forests filled with rare native plants and countless endangered species.
Located on Peninsula Papagayo, the Four Seasons Resort Costa Rica has just begun offering its own take on digital detox.
This property is challenging guests to go without their phones for one day. During that time the hotel staff will tuck your digital devices away in a safety deposit box and provide a copy of 24 Things to Do Without Technology at Four Seasons Resort Costa Rica in exchange.
Sunset kayak cruise anyone? An oh-so-challenging stroll along the beach collecting seashells? Or perhaps traipse through the mist-shrouded trees of the nearby tropical forest searching for one of the 300 species of birds, spotting iguanas or even that elusive howler monkey.
The subtext of all of these activities is the accompanying silence they encourage and reflection they invite.
"We are on the phone all the time, even on days off. We don't disconnect," Forotti says. "The fancier the phones become, with more and more apps, the more you're looking at them. People look at their phones every half a minute, and we could see that as well with our guests."
"So we thought if a guest has enough to do maybe they will not want to look at their phone," Forotti says.
Who knows, maybe with such tempting surroundings and activities, 24 hours will turn into two days or more. Gasp.
Sunrise Monk Blessing at Paresa Resort, Phuket, Thailand
Every day for centuries, monks and novices have left their temples and set out quietly through the streets in Phuket accepting alms from the locals.
As the monks pass by stores, homes and businesses, people place rice and other foods in the alms bowls as a way to gain merit. The centuries-old tradition is a way for monks to maintain contact with the community. And the entire ritual takes place in ... you guessed it ... silence.
The luxurious Paresa Resort in Phuket encourages guests to get up early to take part in this special activity.
After the monks return to their temples with the breakfast provided by this ritual known as "tak bat," you can continue your day of quiet, reflective activities and connection with Thailand's Buddhist ethos by visiting a local pagoda for a spiritual blessing.
An experience far removed our fast-paced, technology-driven lives, the spiritual blessing involves offering a small basket of items (prepared by the Paresa Resort chefs) to the pagoda as a sign of respect. In exchange the monk shows his thanks by pouring water gently over your hands to cleanse your spirit while chanting ancient Pali-Sanskrit mantras.
You may be tempted to post a picture of this encounter on your Facebook account after it's over, but banish your phone for the day to truly immerse yourself in this simple spiritual event.
The "Art of Cabin Fever" package at The Nantucket Hotel & Resort, Nantucket, Mass.
Taking silence very seriously, The Nantucket Hotel has just launched a program it's calling "The Art of Cabin Fever."
Built around retrospection and a celebration of the tranquillity of island life at Nantucket's only year-round hotel, the experience involves indulging in numerous low-key activities under the hotel's roof during the cold winter months.
The hotel has created noise-free zones in some areas. In others, it invites you to partake in such things as sitting by a fire pit wrapped in a blanket, feasting on cheese or chocolate fondue. Back in your room, you will find a fully stocked library and numerous board games.
Sounds cozy doesn't it? Keep those cellphones at bay for this ultimate hunker-down-and-hibernate destination.
The "Unplug" Package at The Westin Hilton Head Island Resort & Spa, South Carolina
The Westin Hilton Head joined the growing crowd of offerings a little more than a month ago with its own take on reconnecting with nature, body and solitude.
The Westin offers what it calls a "survival kit" - such things as a sunrise and sunset chart, island walking and biking maps and flashlights - and suggestions of how to use them.
Walk on one of Hilton Head's stunning beaches early in the morning, for instance, or by the light of the moon when you might spot a sea turtle on its way to nest.
You could also take a peaceful, meandering bike ride on one of the many paths weaving along the island. Hilton Head was awarded a silver medal by the League of American Bicyclists for being such a bike-friendly place.
"This package is really is about enjoying Hilton Head in terms of its nature and beauty," says Ellen Lam, the hotel's sales manager for leisure and business travel.  "And knowing trends now with people being so connected to devices consistently, one of those things we realize is that while we may be sitting in the same room with someone, we are not really together if we are on our phones. This package is about being together as a family, being outside and enjoying nature outside of the technology-connected world - because putting the technology away provides more memories."
The package includes complimentary use of New Balance Gear for kayak, zip line or paddle board trips.
For the truly hardcore unplugging enthusiasts, the resort will disable your television, collect your cellphones and tablets and even take your car keys, forcing you to harness your own pedal power. Imagine all the peace and quiet now.
The "Get Centered" Package at Gansevoort Meatpacking NYC
For Manhattanites who don't have time to jet off to a far-flung places, there's always the "Get Centered" package at the Gansevoort Meatpacking NYC location.
This package is another that encourages guests to leave the phone at home.
Without access to social media accounts, you are invited to indulge in a complimentary exhale mind body spa fusion class to get centered and enjoy an in-room "health basket" full of kale chips, Juice Press detox juices and other healthy goodies.
It's not quite hand washing with monks in Thailand, but it's a good way to ease into letting go of technology for the hard-core city crowd.
Nyepi Day of Silence at The Mulia, Bali, Indonesia
In Bali, a whole day is dedicated to silence, and the entire island participates.
Known as the annual Nyepi Day of Silence, it takes place March 31 - a day that signifies the end of the old year and the start of a new one. On this day of reflection, noises are kept to a minimum throughout the island, as Nyepi is one of the most important and sacred holidays on the Balinese Hindu calendar.
All daily activities, noise and public transportation, (including airplanes at Ngurah Rai International Airport) are put on hold for 24 hours starting at 6 a.m.  The use of electricity is also limited, and no one is allowed on the streets.
Reserve a room at the Mulia Bali, a luxury resort and villas on the pristine Nusa Dua beach, to take part in this peace-inducing event. It recommends that guests arrive two to three days before Nyepi Day to begin immersing in this holistic meditation opportunity. It offers morning meditation and yoga sessions to clear the mind, body and spirit.
— By Mia Taylor for MainStreet