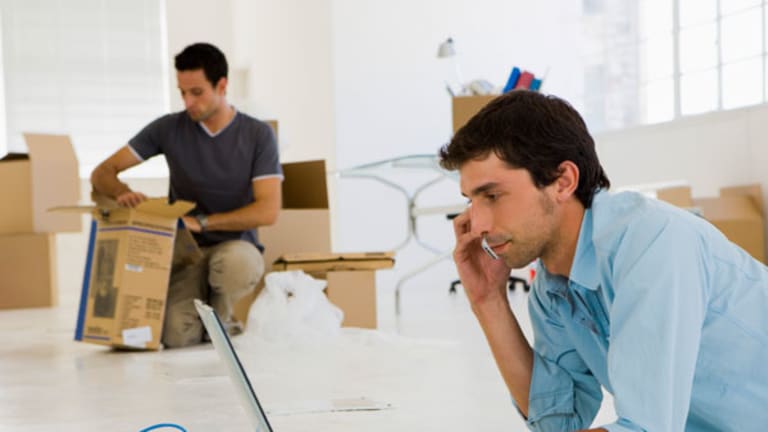 Landlords' Pain Is Office Tenants' Gain
It's the lousiest office-property market in years, which means small-business owners can get great deals.
BOSTON (
) -- Once-unaffordable office rents in the country's most expensive cities are now free.
For a limited time, anyway. A large sign in the marble lobby of 185 Devonshire in downtown Boston, close to
Fidelity Investments'
headquarters and
Brown Brothers Harriman's
office, says: "Free Office Rent Through 12/31/09!" Across the nation, rents have tumbled as the business slump has cleared out financial districts from New York to San Francisco.
The U.S. office vacancy rate was 16.5% in the third quarter, a five-year high, according to a recent report by
Reis Inc.
(REIS) - Get Reis, Inc. Report
. Asking rates fell 1% from the previous quarter, while effective rates -- the actual price paid per square foot, including concessions such as a free month of rent -- declined 2.2%. Effective rates dropped 8.5% from a year earlier, the biggest year-on-year slump in 14 years. In New York, effective rates fell 18.5%. Reis attributes the plummet, in part, to the fall of
Lehman Brothers
in September 2008.
"Generally speaking, free rent in our market is readily available in the office sector," says Boyd Zoccola, vice chair of the
Building Owners and Managers Association
and a vice president at
Hokanson Cos.
, a building-management firm in Indianapolis. "We're seeing much more creativity with regard to deal costs."
In other words, it's a good time for small-business owners to lease new office space and negotiate great deals -- or even renegotiate deals you already have.
To that end, here are some tips to help small-business owners take advantage of the lousiest commercial office market in years.
Get creative with concession requests:
When negotiating a lease, tenants can haggle terms such as common area expenses, data and cabling costs, build-out costs such as carpeting, parking and even moving expenses, according to Zoccola, who says, "we're seeing much more creativity with regard to deal costs." He adds that some landlords are even letting tenants take their tenant-improvement allowances, the money that building owners allocate for remodeling purposes, and use the cash for a rental credit instead.
Negotiate the personal guarantee upfront:
Many office leases include a "personal guarantee" clause, stating that the lessee is on the hook for the term of the lease if the business goes under -- as many small businesses do. And many small-business owners assume that this is non-negotiable.
But with the current vacancy situation, "I'm finding very often when I'm talking to landlords that they'll either waive altogether a personal guarantee, or, if they insist on the guarantee, they'll limit it -- either as a dollar amount or a shortened term," says Michael Kraft of
Kraft Law Firm
in Westwood, Mass., which specializes in business and real-estate law.
Martin Lehman learned his lesson the hard way several years ago, when he signed a five-year lease for retail space in a Columbus, Ohio, strip mall, where he and a partner opened a women's clothing store between a
Subway
and a
McDonald's
(MCD) - Get McDonald's Corporation Report
. "We moved in August 1st, and we put a lot of merchandise in there -- lingerie, sportswear, dresses, the whole bit," says Lehman, who now works as a counselor for
SCORE
, a non-profit association that advises entrepreneurs. "By November we could have put a rack of dollar bills outside the store and still nobody would stop by." When Lehman told the landlord that the business wasn't working out, the landlord still wanted $75,000 -- the terms of the lease. Fortunately, "we wound up paying him $7,500 to get out," Lehman says. "We made a mistake, but we still tried to negotiate without getting killed."
Note that a personal-guarantee waiver is more likely for small-business owners who have a history of success. First-time startup owners are a bigger risk, and landlords know it.
Decide whether subletting makes sense:
When the building next door is offering free rent through the rest of the year, tenants may decide to sublet their current space and trade up for a better deal. But there are a couple of problems with subleasing in today's environment. First, subleasing means taking responsibility for the sublet's rent. Second, it's tough to find anyone to sublet an office these days, in part, because the current landlord may poach prospective sublettors and offer a better deal on another office. Tenants who can afford to do so may be better off just offering a couple months of rent and saying, "I want out." That won't work in just any economy, but these days it's a safe bet that the building manager needs the money.
Negotiate rent escalation:
Even in a down economy, it's rare to score a fixed annual amount on a long-term lease. Rent escalation is pretty much inevitable. However, tenants can negotiate the terms. Often a landlord will base the escalation on the consumer price index, which is bad for the tenant if inflation skyrockets the following year. It's better to negotiate a deal that includes a set rent for each successive year. If the landlord insists on a CPI-based rent, the tenant should at least try to get a "not-to-exceed" clause.
'Blend and extend':
Current tenants who have no plans to move any time soon may be able to haggle the terms of existing leases by negotiating a rent decrease now in exchange for a lease extension in the future.
If there's an inkling of chance you might purchase the space someday:
In that case, negotiate the terms of the purchase-and-sale agreement before you sign that lease, says Kraft of the Kraft Law Firm.
If nothing else, read the lease (or hire a lawyer to read it):
"A lot of people don't bother to read the lease," says Collin Tuthill, president of
Royal Food Import
, who recently moved his business from a 1,000-square-foot office to a 2,700-foot office at 185 Devonshire. "They think it's like renting an apartment. It's not."
Every office lease is different, and most are daunting, so it's a good idea to hire an attorney to look it over. Recalling one former landlord, "her lease was like the Old Testament," Tuthill says. "Every time she got sued, she added another clause."
-- Reported by Carmen Nobel in Boston.