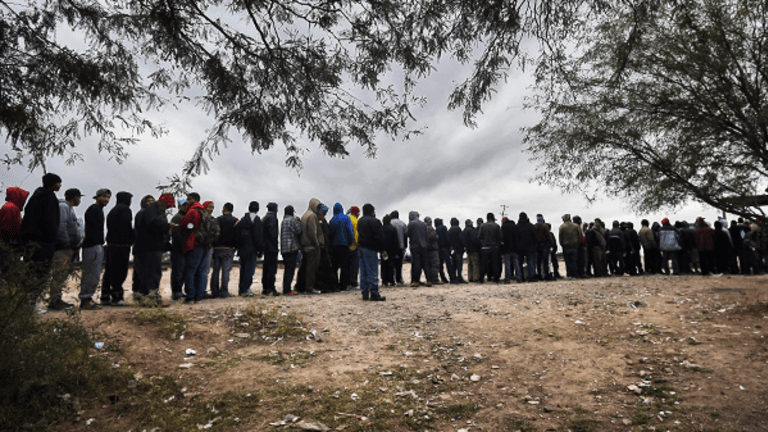 The Labor Trafficking Exposed in a Walmart Parking Lot Is One of World's Most Unmentioned Crimes
Labor trafficking is a crime that touches millions of people around the world, and no one can even entirely agree what it looks like.
Three out of every 1,000 people in the world are held in slavery. They are the victims of human trafficking, at once one of the world's most high-profile and under-reported crimes.
Over the weekend authorities announced deaths of nine people who were found, along with approximately 30 others, locked in a truck outside of a San Antonio Walmart (WMT) - Get Walmart Inc. Report . According to law enforcement all were victims of a human smuggling ring with suspected links to labor trafficking.
These victims are the tip of a very large iceberg. Human trafficking is not a problem for the developing world or a niche issue. It is real and it affects hundreds of thousands of people right here in the United States.
Putting a number on human trafficking victims has always challenged advocacy groups and authorities alike, in part because lawmakers struggle to define trafficking with legal precision. Variously, depending on the jurisdiction, laws can exclude prostitution, require physical coercion, implicate the victim in crimes and more. The constantly shifting legal terrain makes it difficult to measure the scope of victims.
Walmart in Focus Amid 'Horrific' Human Trafficking Incident in Texas That Causes Nine Deaths
However even by a fairly narrow definition the International Labor Organization estimates that there are more than 20.9 million victims of human trafficking around the world. Pinning down the scope of that problem in the United States gets harder still… According to ILO best estimates, more than 1.5 million of those victims are in "developed economies," and several hundred thousand in the United States.
Most of them, roughly seven in ten, are used for forced labor.
One of the biggest challenges when it comes to studying both scope and impact of human trafficking is how often those studies overlook labor trafficking. Although over the past several decades countries like the United States have made sex trafficking a more important issue, increasing both reporting and prosecutions, labor trafficking remains a crime both out of sight and ill-defined.
According to the best estimates of organizations like Polaris and the International Labor Organization, hundreds of thousands of victims work in forced labor in the U.S.A. Recruiters use violence, lies, debt bondage and threats to keep their workers in line, often doing business publicly in industries like factories, domestic work, restaurants and even retail service.
Yet victims remain hard to identify. In part this is because, while recruiters work in the open the laborers often work hidden from law enforcement. However just as importantly, it is because the law remains unclear when it comes to labor trafficking. Police in America, the State Department found in its landmark trafficking study, often don't know or understand their authority over forced labor cases, and they often don't even know how to identify a victim. Some nations, like Thailand, don't even consider it human trafficking unless sex is involved.
But labor trafficking rings, the same kind that authorities suspect the San Antonio truck driver may belong to, do enormous business.
Walmart Looks Like It's Beating Back This Ruthless German Grocery With Some Success
Part of the problem, advocates say, is that most people have unconscious stereotypes about who makes a "good" victim, typically a young girl or woman captured by the sex trade. Still, while there's no question that young women are specifically vulnerable to this kind of criminal, human trafficking knows no boundaries of age, race or gender.
Instead labor trafficking thrives in industries where workers are poor, uneducated, foreign-born or some combination of all three. Their vulnerability creates conditions ripe for exploitation, conditions which create thousands of new victims every year.
This is particularly true in agriculture, the single largest industry for human trafficking in the world (including the sex trade).
"Poor English language skills, extreme poverty in countries of origin, and fear of reprisals for reporting unlawful labor conditions make many immigrant farm workers particularly vulnerable to labor trafficking," found the University of Michigan's Human Trafficking Clinic. "There are many reported cases in the United States where employers have used threats of deportation and criminal sanction to control and coerce immigrant workers… This is especially the case with victims who have come from countries where police and other government officials are viewed as a source of corruption and exploitation."
In one highly publicized case, ABC news filmed a blueberry farm staffed by trafficking victims as young as five years old.
These workers, often migrant and foreign-born, typically work on farms far from neighbors or law enforcement. Overseers will use violence, but just as effectively will threaten victims with the police themselves.
Fear of prison, deportation and worse convinces the victims to trust their captors over the police.
It is this mindset that leads labor traffickers to sometimes work out in the open, as reported in the New York Times's 2015 blockbuster story on nail salons in New York City.
When the Times reported on the slave-like conditions endured by thousands of salon workers, it raised many of the psychological and economic issues which define modern human trafficking. Traffickers have grown sophisticated, often relying as much on language barriers, psychological tactics and economic coercion to keep their victims under control.
Debt bondage, deception, cultural shame and threats are all ways that captors can keep a trafficking victim in line, but this often makes it very difficult for law enforcement to know who needs help. How, police often ask, can they tell the difference between a low-wage worker and captives when the victim won't ask for help?
Here's What Walmart's Next Target Should Be to Beat Off Amazon - A 5,000-Store Auto Parts Retailer
This is a problem in sex trafficking cases, but it's even more of one when it comes to labor because unlike in sex trafficking the work that a labor victim does generally looks legitimate. (Although it is important to note that, especially in the field of domestic labor, the two often go hand in hand.)
Labor trafficking is one of the world's most underreported crimes. It captures entire families in bondage, and the truth is that we know next to nothing about it.
Thanks to increasing focus on the sex trafficking crisis, Americans have started to get an idea of its scope in our neighborhoods and cities. Excellent work by outlets such as the Urban Institute has helped estimate the amount of money moving through this economy while the National Human Trafficking Hotline gets more cases reported every year.
Labor trafficking, however, remains deep in the shadows. As noted by the United Nations Office on Drugs and Crime, "by and large, the exploitation of women tends to be visible, in city centers or along highways. Because it is more frequently reported, sexual exploitation has become the most documented type of trafficking, in aggregate statistics. In comparison, other forms of exploitation are under-reported."
This is a field of best guesses and enormous proportions. It affects men, women and children. Many victims are shipped across borders while many others are forced to work in their own home towns.
The truth is about labor trafficking is that we don't know enough about labor trafficking.
But our best guess is that it affects a little over two out of every 1,000 people on the planet.
More of What's Trending on TheStreet
Department Stores Are Dying -- Michael Kors Declares War on Coach With Big Jimmy Choo Deal
Walmart Looks Like It's Beating Back This Ruthless German Grocery With Some Success