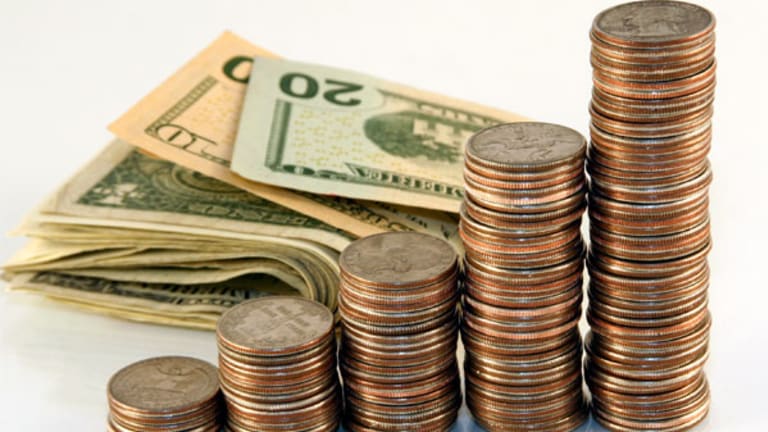 Kicking Off Football Spending Season
The NFL bets families will spend $420 on a football game this year. That's just the start of the spending.
NEW YORK (TheStreet) -- The NFL's preseason is upon us and for-real football kicks off in a few weeks. Are you ready to spend some money?
Like an all-pro cornerback waiting for his team to pay him and end a salary holdout, the NFL knows it's only a matter of time until fan spending hits midseason form. This year, however, a slight wane in financial uncertainly has the league and its teams ready to reverse pulled-back prices and launch an all-out blitz on the big spenders in the best seats.
With ticket prices on the rise, beer prices still bloated and a certain video game franchise still expecting fans to pay a bit more for the latest installment nearly 22 years into its lifespan, football's economic indicator is on the upswing. Will fans buy in?
TheStreet
looked at seven points that the NFL and its ancillary businesses hope will add up to a touchdown this season, and while some seem as certain as a completion amid blown coverage, there are others that are a bit of a Hail Mary:
SEASON TICKETS
Average price:
$600
Brett Favre could finally retire and it would still be more of a surprise than finding out NFL ticket prices rose again. According to
's Fan Cost Index, the average NFL ticket price last year was $74.99 -- up 3.8% from the year before after rising 7.8% between 2007 and 2008. The Fan Cost Index -- or the cost of a family of four to attend the game and buy beer, soft drinks, hot dogs, parking, a program and a team cap -- soared 4.1%, to nearly $420. Spread across eight home games, that's almost $3,400 for the entire season. That doesn't count one-time purchases of "personal seat licenses" used as capital for new facilities such as the New Meadowlands Stadium in New Jersey, where the New York Giants and Jets charged $500 to $20,000 just for the right to buy tickets.
According to
USA Today
, the average cost of attendance is on the way up as 18 NFL teams have raised ticket prices -- including reigning Super Bowl champion the New Orleans Saints. How can a consumer avoid getting blindsided by such increases? By switching allegiances and rooting for a terrible team, such as the cellar-dwelling Detroit Lions and the geographically jinxed Jacksonville Jaguars, which both decreased prices this year.
DIRECTV NFL SUNDAY TICKET
Average price:
$325
DirecTV
(DTV)
customers can save their complaining about branches getting in the way of their signal or shows getting lost in rainstorms for the other seven months out of the year. From September through January, their service's
Sunday Ticket
remains the best game in town. Bound to the NFL by an exclusivity agreement through 2014, DirecTV goes into
Sunday Ticket
's 16th season with more than 2 million subscribers (up from 225,000 in 1994), every game in HD (this came at a $99 premium last season), the Game Mix channel with up to eight games at once, the Red Zone Channel showing only the scoring drives and the Short Cuts channel for the short-attention-span who can digest games only when they're condensed into 30-minute doses.
For about $10 extra, fans can watch games on mobile devices including
Apple's
(AAPL) - Get Apple Inc. Report
iPad and iPhone,
Google
(GOOG) - Get Alphabet Inc. Class C Report
Android gadgets,
Research in Motion
( RIMM) BlackBerry products,
Palm
's Pre and Pixi and
Microsoft
(MSFT) - Get Microsoft Corporation Report
Windows Mobile phones. Not a DirecTV subscriber? The company is offering its mobile service a la carte -- for $350 to non-DirecTV customers. Think that's steep? Too bad. With the exception of the Red Zone channel on certain cable systems,
Sunday Ticket
is the only offering of its kind. Good luck with the local "action."
FANTASY FOOTBALL
Average price:
"Free," wink, wink
Fantasy football isn't just a game for its participants anymore. It's life. It's scheduling social calendars around draft day, it's updating rosters before anniversary dinners -- it's roughly four hours and 18 minutes a week of participants' time, according to the
Fantasy Sports Trade Association
. An estimated 27 million Americans play fantasy sports each year, generating annual revenue between $800 million and $1 billion. Of those players, about 85% play fantasy football, with many participating on "free" sites such as
Yahoo
(YHOO)
,
,
and
CBSSports.com
(CBS) - Get CBS Corporation Class B Report
, which are all among Nielsen Online's Top 5 sports sites.
As anyone who's ever drafted a rookie or defense too early knows, there's very little "free" about a fantasy league. Sure, FoxSports isn't charging you or other members of your
Crosby Sterling Cooper Draper Pryce & Young
fantasy league for participating, but dues among participants range from as little as $10 for fun leagues to upward of $100 to $500 for seasoned competitors. That's not including the add-ons each site includes to help cellar dwellers pretend they have a chance of winning their money back. Yahoo Offers a $9.99 "scouting report" of predraft favorites and in-season stats. It also offers league commissioners a $14.99 "Trade Review" feature in which it will act as an arbiter when two of your buddies collude to trade Peyton Manning and Atlanta's stud running back Michael Turner for Arizona kicker Neil Rackers and a tight end to be named later.
ESPN, meanwhile, keeps much of its premium information locked up with its Insider content, which can cost $3.33 a month with a year's subscription or $2.50 a month on a two-year plan. CBSSports, though, has the audacity to offer $40 to $500 "premium leagues" instant statistical information, a chance to win $3,500 in prizes and a $160 commissioner league with similar perks, but more mobile apps.
GAMBLING
Average price:
Varies
If gambling troubles you as a football-related industry, you're spending your Sundays in the wrong building. As the
Los Angeles Times
discovered last year, football wagering makes up 28% of the $125 million business at the Las Vegas sports books, with college football accounting for 19%. Those bets come at a cost, however. The sports books charge $10 on a $100 bet, while online sports gambling sites -- based offshore and only legal if bettors don't get caught -- charge only $5 for the same wager.
This is part of the reason Nevada's Gaming Control Board saw a 7.6% drop in gaming revenue on the Las Vegas Strip in June and the Clark County Department of Aviation saw a 3% drop in flights to the city over the past six months after two straight years of declines. The casinos agree that sports bets have shrunk and that, in an unstable economy, the best bet for some cautious consumers is not to bet at all.
MADDEN 2011
Average price:
$49.95
Every year since 1988, the folks at
EA
( ERTS) have tweaked this venerable video game franchise in ways that improved its realism (smoother graphics, advanced play calling), but made old versions immediately worthless and new ones incredibly difficult for casual gamers to play (even Bill Belichick would balk at 350 plays). This year's installment manages to slim down the experience a bit with something called GameFlow, which streamlines the play-calling process to situational choices (no halfback option play on third and 30) and reduces game times to roughly 30 minutes from more than an hour.
That said, it means putting down $50 to $60 on a game just to discover that EA still can't do a damned thing with motion control, has no interest in vastly improving anything about game play and has no desire to lessen the price of a product that has NFL exclusivity for another two years. Gamers used to circumventing this problem through the used-game market got a rude awakening from EA earlier this year, when the company began charging used-game buyers a $10 fee to play online.
Even worse, the exclusivity agreement has led to some revisionist history, as online offerings of old-school classics such as
Tecmo Super Bowl
have been stripped of team names and player likenesses. Though it continues to find ways onto such platforms as the iPhone, iPad and iPod Touch, like the curse that continues to afflict players on its cover, the
Madden
franchise is wearing out its welcome.
PIZZA
Average price:
Roughly $15
One out of every 10 pizzas served in America comes from
Domino's
(DPZ) - Get Domino's Pizza, Inc. Report
. Even that's second-rate, as roughly one out of every five comes from
Yum Brands'
(YUM) - Get Yum! Brands, Inc. Report
Pizza Hut. Yep, America loves its prefab pizza, and at no point is it more ravenous for mediocrity than during football season. Last year, for example, Dominos tallied $17.8 million in net income in the third quarter amid a 1.6% decline in domestic sales.
In the next quarter, right in the thick of football season, that revenue shot up to $23.6 million and 1.4% growth in domestic retail sales. Meanwhile,
Papa John's
(PZZA) - Get Papa John's International, Inc. Report
-- which was just awarded a three-year exclusivity deal as official pizza sponsor of the NFL and Super Bowl -- saw revenue increase from $11.7 million in the third quarter of last year to $13.7 million during football season. Yum Brands doesn't break out Pizza Hut earnings, instead lumping them in with A&W, Taco Bell and KFC earnings like the latter's Famous Bowls, but the jump from $879 million spent at U.S. franchises in the third quarter to the more than $1 billion spent midfootball season seemed to skip Pizza Hut. It saw competitors take a slice of its business as same-store sales declined 13% and 12% respectively.
BEER
Average price:
$6.80 a cup at an NFL game; less than that for a six pack anywhere else
Given the near $7 figure the Fan Cost Index cites as the average cost of beer at an NFL venue (a cost that's held since 2008), the proliferation of beer ads during NFL events and the $1 billion
Anheuser-Busch InBev
(BUD) - Get Anheuser-Busch InBev SA/NV Report
reportedly just paid to take over for
MillerCoors
as the NFL's official beer sponsor in 2007, one would assume the beer business is bubbling over during football season. Nope.
One of the reasons MillerCoors' parent company,
MolsonCoors
(TAP) - Get Molson Coors Beverage Company Class B Report
, may have had difficulty getting a new deal with the NFL is because the sponsorship didn't do much for stale sales. U.S. beer sales dropped 2.2% last year and 2.7% for the first half of the year, according to
. Last year, MillerCoors shipments were down by more than 1 million barrels as smaller companies such as
Yuengling
and
Boston Beer
(SAM) - Get Boston Beer Company, Inc. Class A Report
, the makers of Samuel Adams, experienced moderate growth. At no time did this hurt more than in the fourth quarter, when MillerCoors' net income dropped from more than $244 million the quarter before to $106 million right in the middle of football season.
So why the downturn for the official beer of the NFL? As we said, $6.80 for a beer is expensive and, while football season seems like a nice time to put a few away during a pregame, the warmer vacation season is really a better time to take down a cheap, light beer. It should also be noted that MillerCoors' Cleveland Browns-style fourth-quarter collapse was a 21% dropoff from the year before, perhaps indicating fans' growing indifference to color-changing cans, attractive women and rooms full of brohemian doofuses trying to sell them some suds.
-- Reported by Jason Notte in Boston.
RELATED STORIES:
>>Microsoft, EA: Video Game Sales Down
>>U.S. Open Is Back in Business This Year
>>Tour de France Bikes for Your Commute
Follow Jason Notte on
and get more stock ideas and investing advice on our sister site,
Jason Notte is a reporter for TheStreet.com. His writing has appeared in The New York Times, The Huffington Post, Esquire.com, Time Out New York, the Boston Herald, The Boston Phoenix, Metro newspaper and the Colorado Springs Independent.