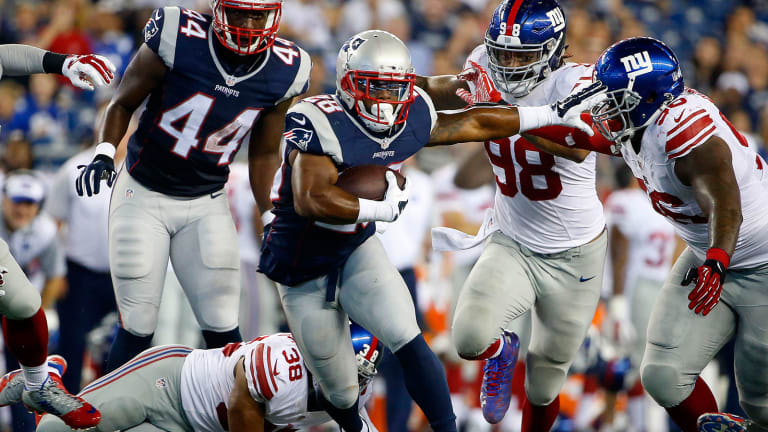 Kick Up Your Tailgating Game With These Must-Have Gadgets
Seasoned tailgaters take their craft to heart and won't stand for simply hanging in the parking lot with a six pack.
Seasoned tailgaters take their craft to heart and won't stand for simply hanging in the parking lot with a six pack.
Sports fueled fall festivities are best celebrated in the parking lots and surrounding sports arenas throughout America to fully capture the essence of and excitement of the game. The aroma of mouthwatering, traditional goodies simmering on the grill, along with flowing refreshments sets the scene for unbridled nostalgia and serious bonding. Seasoned tailgaters take their craft to heart and won't stand for simply hanging in the parking lot with a six pack; instead they take their food, drinks and atmosphere into consideration to set the scene for the best afternoon of sports ever.
While the college kids may prefer to kick it with a few beverages and food on-the-go, the more sophisticated tailgater has a number of exciting gadgets and fun tools at their disposal-- party enhancers to make this tailgating event an epic experience.
T-Fal Triple Basket Fryer
No tailgating revelry is complete without a ton of deep fried food. But who wants soggy, pre-fried chicken, fries or even oreos? Now you can deep fry at your tailgate site with the T-Fal Triple Basket Fryer. Compact enough for travel, but robust enough to prepare family-sized portions for the entire crew. The appliance accommodates up to 4 liters of oil and has three stainless steel frying baskets. The adjustable thermostat allows for ideal temperature selection so you can give that chicken all its got, while staying more on the delicate side when it comes to deep frying those battered onion rings. The cool zone beneath the heating element keeps oil cleaner and eliminates burnt crumbs, plus the removable stainless bowl makes for easy cleanup.
Buy the T-Fal Triple Basket Fryer now
Team Bean Bag Chairs
You name it, The Northwest Company likely has your team's logo emblazoned on the front of probably the comfiest beanbag chair on the market. Providing team-based seating is what sets the men apart from the boys--you are pledging allegiance to your favorite team, while making sure your tailgating teammates are sitting pretty during the pre-game party. Beanbag chairs are designed from 100% polyester fabric, which means these chairs are ultra easy to clean up in the event of spills. The polystyrene bead fill makes for an extremely comfortable, relaxing experience. The exterior panels match your team colors, while the team logo is displayed front and center.
NFL Handwarmers
Cold nights and hot games means your fingers may go a little numb from cheering for your team or holding that cold brew all night. No need to check for frostbite when you can instead keep those digits warm using team-backed NFL handwarmers. Brought to you by The Northwest Company, the 100% Polyester, water resistant shell handwarmer retains and traps heat around your hands creating a comfortable experience during the game. Show your team spirit by choosing your favorite NFL team shield, which is stylishly embroidered on the back. A small, zippered pocket allows you to store money, keys and ID, which makes this handy device a fan favorite.
NFL Flair Hair Visor
Not your average visor, this sun protective hat comes with flared hair! This officially-licensed NFL Flair Hair Visor, delivered by The Northwest Company includes blazing hair made from cotton twill and faux polyester hair lining the top. Each visor comes with team logo sported proudly in front, along with matching team color hair. Choose from 38 team logos with matching hair--you'll always be the life of the party and may give you an edge to land you on the Jumbotron!
Buy the NFL Flair Hair Visor now
MegaPongo Beer Pong Tailgating Game
No "Quarter Bounce" for you, your beer games are meant to be played like a boss. Check out the MegaPongo Beer Pong Tailgating Game, the game that keeps everyone playing. Game comes with two 19-cup game boards, along with 40 target cups, 2 backboards, 2 collection cups, 4 built in cup holders and 12 ping-pong balls. Divide your crew into teams and get ready to play on this stand-alone party pastime. Stands 41" tall when set up and is sturdy enough to handle your group. The strong metal legs keep you in play and equipment weighs 11.5 lbs. Game also breaks down easily for portability.
Buy the MegaPongo Beer Pong Tailgating Game now
Coleman Road Trip Propane Portable Grill LXE
No tailgating adventure would be complete without grilled fare, which makes the Coleman Road Trip Propane Portable Grill LXE the top choice amongst both sports fans and chefs. Offered in several dynamic colors including blue, red, orange, black and silver, the Coleman Road Trip grill sets up in seconds and is ready to receive any tailgating food on the Perfectflow Pressure Control System, which provides steady, intense heat, even when its cold outside. Grill has 20,000 BTUs of cooking power so your food cooks to perfection, and the large cooking surface holds several foods at once.
Buy the Coleman Road Trip Propane Portable Grill LXE now
PowerPro 56101 Gas Powered Portable Generator
Serious tailgaters need serious power to keep the party going, which is why a solid generator should always be part of the game plan. Lightweight and only weighing 36 pounds with carrying handle, this generator was made for portability. Runs on an oil and gas mix so no need to make oil changes--a 1 gallon tank can power your party for up to 5 hours. This generator is also quieter than others and is certified for national park use too. Easy to use, power panel with on/off switch, along with a 120V three-prong receptacle, a 12V DC receptacle, a volt meter and individual circuit reset buttons.
Buy a Portable Generator for Tailgating now
Best of Times Collegiate Patio Bar and Tailgating Center Deluxe Package
Set yourself up to be party central with this all-encompassing collegiate patio bar, umbrella and stools. Designed for everyday use, but looks very commanding, the Best of Times package lets you create seating and a bar, while showing your team spirit. Offered in over 100 interchangeable print sets, but custom jobs are also possible. Each set comes with four padded bar stools, a small, wrap around bar (with three levels of shelving), in-shelf, food grade waterproof cooler and pop up umbrella. Sets up in a snap and is also water resistant and the UV protected material resists fading or damage.
Buy the Best of Times Package now
The Original Tailgate TV Stand
No tickets for the big game, but still want the tailgate experience? Watch the game on your flatscreen TV from the comfort of your SUV trunk with the Original Tailgate TV Stand. This stand is designed for mobility, allowing you to safely secure up to a 42 inch flatscreen TV to the stand. The stand rotates 360 degrees so the entire crew can see the game and sets up in minutes with no tools required once wall mounting bracket has been attached to Tailgating TV Stand and TV. Secure the the Tailgating TV Stand to your vehicle's 2" hitch receiver using a standard wall mounting bracket (not included).
Buy the Original Tailgate TV Stand now
Disclosure: TheStreet has advertisers and partnerships; we may get a share of the revenue from your purchase.