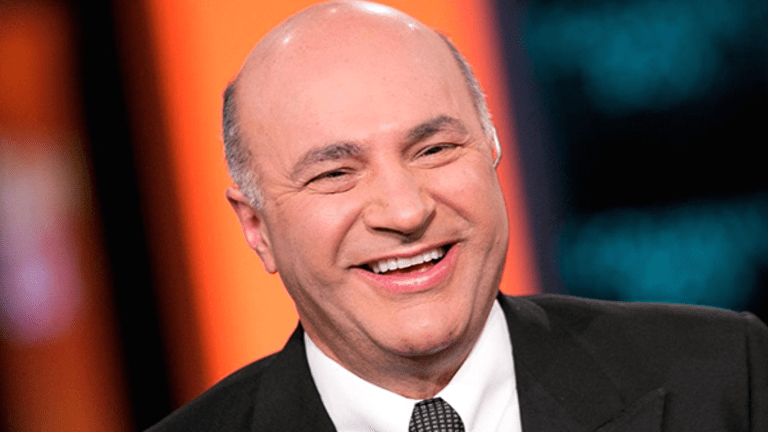 Shark Tank's Kevin O'Leary: If You Can Fire Your Mother, You're a Great Manager
AlphaRising sat down with O'Shares Kevin O'Leary because her perfectly articulates why women make such great leaders. And yes, part of leading may be firing your mother.
I never expected a no-nonsense, hard-knocks Shark, like Kevin O'Leary, to credit his mom for his investment style. But apparently, she did.
O'Leary tells TheStreet that his mother hid money from her two husbands and invested in things that paid her to wait, with either a dividend or interest.
Even better, she didn't want a man to dictate her future and died with a huge nest egg. (I love this woman. She should be our AlphaRising.)
As a result, O'Leary created his O'Shares ETFs around that exact investment model, targeting companies that provide steady income for those with patience.
His mom may also be the reason he believes so strongly in women-run businesses. Of the 44 companies he was invested in at the time of our interview, the majority are run by women have not only returned his capital investment but are making him money.
O'Leary, a Canadian-born businessman, talks about the commonalities between women, mothers and good business. There's a plot twist, however: he says a great manager can fire their own mother.
Gulp.
But this is why we wanted O'Leary to be a part of AlphaRising. He perfectly articulates why more women should be in the C-suite and in the boardroom.
And while O'Leary is investing in female entrepreneurs, we're hoping corporate America starts reading all the reports that prove diversity among leadership increases the bottom line.
O'Leary is not just out to increase his own bottom line thought. He recently he launched a new product that allows users to invest in fractions of shares of stocks. So shout out to millennials: there's no excuse now.
And I bet you didn't know he makes wine - yep, with his wife.
Maybe we should raise a glass to his mom.
For more from Tracy Byrnes and Alpha Rising:
EY's Kerrie MacPherson: "If You Can See It, You Can Be It"