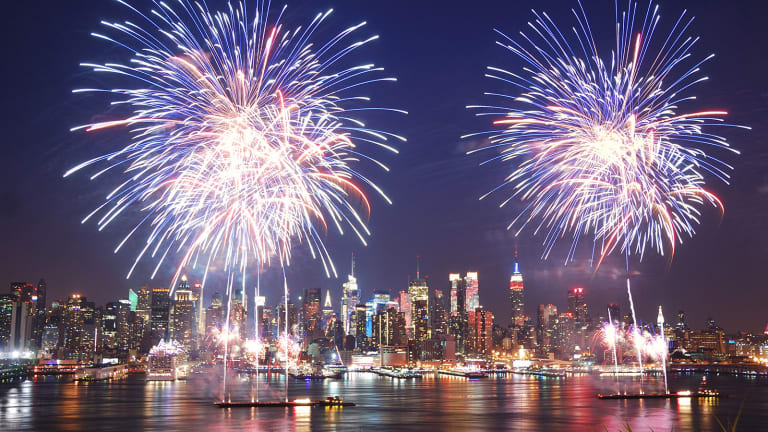 July 4th Travel Bargains Exist If You Know Where to Look
Many of us are on the move this Independence Day, but there are places to go and others to avoid.
NEW YORK (MainStreet) — July 4th bargains exist for travelers, but know this: there are not that many, you need to know where to go and you also need to know where not to go. Now is prime-time to act. Prices, especially for airfare, are likely only to get higher on a weekend that shapes up as costly across the board.
Many factors have converged to push up costs for air travel and hotels alike. "July 4 is one of the most expensive holidays," said Patrick Surry, chief data scientist at Hopper, a company that tracks and analyzes airfare data. Lots of us are on the move and that means this is not the season of deep discounts.
Gasoline is a bright spot - $2.75 per gallon now on average nationwide, compared to $3.65 a year ago, per the AAA's Fuel Gauge Report. If you can drive where you want to go, do it this Independence Day.
You want something different, farther away? Overall, airfares actually are down a 4% from 2014  according to Hopper. But some cities are painfully expensive. Noted Hopper: "Las Vegas, Chicago, Los Angeles and New York City [top] the list of most popular destinations. It will be harder to score a last-minute deal to these destinations, and they will likely be the most crowded."
More advice from Skyscanner, another company that tracks airfares, is that to find the best deal, "American should stay on the same coast." That means don't plan a San Francisco getaway from Boston, or a Cape Cod holiday from Seattle.
Proof from Skyscanner is that the priciest July 4th weekend fares out of New York, in a recent data pull, were to Honolulu - $892 - and Santa Ana, Calif - $814. Out of Los Angeles, the priciest, per Skyscanner, were Pensacola, Fla. - $913; Providence, R.I. - $784; and Manchester, N.H. – Boston - $765. 
From Los Angeles, the cheapest destinations per Skyscanner were Las Vegas - $120; Oakland - $165; San Francisco - $165. From New York, here are Skyscanner's cheapest destinations: Boston - $158; Washington - $186; Dallas - $205; and Charlotte - $212.
Skyscanner stressed that these are "live prices," meaning they change regularly. You may not find the same.
Exactly when to buy air? Three weeks in advance of departure, said Hopper, which added that it did not expect to see last minute deals to many destinations surfacing this year. Buy in advance or wait until next year. Three weeks out puts the optimum time to buy in the June 10 through June 12 window, and that means now.
When to fly? Inexplicably, per Hopper, flights the weekend before July 4th are more expensive than the Independence Day weekend itself. Bargains are scarce throughout July - it's shaping up as a hectic summer at airports - but fly mid-week (Tuesday or Wednesday) and, said Surry, you will save, probably $40, possibly more. A bonus is that airports in summer are hideously busy on weekends. Mid-week crowds are thinner, lines are shorter, and you also save money.
As for hotels, a fast search turned up lots of mid-grade hotels seeking $500 and up per night over the long weekend, but there also are tempting deals. For instance, the Ace on West 29th Street in Manhattan's Chelsea is priced at $166 per night over July 4th, according to Hotels.com.
In Las Vegas, the Vdara Hotel - no casino, so it is quiet, but the Bellagio and Aria are in close proximity - is $179 per night on Hotels.com. Downtown Las Vegas hotels under $100 remain plentiful.
Hotel Rouge, a Kimpton Hotel on Embassy Row in Washington, DC, is $161 per night.
In Scottsdale, Ariz., the Hotel Valley Ho - a midcentury charmer steps from the bars and restaurants of Old Town - is $127 a night.
In San Francisco, Hotel Carlton - a hip Joie de Vivre hotel just outside the Tenderloin and close to Union Square - is $219, again on Hotels.com.
Hotel prices in general seemed more attractive than airfare for the coming holiday weekend. But if there is one rule of summer travel, it's bring a thick wallet.
"Summer is expensive," sighed Surry. And that seems especially true this summer.

This article is commentary by an independent contributor. At the time of publication, the author held TK positions in the stocks mentioned.