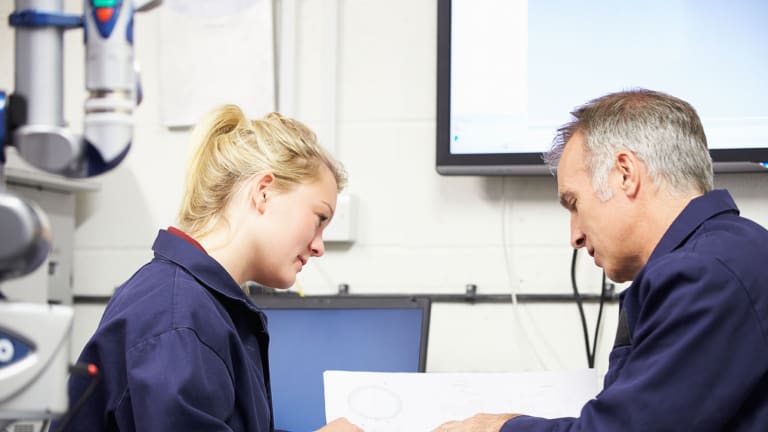 Job Security Confidence Is Soaring, But Americans Still Don't Have the Right Skills
Confidence in job security is high in the U.S., but less than a third of Americans are very confident they have the right skills to land another gig.
NEW YORK (MainStreet) — Confidence in job security is high in the U.S., but less than a third of Americans are very confident they have the right skills to land another gig in a jam, according to a new survey from TheStreet conducted by GfK.
Some 87% of respondents said it was not too likely or not at all likely they'd lose their job in the next 12 months. By contrast, only 13% feared they were very or somewhat likely to lose their job.
But though job security confidence is robust, it's not all honky-dory in the employment landscape. The unemployment rate dropped to 5.4% and 223,000 nonfarm jobs were added in April, according to the Jobs Report released today – after a weak March Jobs Report that added but 126,000 nonfarm payrolls. But wage growth in April was particularly disappointing, up a meager 0.1% from March and just 2.2% year-over-year.
A key metric to gauge true labor market confidence is the proportion of people voluntarily jumping ship, and though Americans may claim high confidence in job security, the proportion of workers who are voluntarily quitting is much lower than this far along in past recoveries, according to Robert Johnson, associate director of economic analysis with Chicago-based Morningstar. The annualized quit ratio as of February 2015 was 1.9%, down from 2.2% as of February 2007, according to the Job Opening and Labor Turnover Report.
That Americans' confidence is overwhelmingly healthy when it comes to job security demonstrates we are greatly improved compared to the period of mass layoffs that characterized the Great Recession. Still, we're not entirely out of the woods.
"Sadly, relative to most developed countries in the world, job security in the U.S. is quite low," said Michal Ann Strahilevitz, a visiting scholar at Duke University's Center for Advanced Hindsight. "This 'job insecurity' is not our imaginations…Things have certainly improved since 2008 and 2009, when many Americans who never imagined being laid off were. This caused even those that were not laid off to realize their jobs were not as secure as they thought they were."
In a sense, amid the confidence, some may still be reeling from the aftershocks of the Great Recession and the fear of potentially getting canned.
"For some, the stress of that period left them shaken, and some still feel the lingering anxiety from what they witnessed during that period," Strahilevitz said.
Of course, this varies by field.
Take Derek Handova, for example, a senior B2B content marketing writer for a wireless networking company in San Mateo, Calif. who is concerned he'll lose his job.
"Because I work in the telecom industry, we seem to be an acute exception to the general economic recovery taking place," he said. While web 2.0 companies, particularly those related to the sharing economy like Uber and Airbnb, seem poised for continued success with a venture capital-backed cushion, Handova says "legacy tech companies continue to struggle."
"Many thousands of layoffs are expected before the dust settles," he says.
Optimism Amid Challenges
Though the general employment landscape is sunny, economists typically consider "full employment" to be when the labor market hits the 5% unemployment mark – a threshold the U.S. has yet to reach. A major challenge to improving employment numbers all the more has been the skills gap, which holds that the labor force is inadequately prepared for the positions available.
Still, most Americans are at least, in part, convinced they have the right skills and knowledge base to fill job vacancies that exist today. About a third of respondents (27%) in TheStreet's GfK survey were very confident that they had the up-to-date skills and qualifications, while a plurality of Americans consider themselves at least partially prepared: 42% said they're somewhat confident they have the right stuff. By contrast, almost one-third (29%) said they are not too or not at all confident.
The fact that almost one-third lack confidence in their skills may, in part, explain why hiring remains lackluster even though openings are at their highest since 2000, when the Job Openings and Labor Turnover Report began.
The American labor force is woefully underprepared to fill available positions in the workplace, according to an ETS report analyzing data from the Program for the International Assessment of Adult Competencies (PIAAC) and assessing reading and math abilities in workers 16 through 65. More than half of American Millennials, according to the report, lack proficiency when applying arithmetic and literacy competencies to jobs.
Employers, too, are taking note of insufficient available talent. In its last "Talent Shortage Survey," human resources consultancy Manpower reported 39% of American employers found it difficult to fill jobs with adequate talent. A 2014 CareerBuilder survey shows half of American employers have a job opening they can't find a qualified candidate for, and 80% have difficulty filling positions in general.
A lack of marketable skills can also impede workers should they lose their current position. An important metric for the labor market is resilience in snagging another position if laid off, and the fact that two-thirds of workers expect to land a job within three months would suggest that workers are confident their skillset will be sufficient: just over a third (36%) thought finding a job would take just one month, while just under a third (32%) anticipated a three-month search. Some 16% expected to slog it out for six months, while 6% expected to wait a year. Some 5% would go the distance in waiting over a year to snag the next gig, while 4%, quite depressingly, said they would never find another job.
The disconnect between employers' hesitant hiring and workers' expectation to land a position quickly may suggest workers exude false confidence if they don't in fact have the appropriate skills.
The obvious gap has to do with the role of technology, programming and quantitative skills that are in huge demand across sectors, Strahilevitz said.
In fact, according to the Brookings Institute study "Still Searching: Job Vacancies and STEM Skills," science, technology, engineering and math (STEM) jobs take more than twice as long to fill as non-STEM vacancies, signaling that "STEM workers are in short supply in the labor market, relative to demand."
But there are additional skills lacking that are specific to particular fields.
"For example in marketing, the ability to deal with 'big data' is in huge demand," Strahilevitz said. "However, so is the ability to create engaging social media campaigns and think creatively in terms of branded content."
Of course, the skills gap is a controversial concept, and Sylvia Allegretto, an economist and co-director of the Center on Wage & Employment Dynamics at UC Berkeley, does not buy the theory.
"If this were the case, those with the right skills should be doing very well and experience wage growth – a phenomenon that is not occurring," she said. As the tech sector has shown, wage growth is meager.
Also, a large share of new jobs require little to no education and short term on-the-job training – "like in the booming restaurant industry," Allegretto said.
"The skills gap was forwarded even in the midst of the Great Recession…as if relatively high unemployment rates for all education groups, occupations, etc. had something to do with skills and not the implosion of an $8 trillion housing bubble," she said. "It also meant that policy decisions hinged on 'workers need more education or more skills' – it is their problem – instead of more stimulus to put workers back to work given the huge hole in aggregate demand."
Gig Economy
Whether or not Americans have the proper skill-set or if the labor market is simply holding out on them, Americans need to find a way to generate income to avoid coming up short on their budgets.
Side gigs have become a staple to supplement our income in an age of stagnant wages and underemployment. Though some 9 million people of the 140 million-person workforce are unemployed according to the Bureau of Labor Statistics, some 6.8 million are still underemployed. As a result, a fifth of consumers (20%) say they are taking on an additional side job, according to the TheStreet's GfK survey.
Strahilevitz points to an accountant who does part time nanny work and an attorney who occasionally does work copy-editing. Beggars, ultimately, can't be choosers.
"When the economy is bad, people take the work they can find," Strahilevitz said.
As confident as people may be in their current job security, those in need of work are having more trouble marketing their skillset to land a full time position. As a result, and quite tellingly, the trend in people who have two part time jobs without a full-time position has been increasing. People with two or more part-time jobs without a full-time position was up to 1.34% in February 2015 compared to 1.24% in February 2005.
--Written by Ross Kenneth Urken
The study was conducted online using the GfK "KnowledgePanel," an online probability-based panel designed to be representative of the US general population, not just the online population. The study consisted of 1,016 interviews conducted between April 17-19, 2015 among adults aged 18+. The margin of error is +/-3 percentage points.