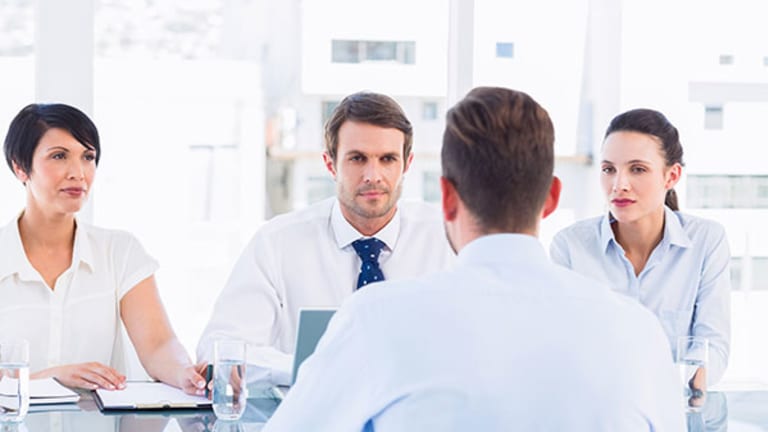 Job Interview Mishaps: How to Avoid Them to Obtain a Good Offer
Job-seekers might feel trepidation before an interview. Skip the jitters and stress by following these tips to ensure you have a smooth interview.
NEW YORK (MainStreet) — After countless months of filling out a multitude of online applications, you feel relieved to finally get a call for a job interview.
Job seekers might feel trepidation before they arrive at the interview. Skip the jitters and stress by following these tips to ensure you have a smooth interview to land that new job.
Before the Interview
Conduct some research about the company beforehand about their goals and how you can contribute to their mission, said Robin Marks, associate director for the counseling and programming team at the University of Delaware's Career Services Center in Newark. Examine the company's competitors, how it differentiates itself, current trends in the industry and the firm's impact. Take a look at the company blog, its press releases and don't neglect its social media accounts.
Too many candidates show up at interviews unprepared and do not understand the position such as the main responsibilities and how your experience "aligns with implementing these goals," she said.

During the Interview
Not only is it critical that you show up on time, prepare good questions to ask and be well-versed in the company's culture and the position ahead of time; you also need to shine during the interview. Those factors are merely the "price of entry - they don't earn you any points," said Mark Jones, senior vice president at Alexander Mann Solutions, a Cleveland-based recruiting firm.
"In reality, you need to get all of this right just to start and then you need to nail the interview," he said.
Avoid gaffes by not talking too much, even though it sounds counterintuitive, Jones said. When people talk too much they can commit blunders such as diluting the message or veering off target.
"It's human nature that people like to talk, and this is true for recruiters too," he said. "So as long as you still are fully answering the question, but you get them talking about the role, about their career or even about themselves, they're going to enjoy the conversation and think that you did an amazing job. It really works."
If you feel like you have stumbled into an awkward area or the conversation is not flowing, you can still turn it around by slowing down and being honest.

"Maybe you can explain it's even a good thing that you're off, such as if you're so excited about the role and so passionate about what you do, that you've gotten yourself too excited," Jones said.
Be conscious of the non-verbal messages you send – don't fidget, swing back and forth in a chair or look at your watch constantly. Instead, appear that you are engaged by making eye contact, giving a strong handshake and smiling, Marks said.
When you are asked about your experience, avoid making generic statements and stick to giving examples, she said.
"Just saying that you are an organized person will not mean anything to the interviewer," Marks said. "Every candidate can say the same thing. Instead, provide examples of processes you initiated and systems you implemented."
It might be rather tempting to say you are familiar with a hard skill such as using pivot tables in Excel, said Dave Denaro, vice president of Keystone Associates, a Boston career management and transition services consulting firm. Instead, frame it by discussing the last time you did something "pretty challenging using pivot tables," he said. You can achieve this by discussing what made it a challenge, how you achieved it and the result you wound up with.
"A short story like this is the 'evidence' you need to give in an interview to prove you can really do what you say you can do," Denaro said.
Don't just state a bunch of facts when you are "proving" a skill, he added. It's vital to add some words which "convey the emotion you feel when you are doing it such as "I really enjoy that part of the job" or "I get a lot of personal satisfaction out of getting that result."
Managers are striving to find self-motivated individuals because if you enjoy the task, you will want to complete it, and they don't have to allocate more time getting you to "want to do it," Denaro said. "It's a win-win, and they know it."

Before You Are Offered a Job
While you may feel you nailed the job, being overly confident can backfire. Avoid assuming that you've landed the new position, said Jones. Although the recruiter might have told you that you're a definite shoe-in and the last interview is merely a formality, don't quit your current job or change your status on Facebook.
"Even if the recruiter completely means it, you can still mess it up," he said. "For somebody else, who is a part of that final stage but not the earlier ones, this may be their first impression of you, and so you still need to make it just as favorable as every other part of the process."
Leaving a positive impression might not be an easy task, but leaving a negative impression is fairly easy, and if there are many candidates available, you could wind up on the cutting floor.
When they ask about your current salary, don't disclose it and instead ask about the range for the position, said Fred Coon, CEO of Stewart, Cooper & Coon, a Phoenix-based national executive placement and employment services company. The company is only trying to determine if your expectations are within their range.
"If they give you the range, then tell them it is acceptable," he said. "If it is too low, make a decision as to how much you think you can get them up on the offer or you can walk away."
Never assume you can just "wing" the interview or that you have landed the job, because you are being introduced to numerous people during a second interview.
"Prepare like your retirement depended upon it, because it does," Coon said.