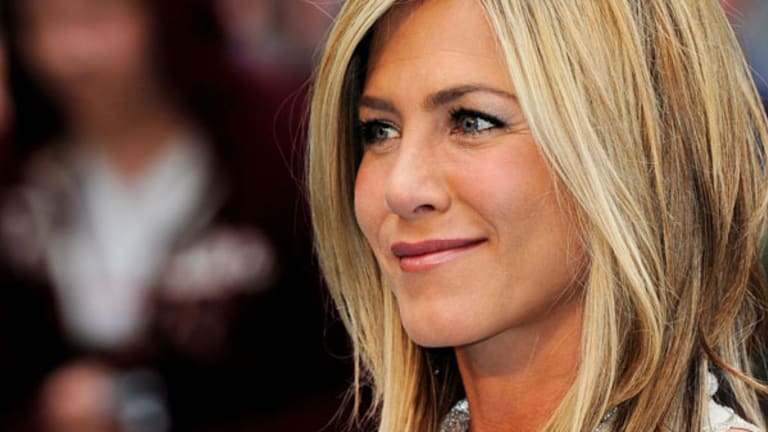 Jennifer Aniston's Doing Better Than the Olive Garden
Casual dining, like Jennifer Aniston, was once a fresh-faced, flair-wearing American ideal, but times change.
PORTLAND, Ore. (TheStreet) -- Casual dining, like Jennifer Aniston, was once a fresh-faced, flair-wearing American ideal. Now they're both older versions of themselves who can't seem to shake their former identities.
Around the time Aniston was playing Ron Livingston's
in the 1999 movie
Office Space
, Aniston was still playing Rachel Green on NBC's
Friends
, dating Brad Pitt and preparing to marry him a year later and was still on the sunny,
The Good Girl
/
Friends With Money
side of a budding film career. Meanwhile, the strip-mall restaurants that Aniston's
Office Space
character lampooned by wearing
as a waitress for "Chotchkie's" were still offering standard, reheated American fare at reasonable prices and were still a homogenous, stuff-on-the-walls bar and grill experience that held a special place in the heart of Anytown USA.
Also see: Cramer Greets the 21st Century: Parkopedia
So what happened? How did Aniston turn all of that promise into an unrelenting series of romantic comedies featuring the likes of Gerard Butler, Aaron Eckhart and Adam Sandler? How did can't-fail casual dining, according to market research firm
, start losing customers for nearly four years straight.
Because the American consumer's association with certain events or points in time traps both people and companies in the amber of memory and holds them there regardless of how many years have elapsed or how much change they've undergone. In Aniston's case, the steady syndication of
Friends
and refusal to do much television since kept her alter ego Rachel Green far more visible than Aniston was.
Sure, the American public dwelt on her breakup with Pitt and his ensuing relationship with Angelina Jolie, but every Thanksgiving they're reminded that Pitt and Aniston were once so romantically, comedically in love that they
. Those
Friends
reruns and memories of Aniston and Pitt as U.S. royalty are the warm security blanket that keeps tucking in a certain segment of the population each night.
Also see: Is it OK for Mom and Dad to Pay for Your Cell Phone?
Meanwhile, as long as casual dining restaurants kept the prices low, the spirits high and the drinks flowing, America could always return to the places it spent its high school weekends, its Thanksgiving weekend homecomings and its airport layovers.
In both cases, it's delusion. It's also a pretty nasty thing to snap out of once that pleasant fog clears and unsettling reality sets in.
Casual dining tried to conceal the damage wrought by the recession, but the cover was blown during the ensuing, incremental recovery. Restaurant group
Darden Restaurants International
(DRI) - Get Darden Restaurants, Inc. Report
, the parent company of Red Lobster, Olive Garden, Longhorn Steakhouse and other chains, gave the first indications that something was wrong late last year. Warnings about earnings gave way to disastrous reports as its restaurants' two-for-$25 meal deals fell short of the two-for-$20 deals offered by its competitors.
One of those adversaries, Chili's and Maggiano's Little Italy parent company
Brinker International
(EAT) - Get Brinker International, Inc. Report
, reported this year that the end of those deals, coupled with the end of a Social Security tax cut, would force it to lower expectations for 2013. NPD Group wasn't surprised and noted that the number of restaurant visits driven by deals rose between 3% and 5% at the height of the recession in 2008 and 2009, but
slumped 3% last year
.
What casual dining establishments are learning quickly is that nobody's going to buy their reheated food or pre-fabricated atmosphere if they don't feel it's a value. The cost of dinners out rose 2.7% over the past year, according to the
Consumer Price Index
. That's more than the 2.2% overall rate of inflation and isn't helped when a $10 promotional meal jumps to $12 or $14, jacking up the price 20% to 40%.
Casual dining's knee-jerk reaction has been to gut the works.
Ruby Tuesday
(RT)
ripped out the Tiffany-style lamps, ferns and brass, de-emphasized the salad bar and bathed everything in black and red. The company's share price has dropped 18% in the past year, it unloaded three non-Ruby Tuesday chains and reported flat sales. Darden decided to change the menus at Red Lobster and Olive Garden, tear down Olive Garden's Tuscan decor and tear off its trademark white uniforms in favor of black and has even toyed with the idea of removing servers altogether and going with a pay-at-the-counter system. Sales and earnings still haven't recovered.
Also see: 10 Ways Your Credit Can Betray You
As Applebee's and IHOP owner
DineEquity
( DINE) and Outback Steakhouse and Carraba's Italian owner
Bloomin' Brands
(BLMN) - Get Bloomin' Brands, Inc. Report
face similar struggles, casual dining's problems run much deeper than the local high school lettermen jackets on the walls and the uniforms the staff is wearing. For one thing, Millennials don't see casual dining restaurants, or restaurants in general, as being nearly as important to their social experience as baby boomers did.
, Millennials cut back on restaurant visits since 2008 while boomers only increased their intake of Bloomin' Onions and unlimited breadsticks.
Speaking of which, U.S. diners are also getting fed up with paying non-discount prices for what's basically arterial plaque on a plate.
The Hudson Institute
discovered a direct correlation between the number of healthy items on casual dining menus and the foot traffic at each restaurant.The Institute included restaurants such as
Denny's
(DENN) - Get Denny's Corporation Report
,
Panera Bread
(PNRA)
, Romano's Macaroni Grill, Applebee's, Outback Steakhouse, Chili's, Red Lobster and Olive Garden. Of the 21 chains surveyed, nine increased the number of lower-calorie items sold from 2006 to 2011 and averaged a 5.5% same-store sales increase while increasing foot traffic. The dozen chains that didn't boost their low-cal offerings averaged a 5.5% same-store sales decline.
That also hints at the fact that there are a lot of younger, sexier choices for diners these days. Casual dining is facing increasing pressure from fast-casual establishments such as Panera and
Chipotle Mexican Grill
(CMG) - Get Chipotle Mexican Grill, Inc. Report
and even from reworked casual dining models such as
Buffalo Wild Wings
(BWLD)
, whose emphasis on beer, wings, sports and lots of big televisions helped it grow from 340 restaurants in 2008 to 510 last year and boosted its revenue by 6.6% last year alone.
Also see: Should You Pay Your Taxes with a Credit Card?
This all brings us back to Aniston. Though not immune to similar pressures, Aniston still has enough star power to turn critically derided films such as 2009's
She's Not That Into You
and 2010's
The Switch
into box office successes. At age 44, she's still also drawing enough attention to be featured semi-nude on the cover of
GQ
and in various states of sweaty undress in ads for SmartWater. Aware of the public's perceptions and demands of her, she's crafted an image that not only reminds fans of Rachel Green, but capitalizes on it by updating the character and keeping her semi-relevant.
When Aniston and
Office Space
are getting more mileage out of the casual dining's glory days than Red Lobster or Chili's are, something is terribly wrong with the industry. While they don't run Chili's
commercials or Red Lobster
ads in repeats on TBS or Nick@Nite, it may be worth their parent companies' while to go back, check out some reruns and remind themselves what made their restaurants so palatable to Americans in the first place.
-- Written by Jason Notte in Portland, Ore.
>To contact the writer of this article, click here:
Jason Notte
.
>To follow the writer on Twitter, go to
.
>To submit a news tip, send an email to:
.
RELATED STORIES:
>>Nirvana's Nevermind and the Death of Guy Rock
>>The Mysterious Shine Of Twilight Pop Stars
>>How Dusty Springfield Made Adele Possible
Jason Notte is a reporter for TheStreet. His writing has appeared in The New York Times, The Huffington Post, Esquire.com, Time Out New York, the Boston Herald, the Boston Phoenix, the Metro newspaper and the Colorado Springs Independent. He previously served as the political and global affairs editor for Metro U.S., layout editor for Boston Now, assistant news editor for the Herald News of West Paterson, N.J., editor of Go Out! Magazine in Hoboken, N.J., and copy editor and lifestyle editor at the Jersey Journal in Jersey City, N.J.