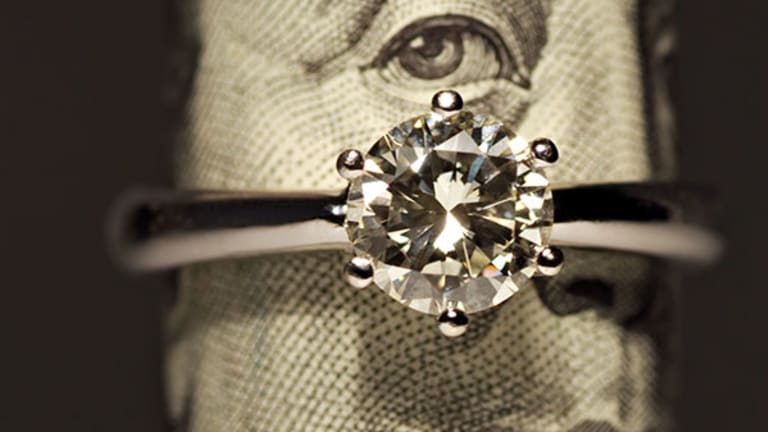 January Is Known as 'Divorce Month' -- Know These Red Flags
January brings with it more than just cold weather. Divorce might become part of the January plan, too, and here's how to find out.
Believe it or not, January has been dubbed Divorce Month by relationship experts, no doubt because it comes at a time when folks are reassessing their life choices, and when the word "clean slate" keeps popping up more than at any other time of the year.
"January is divorce month, because psychologically people want to start the new year with new beginnings," explains Jacqueline Newman, managing partner at a New York-based law firm that specializes in divorce cases.
Newman, who prefers the term "considering my options month" for January, says that actual divorce filings spike in February when decisions, plans and lawyers are in place, and that divorces spike following the stressful December holidays. "Couples consider divorce an off-limits holiday topic, but new year's new beginnings and stress-exposed fractures coincide in January," she says.
"Couples tolerate the holidays, because nobody really wants to tuck a divorce summons in someone's stocking," Newman adds. "I find that in January, my office has a lot of initial consultations with new clients who want to better understand what their lives would look like if they were to divorce."
Beyond the heartbreak, divorce can be inordinately expensive and a blow to your finances. If you're getting antsy about your own marriage, for real or imagined reasons, Newman says there are some red flags that can foreshadow a marital split.
"Chief among them is a breakdown in communication," she says. "That's when one person in the relationship completely shuts down and all conversations are high level and business-like. When one spouse stops telling the other spouse about his or her day or is silent in long car rides, it may be because they have become indifferent to the relationship and feel it is not even worth trying anymore."
"While you may think that you are both just enjoying the music on the car radio - it may be that your spouse is actually thinking about calling his/her divorce attorney," Newman adds.
Besides a lapse in communications, what other key indicators point the way to a potentially bitter divorce? Legal experts cite the following:
Household financial changes -- Sean Smith, counsel in the Family Law Practice at Brach Eichler in Roseland, N.J., says that changes in money habits can precede a divorce. "From a financial perspective, a spouse contemplating divorce often seeks to get their financial house in order," says Smith. "As part of this process, a spouse may open several individual accounts -- i.e., a banking or credit card -- where one spouse is not a party to the account to allow for secrecy. This spouse may also increase their business travel without explanation and suddenly present a decrease in the family's monthly income and cash flow." Likewise, the divorce planning spouse will often begin collecting financial data of the family. "This often is evidenced through the sudden absence or removal of the family's monthly banking and financial records without discussion," Smith adds. "A spouse may also see an increase in unexplained ATM activity by the other spouse."
A spouse becomes secretive -- A partner receding into the shadows, emotionally and financially, can be an indicator that a marriage is in peril, says Will Medlin, family law attorney with Horack Talley in Charlotte, N.C. "Behaviors such as changing bank, email, or phone passwords or passcodes, can be a sign of infidelity, meaning the marriage might not last," Medlin says. "Also, a spouse refusing to go to marriage counseling or take other self-help measures for the relationship can be an indicator that he or she has checked out of the marriage; thus, the marriage could be doomed."
Spouses begin leading separate lives -- "When people prepare for divorce, often, they begin to live separate lives within the marriage," notes April Masini, a New York-based relationship expert. "They go out with friends without their spouse and schedule their weekends without the spouse, travel separately, go to sleep separately, and often they go to different holiday gatherings -- and while there may or may not be a chill in the air in which they live, there's definitely a sense of separate lives under the same room."
Sex wanes -- "In many cases, when sex in a marriage dies, a divorce is not far behind," adds Masini. "Sex is the barometer of health in a marriage so when it stops happening - for months or even years - it's often a red flag that there is going to be a divorce in the future."
"Negative" discussions -- Peter Walzer, founding partner of the Los Angeles-based law firm, Walzer Melcher, and the attorney representing Katie Holmes in her divorce from Tom Cruise, says that spouses who talk negatively about their marriages with others signal an ominous warning for the marriage. "Telling relatives, friends or therapists that the marriage may be over is a telling sign," Walzer says. "Additionally, if a spouse has been searching on the internet advice about separation or divorce or they have been looking for family law attorneys; or they having been buying books about divorce or custody online," those are red flags, as well.
What actions steps should spouses who suspect a marriage is unraveling? Take control, experts advise.
"If a person believes there are red flags that signal an imminent divorce, he or she should see a family law attorney sooner rather than later," says Medlin. "The attorney will provide appropriate guidance, which likely will include gathering financial documents and thus mitigating the risk of assets being hidden. Depending on the circumstances, the attorney may also recommend professional counseling to help the client make it through the divorce in the healthiest way possible."
Relationship experts also advise being upfront and talking things through. "Raise your concerns," says Jess O'Reilly, resident sexologist at Astroglide, a personal lubricant company based in Vista, Calif. "Be honest about your vulnerable feelings, especially with fear, insecurity, and sadness. Relationships can be repaired in many cases, but if you hide your authentic emotions or withdraw to avoid feeling vulnerable, you're more likely to exacerbate the problem."
O'Reilly also advises seeing a counselor or therapist who can facilitate a discussion about the state of your relationship. "Even if you're certain that you plan on divorcing, a professional can offer support to help you communicate your needs, discuss concerns and create a plan of action," she states.
Facing a potential divorce is a harsh way to ring in the new year. But that, according to relationship experts, is part of what January brings to the table.
Consequently, it's better to face any bad marital news now, or begin adding February and March to the list of lousy months in 2017.