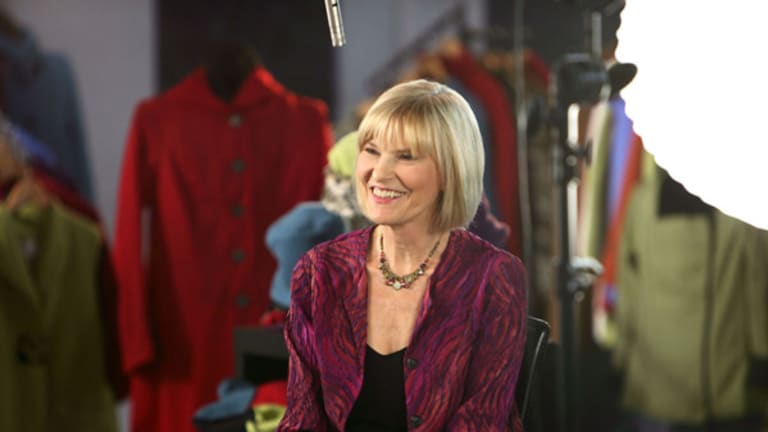 Janska's Erickson Breaks Mold for Older Entrepreneurs
Jan Erickson was 52 when she launched the hugely successful Janska clothing line.
Jan Erickson was 52 when she launched the hugely successful Janska clothing line.
Janska's Jan Erickson is the third successful women entrepreneur to be profiled in our October series celebrating National Women in Small Business Month.
COLORADO SPRINGS, Colo. (
) -- Jan Erickson was 52 when she launched the hugely successful
clothing line.
Coming from restaurant management, she says she never dreamed she would be a successful entrepreneur, but it was a dream that led her on this path.
Erickson had volunteered at nursing homes and, after watching a friend who had a stroke and arthritis struggle with her clothing -- there are times she would come to visit and the woman would have a shawl haphazardly thrown over her, not providing any real warmth, or a jacket put on backward -- an idea started to form. Erickson literally dreamed of creating a jacket her dear friend could wear that would be easy to get on and off and provide ultimate comfort. That idea led to her launch of Janska in 2003.
The Colorado Springs, Colo.-based company that Erickson and her husband, Jon Thomas, own and manage focused originally on providing comfortable yet stylish clothing for aging consumers or those with mobility issues. Erickson says she had intended for her "Wellness Wear" clothing to be sold at home care stores. But a funny thing happened along the way: Baby boomers became interested in her designs.
>>>How One Woman Broke Into The Auto Supply Industry
>>>Style Me Pretty's Larson: Women Business Leaders
"We started the company thinking that is the area that we were going to focus on, but almost immediately -- within the first couple of years when we started taking the pieces to the market -- it was the boutiques that were predominantly interested in it," Jan Erickson says.
Even though Erickson and her husband had little retail experience, they weren't afraid to change gears and form a company that could meet the demand.
Today Janska is sold at 750 boutiques across the country and can be ordered online. With 36 employees, the company is on target to bring in annual sales of $2.2 million this year.
It was recognized as a 2012
by the Colorado Office of Economic Development and International Trade. The competition honors second-stage, privately held companies such as Janska that are described as developing valuable products and services, creating quality jobs, enriching communities and creating industries throughout the state.
"Comfortable, stylish clothes that are American made is really becoming our brand," she says. "And even though I'm passionate about creating clothing for people who have a more difficult time, it has not been specifically as successful as the boutique market."
"We have a belief that when women are buying the products for themselves, they may also connect the dots, thinking what a great fit this might be for a parent or a friend that is going through treatment," she says.
A conversation with Jan Erickson follows.
How were you able to bridge the gap between your ideas and building a successful retail business?
Erickson:
One of the things we were very fortunate about is people started showing up around us that knew the business. I wasn't embarrassed to ask questions, because I knew I didn't really know about it, and it seemed like we were creating something outside the box.
For example, by using Polartec fleece -- something that's normally used for outerwear and sportswear -- we were using a fabric that had fantastic properties. When you put it into a garment that's more stylish than just a zipper jacket, people loved the garment. And we were also able to come across people who had designed in fleece in the general fashion world who loved our universal design concept and stepped right into helping us create more along those lines.
What about the business side of things? You and your husband had little retail experience.
Erickson:
When we started the small business, we took courses that are offered in any community. My husband took them with me and we did it together. We were researching a lot,
thinking certainly there must be somebody else out there doing this. One of the things I learned early on was to not be afraid to ask for help or to ask for advice. We did a lot of that. And
helped us tremendously. I also have a business coach that's helped me along the way.
We kind of think like we've had an on-the-ground business degree. You're in the real world figuring it out and there is a lot of help out there.
Janska has been so far been successful, but surely there must be some growth challenges at this level. What are they?
Erickson:
The last year or two, because the growth has been so exponential. We also purchased a manufacturing part
to do some of the manufacturing ourselves. We didn't really know about that business either, we had been outsourcing, so we're learning about how do you run an efficient sewing factory and how do you run a manufacturing leg?
Four or five years ago there were just a few of us running the company. As we've grown, we're hiring more and more people, learning how to delegate and how to get people to be doing what they're doing and communicating between the teams. So the whole structure of the organization is changing.
What are some specific challenges for those starting a business at an older age?
Erickson:
The doubting of whether maybe they should go forward. That dream that I had was so strong it had a force of its own: "Make that jacket." It was just so persistent. I think if people have a dream or a thought or idea that's consuming them, to follow one's gut.
Obviously I didn't know 10 years ago that we would have a multimillion-dollar fashion clothing line. I believed I was supposed to be doing what I was doing. Certainly there were days when there were doubts.
I feel that it's given me some purpose to believe that what we're creating in Janska is actually bringing comfort to people and making their lives better. I feel that the company for me is purpose-driven; it's not profit-driven, although we definitely want to be able to cover our costs and pay salaries, but it's just the belief that there is meaning.
What about the financial challenges for baby boomers starting a business?
Erickson:
We were living off our savings. My husband was an attorney. He had put some money away for when he retired. We used that money to live on and I had an investment I cashed and put the money into the company; we just were self-funded. We also have three children, and two were still in college. So it was just a time that we were careful and we didn't live extravagantly and kept believing that this was what we were supposed to do.
What's the best piece of advice you got when you started?
Erickson:
One of the things that an adviser had said was a couple of reasons companies fail -- one of course is being underfunded, but also because they don't ask for advice. For me those two things were really important. We knew that we needed other people to help this company to succeed. I knew that I needed to be willing to ask questions and say "I don't understand this."
It's amazing how many people out there are qualified to help and are willing to help, so it's not like we're on our own.
What are your plans for Janska?
Erickson:
I think we will see it again having more different designs and more collections in other fabrics. We're still trying to use all American-made fabrics.
Last year we did $1.5 million
in sales and we're on track to do $2.2 million this year, and our budget
projects $2.8 million to $3 million for next year.
I would love to see us go international. We have one store in Australia that carries our things, one store in Japan that carries and now several in Canada offering Janska in their boutiques. We're just starting to explore that international base to see if there is a place there for Janska.
-- Written by Laurie Kulikowski in New York.
To contact Laurie Kulikowski, send an email to:
Laurie.Kulikowski@thestreet.com
.
>To submit a news tip, email:
.
RELATED STORIES:
>>Wells Fargo: 'We're Bullish on Small Business Lending'
>>Why Aren't There More Hispanics in Franchising?
>>8 Ways to Boost Your eBay and Online Sales
Follow
TheStreet
on
and become a fan on
Disclosure: TheStreet's editorial policy prohibits staff editors, reporters and analysts from holding positions in any individual stocks.