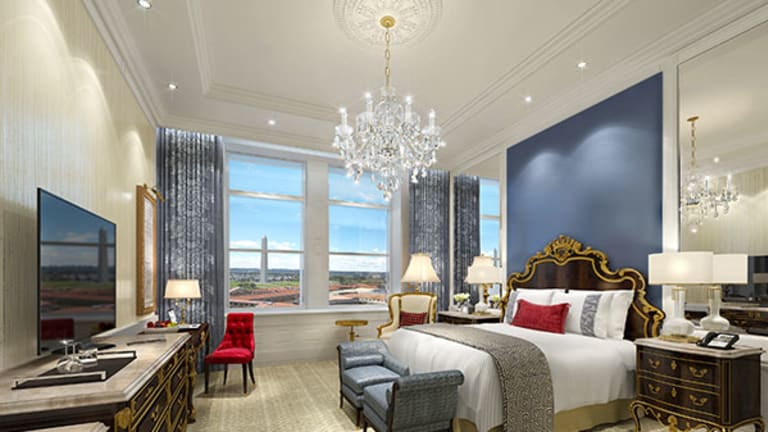 Ivanka's Obsession Gets D.C. Post Office the Trump Hotel Treatment
Trump wins the right to oversee the transformation of a historic post office that wanted to be a luxury hotel.
BOSTON (
) -- The press release reads like
Architectural Digest
, describing design that will be a nod to American's European heritage with references to Romanesque elements.
The building's masculinity and stateliness will be juxtaposed with soft furnishings.
The reinstated entrance off of Pennsylvania Avenue on 11th Street will be a distinctly new architectural composition that includes rich materials such as backlit marble and limited mullion glass.
The building in question?
The
Trump
Hotel Collection's latest project -- Trump International Hotel, The Old Post Office, Washington, D.C., a redevelopment of the iconic Old Post Office building at 1100 Pennsylvania Ave., with construction scheduled to begin in spring and expected to be complete in late 2015.
At a recent press conference, Donald Trump committed to spending $200 million on the historic building's redevelopment to make it one of the finest hotels in the world. That price tag includes 270 guest rooms, a 13,000-square-foot grand ballroom, restaurants, retail shops and spa.
During a recent telephone interview, daughter Ivanka Trump, who is working closely with her father on the project, said there will be no compromises when it comes to creating a truly fabulous, luxe hotel.
Also see: Ritz-Carlton Is Coming to Wherever You (and the Chinese) Want to Be>>
Trump Hotel Collection was awarded the redevelopment project about 18 months ago by the U.S. General Services Administration after an extensive proposal review process.
Ivanka described the proposal process for the coveted project as extremely competitive, if not one of the most competitive in the country.
"This is an incredibly iconic asset, with an unparalleled location in Washington D.C.," Ivanka says. "This is a building that is incredibly beautiful and is very grand and it is in a location and has a layout that affords for the dominant luxury program in the market."
The building, constructed in 1899, lends itself to being turned into a luxury hotel, Ivanka says.
"Everyone saw it as it as a luxury hotel. That's what it really wants to be," she says.
The architect on the project is
Beyer Blinder Belle
. The interior designer working with the Trumps is
Hirsch Bedner Associates
. The project's staff includes historic adviser and preservation specialists
John Cullinane Associates
.
The team is bringing to life a soaring, nine-story atrium, or Cortile, that will serve as hotel lobby and lounge -- no ordinary hotel lobby designed merely to shepherd guests through check-in and checkout, but one where sunlight filters through a soft canopy of trees and onto furnishings of rich jewel tones: deep red, aubergine, sapphire and emerald. There will be a water sculpture and soaring brass and crystal chandeliers.
Also see: Trump Hotels Reach Out to the Vegan Yogis>>
Also part of the building's structure is a 315-foot clock tower housing the official United States Bells of Congress, a bicentennial gift from England celebrating the end of the Revolutionary War.
The guest rooms are to average more than 600 square feet, making them the largest in Washington, D.C., with lofty 14-to-16-foot ceilings, soaring windows, beautiful existing millwork and glittering crystal sconces and chandeliers. The color schemes will be a palette of federal blues, creams and ivories, paired with soft gold and silver accents and punctuated with deep red. The rooms will retain the building's original stately wood doors, wainscoting and detailed wall paneling. Bathrooms will feature six-foot tubs, wood vanities with rich marble tops and polished brass hardware.
Outside the guest rooms are 15-foot-wide corridors with stone floors making up the perimeter of the atrium.
Ivanka is also focused on the $250 million renovation of the Trump National Doral Miami. The 31-year-old expectant mother said loves the creativity involved in such projects.
"Specifically for renovation work, it's much more challenging than working on a building from scratch. You have to work within constraints -- like 16-foot ceilings -- but these are good constraints," she says.
Reflecting on the development process, by now practically part of her family's DNA, Ivanka said she particularly enjoys watching spaces into which she has poured her energy and creativity being used by patrons and owners once they are finished.
"One of the things I love about development is the end result of seeing people living in, enjoying and using spaces you have obsessed over for so long," she says.