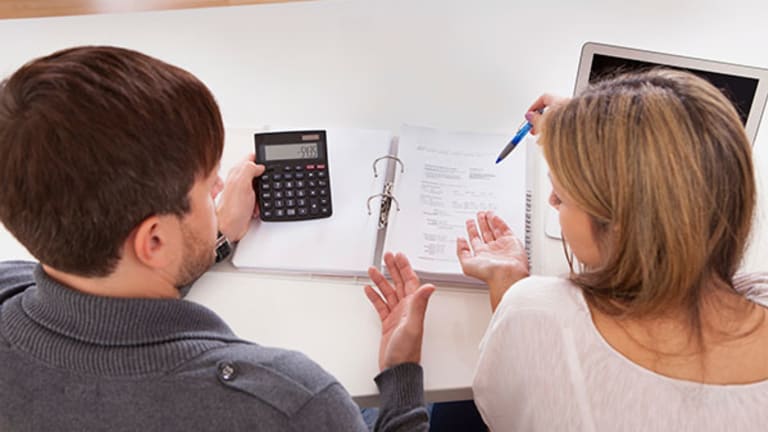 It's Time to Reassess Your Investment Risk Tolerance for 2015
Folks in the U.S. have been playing it safe and frugal with their finances since the recession, but now the world shares their fear.
NEW YORK (MainStreet) – Are you ready to take some risks in 2015? Yeah, nobody else is either.
Tom Elliott, International Investment Strategist at deVere Group, which has 80,000 clients and oversees $10 billion in investments, is advising that investors think long and hard about how much risk they really want to face in the upcoming year. With rising market volatility over the next 12 months as well as regulatory changes, Elliot's thinking about caution may be key.
"Investors who are sensitive to market volatility may need to increase their exposure to defensive sectors and stock markets, because stock market volatility is likely to increase in 2015," he says. "The uncertainty over the ongoing development of the euro project, and Japan's use of massive fiscal and monetary expansion to achieve consistent economic growth, represent existing political risks for investors."
Great. That's just what already cautious and frugal U.S. investors wanted to hear. Baby boomers planning or embarking on their dream retirement already told deVere this year avoiding risk is paramount from this point on. A full 67% view it as their top priority, which is more strongly than any other generation feels about any aspect of investing.
Millennials, however, are also loath to gamble with what little fortune they've amassed. Among millennial investors, 59% marked avoiding risk as their top priority, while 18% are looking to diversify their portfolio to avoid finding their investments locked into another bursting bubble. For previous generations, ages 18 to 30 was the time to take risks and get as much reward as their youthful indiscretions would allow.
Not millennials. Nearly half of the nation's unemployed are between ages 18 and 34. The Center For College Affordability and Productivity reported that nearly half of the college graduates from the class of 2010 are working in jobs that don't require a bachelor's degree. A full 38% have taken gigs that don't even require a high school education. According to The Associated Press, that has dropped the median wage for college graduates significantly since 2000.
That's provided absolutely no motivation for millennials to consider risky investments. Millennials are the most fiscally cautious generation since the Great Depression, with USB Wealth Management Americas noting that 34% of millennials consider themselves conservative or somewhat conservative. The most miserly millennials dedicate 52% of their portfolios to cash, compared with 23% for other investors.
Only 12% of millennials would invest some unexpected extra income in the market, while only 28% see long-term investment as key to success. Keep in mind that according to the Labor Department, the average 25-year-old has already worked 6.3 jobs since he or she turned 18. A Harris survey for the University of Phoenix found that 80% of workers in their 20s say they want to change careers, compared with 64% of 30-somethings and 54% in their 40s. That same survey indicates that the jobs millennials are working now are seen as launching points for jobs in the arts and sciences, technology and health care. A survey of Harvard graduates last year found them not only shunning Wall Street, but gunning for jobs at Google and St. Jude's Children's Hospital with equal fervor.
But it's not as if any generation of U.S. worker is excited about rushing headlong into the market. According to a Gallup survey, a full 43% of workers are afraid they're going to have their benefits cut, down just slightly from 46% in 2009. Another 31% see a pay cut in their future, which is nearly the same as the 32% from four years earlier. Meanwhile, 29% are worried that they'll be laid off, which is a smaller percentage than the 32% in 2009 but still greater than the 26% who feared getting fired in 2010. On top of that, 29% of workers surveyed by Cigna said they would exhaust their resources in a month or less if they left their job for any reason. Pour some external pressure on that — Chinese private-sector debt, a weakening Russian economy, a shifting United Kingdom political landscape, less liquid stock and bond markets resulting from the 2010 Dodd-Frank Act — and it's tough not to advise caution.
"In light of both the pressing geopolitical factors and the changing regulatory landscapes," Elliott says, "it would be prudent for many investors to reassess their risk appetite for 2015 with their independent financial adviser."
With U.S. investors still fairly entrenched in their post-recession bunker mentality, that shouldn't be an issue.
— By Jason Notte for MainStreet
>To contact the writer of this article, click here: Jason Notte.
>To follow the writer on Twitter, go to http://twitter.com/notteham.
>To submit a news tip, send an email to: tips@thestreet.com.
RELATED STORIES:
>>Millennial Investors Care More Than Boomers, Gen X
>>Millennials Don't Want Your Risky Investments