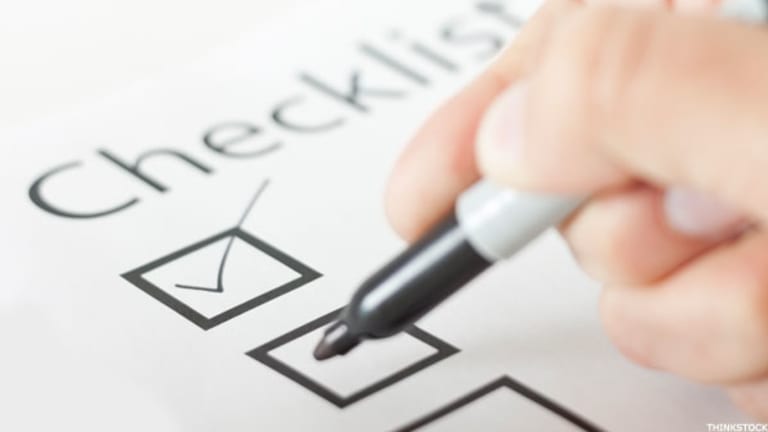 It's Time for Your Midyear Financial Checkup
Here are five key items to look at now that we're midway through 2014.
NEW YORK (TheStreet) -- It's been roughly six months since we made our New Year's resolutions.
With July 1 on the horizon, that means it's time for a six-month checkup -- a list that covers your progress and yearlong financial objectives.
"The best advice is to start right now," says John Piershale, wealth adviser at Piershale Financial Group in Crystal Lake, Ill. "Half the year is up, so make year-end goals realistic and obtainable. When it comes to your retirement, save as much as you can in every possible source."
Once you break out your checklist, Piershale advises focusing on revenue-generating moves that are especially critical at the midpoint of the calendar: 
Also see: 5 Cliches That Will Keep You From Making Money
Also see: 5 Cliches That Will Keep You From Making Money>>
Examining your capital gains. If you are in the 15% income tax bracket or lower, take advantage of the zero percent capital gains rate on appreciated securities. Ask a financial adviser for help if need be, but focus on income projection for the rest of the year.
Studying Roth IRA conversions. There can be real advantages to a Roth IRA conversion, but know the pros and cons first, Piershale advises. Roth IRAs can grow tax free, which can aid in saving more cash over time. Additionally, withdrawals are not mandatory during your lifetime, and Roth IRA assets may pass to heirs tax free.
Harvesting investment losses. If you're in a higher tax bracket with realized capital gains, harvest losses can offset capital gains. "It is not necessary to wait until year-end to do this," Piershale says.
Reviewing withholding from your pay. "Income circumstances can change each year, such as marriage and divorce," he says. "You may need to increase or decrease your allowances accordingly."
Also see: 7 Steps to Better Credit for the 40% Who Don't Understand Their Score
Also see: 7 Steps to Better Credit for the 40% Who Don't Understand Their Score>>
Taking advantage of child care tax credits. The IRS' dependent care credit is worth looking into, Piershale says. If you pay someone to care for your children under age 13 (or a spouse or other dependent) while you work or look for work, you may be eligible for a credit.
"In our practice, midyear reviews help us monitor our clients financial condition," Piershale says. "It's easier to project income out for the remainder of the year and employ tax reduction strategies for our clients."
"For example, if a client has a year where their income for whatever reason is in a lower bracket, there may be an opportunity to realize long-term cap gains at a zero percent rate or do a Roth conversion," he says. "Conversions must be completed by Dec. 31 of the year to be a conversion for that year. But you don't want to wait until December to try to figure these strategies out when everyone else is scrambling, midyear is a good time to look into it."