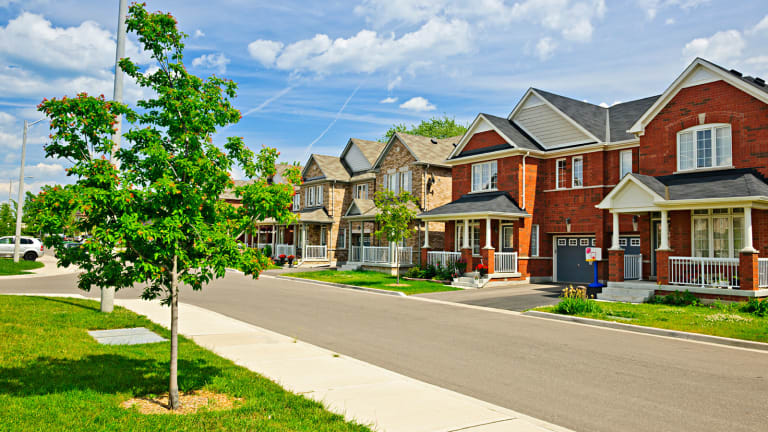 It's No Real Estate Myth: Fall Is The Best Time To Buy A Home
With kids in school, the days getting shorter and every sports team in season, October is the best month on the calendar for those looking to buy a house.
NEW YORK (MainStreet) – When's the best time to buy a house? You're closing in on it, even if there never seems to be an ideal time.
The folks at real-estate data firm RealtyTrac analyzed more than 32 million sales of single-family homes and condos since 2000 and found that buyers have gotten the best deal, on average, in October. Of the 2.7 million sales closed in October over the last 15 years, the average sales price was 2.6% below the average estimated full market value at the time of sale. That should make it a great bet for this year, but some aren't so sure.
"Despite the strong growth in sales since this spring, declining affordability could begin to slowly dampen demand," says Lawrence Yun, chief economist for the National Association of Realtors.. "Realtors in some markets reported slower foot traffic in July in part because of low inventory and concerns about the continued rise in home prices without commensurate income gains."
The median price for an existing home in July was $234,000, or 5.6% higher than it was a year earlier, while housing inventory fell 4.7% over the same span to 2.24 million. That's a 4.8-month supply, with a six-month supply considered normal.
However, the start of the school year, the drop in temperature, the return of rain and the loss of sunlight hours all conspire to make it more difficult for homebuyers to get out and look around this time of year.

"As we enter the rainy winter months in Seattle, things usually start to slow down," said O.B. Jacobi, president of Windermere Real Estate, covering the Seattle market where the best day to buy at a discount is April 1. "But it's not just inclement weather; the days also get significantly shorter, making it challenging for sellers to present their homes in the best possible light. We often advise our sellers to take their homes off the market until spring. On the flip side, we tell our buyers that this can be a very opportune time for them because sellers, who keep their homes on the market through the holidays, are often very motivated to sell. There are also typically fewer buyers in the marketplace, so there is less competition for homes."
For much of the country outside of Seattle, the worst month of the year to close on the purchase of a home is April, when buyers over the last 15 years have purchased at an average premium of 1.2 % above estimated market value at the time of sale. In fact, following October , the best months to buy were February, July, December and January. Out of 109 metro areas analyzed, 37 had their best day to buy in the fall months of September, October and November, and 44 had their best day to buy in the winter months of December, January and February.
But why October, which accounts for three of the top five days to buy at a bargain price? It isn't the coldest or warmest month out there, with the Environmental Protection Agency noting that the average temperature in October among all counties nationwide is 56 degrees. That's sixth highest among all, which puts October firmly in the middle of the pack. RealtyTrac observes, however, that October is the only month where all four major professional sports are in season or at least pre-season. Meanwhile, early February -- which accounts for two of the five lowest-priced days to buy -- is typically Super Bowl territory.
"Historically, winter months are slower and often a more advantageous time for buyers," says Craig King, COO at Chase International brokerage, which covers the Lake Tahoe and Reno, Nevada markets, where the best day to buy is November 25. "Sellers are motivated in October, because many do not want their homes on the market for the holiday season."
But what's the absolute best day to buy a home? Well, RealtyTrac removed all days with fewer than 50,000 sales over the last 15 years (the average among all days was 88,501), which took out New Year's Day, Veteran's Day, July 4, December 24, 25 and 26 and Leap Day, which has fewer sales because it only occurs once every four years.

Of the remaining days, the best day to close on a home purchase at a bargain price was October 8, when on average buyers have purchased 10.8% below estimated market value at the time of the sale. That was followed by November 26 (10.1% below market value), December 31 (9.7% below market value), Octobet 22 (9.6% below market value), and October 15 (9.1% below market value). However, that does vary by market. Notable exceptions include San Diego (August 20), Pittsburgh (March 17), and Cleveland (June 13).
What are the worst days, you ask? It doesn't get worse than January 19, when buyers paid an average 9.6% premium above estimated market value at time of sale. That's followed by February 16 (9.5% premium for those post-Valentines buyers), April 20 (9.5%), April 6 (8.4%) and April 27 (8.2%).
If you're just looking for the best weekday, for buying, you can't go wrong with a Monday. Out of 5.5 million single family home and condo sales over the last 15 years that closed on a Monday, buyers got an average discount of 2.3% below full estimated market value at the time of sale. Friday came in a close second with a 2% average discount. Thursday clocked in with the lowest discount of all at 1%.
While rising interest rates could make sellers even more motivated this year, the lack of first-time buyers in the marketplace could make this a more interesting October than most. The percent share of first-time buyers declined in July for the second consecutive month, falling from 30% in June to 28%, the lowest share since January of this year (also 28%). A year ago, first-time buyers represented 29% of all buyers.

"The fact that first-time buyers represented a lower share of the market compared to a year ago even though sales are considerably higher is indicative of the challenges many young adults continue to face," adds NAR's Yun. "Rising rents and flat wage growth make it difficult for many to save for a downpayment, and the dearth of supply in affordable price ranges is limiting their options."
This article is commentary by an independent contributor. At the time of publication, the author held TK positions in the stocks mentioned.