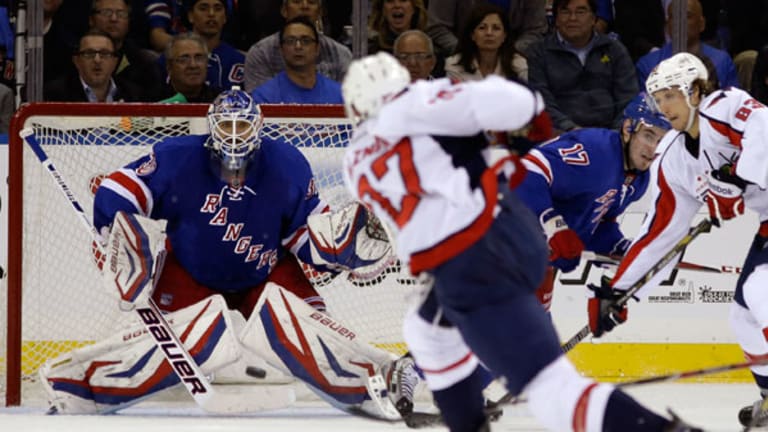 Is The NHL Really Still the No. 4 Sport?
The question must be asked: Is the NHL in any financial or cultural position to call itself a 'major' U.S. sport?
PORTLAND, Ore. (TheStreet) -- The Stanley Cup Playoffs may be enough to remind folks in the sports world that the National Hockey League does, in fact, qualify as a professional sport.
Whether it's still a
major
pro sport or not is up in the air.
In the case of full disclosure, I'll acknowledge that I was raised as a hockey fan. My father pulled 3-year-old me into the living room and plucked a my sister out of her crib to watch the closing seconds of Team USA's "Miracle On Ice" win over the Soviets in the 1980 Winter Olympics. Four years later, I'd be handed one of my dad's season tickets and would watch my first hockey game -- the New York Rangers vs. the Detroit Red Wings -- from Madison Square Garden's infamous and long-gone Blue Seats. I spent half of my prom ducking into the kitchen on the Spirit of New Jersey to check the score of Mark Messier's guaranteed Game 6 win over the New Jersey Devils and began my last summer before college watching Messier, Brian Leetch, Mike Richter and Alexi Kovalev parade down the Canyon of Heroes after ending a 54-year Stanley Cup dry spell.
The season that came after all that Lower Manhattan ticker tape was swept up was the beginning of the NHL's downward spiral. Gary Bettman was named the league's first commissioner in 1993 and, by 1994, it would have its first player lockout. That cost the league 104 days of its season, shrank the schedule from 84 to 48 games and canceled the first of the
2,100 games
that would be lost during Bettman's tenure. The league lost television contracts with
Fox
(NWS) - Get News Corporation Class B Report
and
ESPN
and moved franchises from strong hockey towns such as Winnipeg, Quebec City and Minneapolis/St. Paul to Phoenix, Denver and Dallas.
It lost an entire season thanks to a lockout in 2004 and 2005 -- the first time the league didn't award a team the Stanley Cup -- and, having seemingly learned nothing, threw away half of this last season and a slam-dunk New Year's outdoor game between the Detroit Red Wings and Toronto Maple Leafs at Michigan Stadium because of another labor dispute.
The Globe and Mail
says the last lockout did damage
but, at this point, what more damage can be done?
The NHL is a pro-sports afterthought that
ESPN
begrudgingly acknowledges and that little more than a masochistic niche of die-hards miss when it's gone. Its $3.3 billion in annual revenue is an absolute joke compared with the nearly $10 billion amassed by the NFL and roughly $8 billion brought in by Major League Baseball. When
AskMen
listed its
most profitable sports leagues
a few years back, not only was the NHL not there, but the site felt it had to explain that the NHL lagged so far behind the other organizations on the list that it didn't merit inclusion.
That's because, as
Forbes
noted before the lockout -- the NHL's fourth work stoppage in the past 20 years -- the league has only about five teams that
. The Toronto Maple Leafs, New York Rangers, Montreal Canadiens, Vancouver Canucks and Edmonton Oilers combined to make $212 million during the 2010-11 season; the other 25 teams lost $86 million that same season.
So what keeps the NHL up in that Big Four with Major League Baseball, the NFL and the NBA? Part of it is that people keep watching. Back in 2011, the NHL signed a 10-year, $2 billion deal with
NBC
that, while lagging behind other television sports packages, gives the NHL steady television revenue that hasn't exactly been a given throughout its existence.
As it turns out, high-definition and the
NHL Center Ice
out-of-town games package has done what Fox's robots,
couldn't -- and made hockey a great television sport. Ratings for the early rounds of the Stanley Cup Playoffs have been down from last year and are still getting crushed almost 5-to-1 by the second round of the NBA Playoffs, but have been on par with or better than Major League Baseball and professional golf. In core markets such as New York and Minnesota, however, ratings have been huge, with the wild's opening-round matchup with the Chicago Blackhawks
in Minneapolis/St. Paul.
If the NHL had actually learned zero lessons from its lockouts and from the Bettman era in general, that wouldn't be happening. Instead, the league has decided to embrace the cold-weather markets that love it and cozy up to the warm-weather markets that have caught on, giving casual fans in each the thing they've found most exciting about the NHL in recent years: outdoor games. After a stretch of New Year's Day Winter Classics in Buffalo, Chicago, Pittsburgh and Boston, the NHL is not only making up its scratched Red Wings-Leafs game in Ann Arbor, but has scheduled a game between the Blackhawks and Penguins at Chicago's Soldier Field and another between the Anaheim Ducks and reigning Stanley Cup champion Los Angeles Kings at Dodger Stadium in one of the few warm-weather markets where hockey has actually taken off.
After years of insisting on a Southern expansion strategy that paid dividends in places such as San Jose and Dallas but is still on shaky ground in Phoenix, Florida and Nashville, the NHL's also learned to recognize where it's wanted and where it can't afford to gamble. The league's second foray into Atlanta in 1999 ended in 2011 when the struggling Thrashers were sold to a Canadian group that brought them to Winnipeg and revived the long-dormant Jets. In Quebec City, ground has been broken on an 18,500-seat arena being built with the sole purpose of housing one of the league's floundering U.S. franchises. As with the Winnipeg example, the league seems likely to cut its losses and tap a seemingly bottomless Canadian fan base.
Even without those casual fans and open-armed Canadians, North America's No. 4 sport isn't so far removed from No. 3 as it seems. The NBA generates $4.1 billion dollars a year in revenue but has a relatively low profit of just more than $180 million dollars a year. The NHL's $3.3 billion in revenue and $160 million average profit looks puny compared with the NFL ($10 billion in revenue, $1 billion profit) and MLB ($8 billion revenue, $500 million profit), but it's still within striking distance of Kobe, LeBron and company. That's despite charging an average of $62 per ticket to the NBA's $51.
That the league's labor troubles, questionable expansion and relative media anonymity haven't killed it outright is a testament to both the game and the generations of fans who've grown to love it. That it's still considered a major sport after all is, like icing and the varied length of line shifts, a bit harder to explain.
-- Written by Jason Notte in Portland, Ore.
>To contact the writer of this article, click here:
Jason Notte
.
>To follow the writer on Twitter, go to
.
>To submit a news tip, send an email to:
.
RELATED STORIES:
>>How Tapping The Jewish Beer Market Begat A Plan
>>Sierra Nevada CEO Makes East Coast Beer Run
>>Craft Brew Founder Widmer Savors Results
Jason Notte is a reporter for TheStreet. His writing has appeared in The New York Times, The Huffington Post, Esquire.com, Time Out New York, the Boston Herald, the Boston Phoenix, the Metro newspaper and the Colorado Springs Independent. He previously served as the political and global affairs editor for Metro U.S., layout editor for Boston Now, assistant news editor for the Herald News of West Paterson, N.J., editor of Go Out! Magazine in Hoboken, N.J., and copy editor and lifestyle editor at the Jersey Journal in Jersey City, N.J.