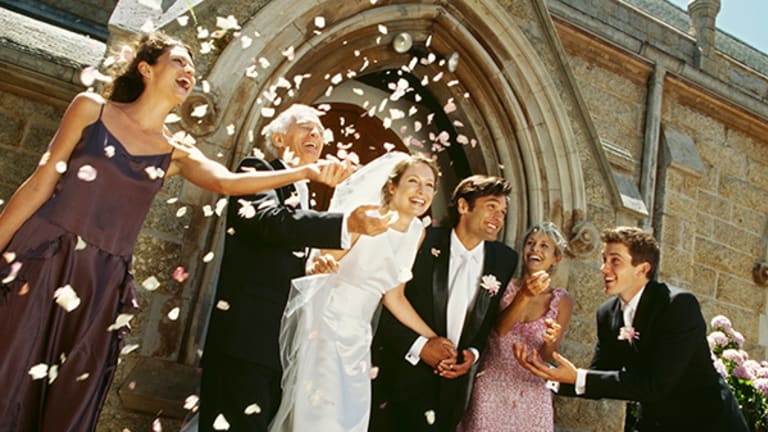 How the Fed Makes It Tough for Millennials to Get Married
The Fed's interest rate policy may be keeping some Millennials from getting married -- by making it harder to save money for a down payment on a new home.
Updated from Oct. 22.
The chime of wedding bells is becoming rarer and rarer, and it may be the Federal Reserve's fault.
While many young couples choose to get married solely for love, the cost of acquiring a family home can cool their passion, according to a recent study. The effect is a depressing one.
"A higher housing-cost burden in a county is associated with a lower marriage rate," according to a paper from the Eastern Economic Journal titled "Bricks, Mortar and Wedding Bells: Does the Cost of Housing Affect the Marriage Rate in the U.S.?"
"When the costs of being married (that include the burden of housing costs) increase relative to being single, individuals are less likely to marry," the report continues. The housing cost burden includes the price of homes, the cost of borrowing and per-capita income.
Or put more simply, if you can't afford a nest for your intended family, then it's less likely that you'll get hitched.
The results, which the authors say are statistically significant, come from a study of almost 86,000 data points from 1970 to 1999, covering 2,450 counties in 42 states. 
More recent data seems to play out as the study predicts, with housing prices vastly outpacing wages, and marriage rates dropping precipitously.
A March research study from the U.S. Census Bureau found that almost two-thirds of young men had never been married, based on an analysis of data from 2008 through 2012.
For men aged 25 to 29, "the proportion never married grew about 14 percentage points, from 49% in 1996 to 63%" in the period studied, the report states. "For women aged 25 to 29, those never married increased from 35% to 52%."
So basically, Millennials -- the biggest generation in U.S. history, with a population of about 92 million -- are shying away from the altar.

Perhaps it shouldn't be surprising, given that the cost of housing between 1996 and 2012 jumped more than 60% while U.S. per capita income grew only 34%, according to data from the Federal Housing Finance Agency and the St. Louis Fed, respectively.
Housing prices, ironically, are where the Fed comes in. While the central bank's decision to keep rates low for the past seven years makes mortgage payments cheaper, it makes saving money for a down payment tougher.
If that's not enough of a challenge, low interest rates create a more convoluted problem, too: They allow people to buy a more expensive house for roughly the same monthly payment they would make on a cheaper one if rates were higher.
For instance, $1,610 is enough to pay for a $300,000 mortgage at 5%, but when the cost of borrowing drops to 3%, you can pay the same $1,610 for a mortgage of $382,000. 
Or, put another way, you can borrow 27% more for the same monthly housing cost.
That phenomenon has been great for housing stocks, like those in the  SPDR S&P Homebuilders (XHB) - Get SPDR S&P Homebuilders ETF Report exchange-traded fund, which has vastly outpaced the S&P 500 and the SPDR S&P 500 (SPY) - Get SPDR S&P 500 ETF Trust Report , which tracks that index, over the past five years.
Why is that a problem? Once again, it's the down payment.
Basically, when borrowing costs are low, people just bid up the price of houses based on what they can afford monthly. Most Americans seem to view a housing cost in the same way that they view a utility bill -- it's a monthly expense.
And if, using the example above, you pay 27% more for the same house because interest costs are low, then you also need a down payment that's 27% larger.
For any millennial couple struggling with student debt and stagnant wages, that could be what stands between them and married bliss.
This article is commentary by an independent contributor. At the time of publication, the author held no positions in the stocks mentioned.