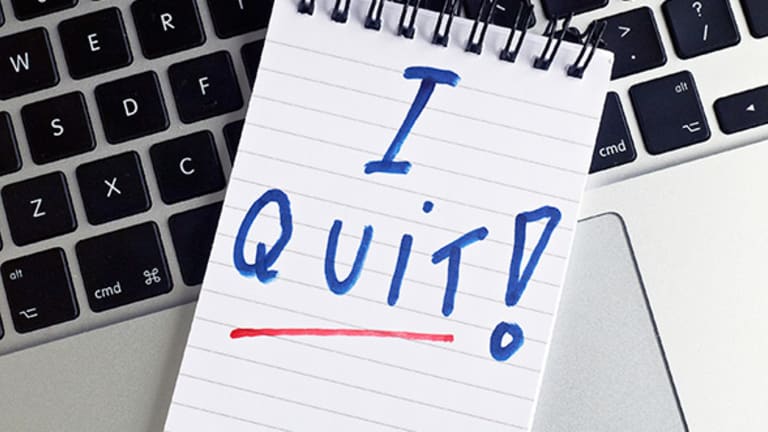 Is Now the Time to Quit Your Job?
Prime warning signs to tell if you are a candidate for quitting.
NEW YORK (MainStreet) — In the recent economic downturn we were all stuck in bad jobs, like roaches in the glue of a roach motel. But listen up - present stock market turmoil aside - we are in a buoyant economy. Jobs are plentiful. Ask yourself this blunt question: is it time to quit?
Experts are quick to offer positive signs that indeed it may be time.
But first feast on the numbers from employment law firm Littler Mendelson's 2015 Executive Employer Survey. Here's the money question. How many unhappy workers are staying in jobs just because they have been unable to find other work? According to the bosses, 85% of supervisors said they had a problem with unhappy workersrefusing to budge because of the constipated job market in 2012. That fell to 79% in 2013, to 66% in 2014 and to 43% in 2015.
Two take-aways: bosses still believe there are unhappy campers in their midst, but two times more thought that way just three years ago.
Mind you, don't view quitting as losing. It's often the very smartest move. You are your business. Run your career as a business. That may mean cutting loose a dead-end, negative employment situation.
Are you in fact prime for quitting? Here are the loud warning bells.

*You're bored, said Washington, D.C. career coach Cheryl Palmer. You just don't want to get up in the morning - and you really cannot wait for the quitting bell to end the day? Call this classic prodding to get looking for greener pastures. Like now.
Added David Silverstein, founding partner of HR Search Partners in New York: "If your heart sinks each time you walk into the office, then you know it's time to move on. We all have our good and bad days at work, but you shouldn't dread going into work each and every morning."
*You don't have a good friend at work, said Karen Chontofalsky, a St. Louis career coach. She added: "A close friendship at work is a good sign of engagement where you work." You're the proverbial square peg, and you just have zero people to hang with? Maybe you just don't belong.
*"There are no opportunities to develop professionally," said career coach Lynda Spiegel. If the job is not helping you get better - smarter - at what you do, probably you are in actual fact falling behind. A job that does not help an employee grow is a death trap. That's a powerful sign to hunt for the exit.
*Another sign - pointed to by multiple career coaches: when the plum assignments always go to others. No, you can't expect to get all the trips to Paris - or all the client dinners at David Chang's Momofuku Ko - but if absolutely nothing is coming your way but others are getting the sweet deals, it may be a sign that you just are not truly valued.

*The bosses are only looking out for number one, said Arvin Sahakian, a vice president at alternative lender BeSmartee. He elaborated: "The primary indicator that it's time to leave ties into upper management. If these folks start dropping the ball or become too concerned with their own interests over that of the company or the employees that depend on them, it's time to polish up that resume."
* "Your boss slowly but surely starts providing you with less work and less responsibility," said long-time resume consultant Joe Flanagan. He explained: "At first, this may seem great, but it soon dawns on a lot of employees that when this happens, the boss has already decided the employee is not the best fit for the company."
That last sign was prelude. Here's the motivator that just cannot be ignored: signs are plentiful that your job is at risk, said coach Debra Benton. She ticked off a few flagrant signs: "You sense disregard for your authority by those above, below and around you. The number of people who report to you is significantly reduced; budgets are cut. You experience notable indignities, such as being ignored in meetings, being left out of the loop on key decisions or being omitted from the circulation lists for important emails."

Is any of that you? If the boss is sharpening his knife, you want to make your move first.
Bottom-line: Bad jobs - at least jobs that fit badly no longer need to be suffered. Cut yourself free. It's better for you and better for the company.
This article is commentary by an independent contributor. At the time of publication, the author held TK positions in the stocks mentioned.