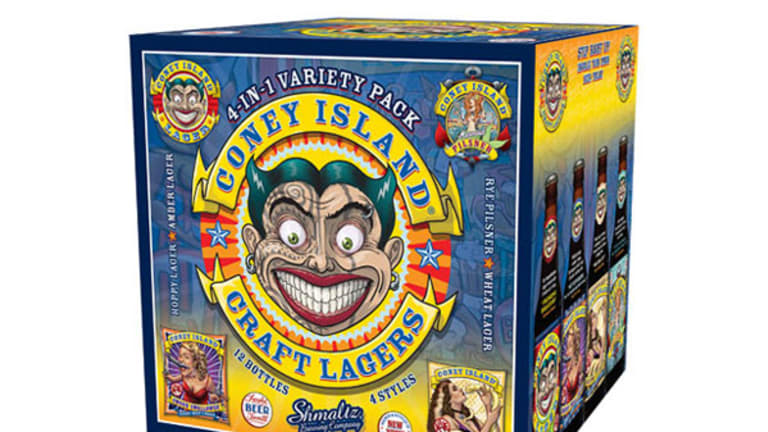 Is It Still A Craft Beer After the Brewery Sells?
The lines between 'craft' and 'crafty' are way too blurred to make out, and they're not getting any clearer.
PORTLAND, Ore. (TheStreet) -- So you've been drinking beer from small breweries for a while and think you have the whole "craft" thing down. You're shopping from fridges on the opposite end of the supermarket's beer aisle and pulling brands with funky labels and are checking the tap handles at the local pub and steering away from ones that look too shiny and familiar.
Great. Now consider the following test question before you fill another straight-sided pint glass with something you think exists on a completely different plane than those beers you see on ballpark billboards.
There are two beer brands: Brand A opened its brewery in 1988, became associated with an entire metropolitan area and had people line up for hours just to buy a bottle of one of its special-edition beers. Brand B was launched only five years ago, never had its own brewer and became entwined with an iconic location in one of the largest cities in the U.S. despite never producing a drop of beer there. Within the past two years, both sold to large, publicly traded brewers that produce millions of barrels of their own products under various names, but are best known for their all-American image and flagship lagers.
Which of those recently acquired breweries is still "craft"?
If you went with the first one because it's old and produced some fancypants beer that people felt the need to queue up for, you'll never make it as a beer snob. That first brand is Goose Island and was made by the Hall family at their Fulton Street Brewery for 23 years. Its 312 Urban Wheat Ale was tagged with Chicago's area code and its Bourbon County Stout Russian imperial had just about every beer lover in the Chicagoland area getting a ticket and lining up at Binny's and elsewhere each fall just to get a taste.
In 2011, though, the Halls sold the Goose Island brand to
Anheuser-Busch InBev
(BUD) - Get Anheuser-Busch InBev SA/NV Sponsored ADR Report
for nearly $39 million. The brand still produces fewer than 150,000 barrels a year -- a drop in the keg compared with A-B's nearly 100 million barrels annually -- but Goose Island's 312, Honker's ale and India Pale Ale are all produced outside of Chicago at A-B facilities in Fort Collins, Colo., and Baldwinsville, N.Y.
This year, the Brewers Association small brewers advocacy group played bouncer and kicked Goose Island out of the "craft" club by calling out its big-brewer ownership on a
list.
Also see: Craft Beer Brouhaha Reaches a Head>>
That second brand, however, only recently became "craft," and only because it married into the family. Shmaltz brewery founder Jeremy Cowan certainly considered his Coney Island Craft Lagers line on the right side of "Craft vs. Crafty" when he launched it in 2007. Proceeds from its flagship lager, Mermaid Pilsner, Sword Swallower, Albino Python and Human Blockhead all went to a nonprofit group to preserve Coney Island's freak shows and attractions. In some cases, the artwork featured some of the performers themselves.
Unfortunately for Cowan and the Coney Island line, the beers were being produced by Uklah, Calif.-based Mendocino Brewing from its facility in Saratoga Springs, N.Y. Though Mendocino was founded in 1983 using the equipment from small-brewing pioneer Jack McAuliffe's New Albion brewery, the Brewers Association points out that not only is 70% of Mendocino owned by India-based megabrewer UB Group; UB uses much of its Saratoga Springs operation to produce its corn-and-rice filled Kingfisher adjunct lagers here in the U.S.
Though Cowan opened a brewery specifically for Shmaltz beers in Clifton Park, N.Y., this year, Coney Island lager wasn't destined to be a big part of that brewery's plans. Back in August,
Boston Beer's
(SAM) - Get Boston Beer Company, Inc. Class A Report
Burlington, Vt.-based subsidiary
Alchemy & Science
announced that it had acquired all rights to the Coney Island craft beer brands. Alan Newman, the president of Alchemy & Science and co-founder of Magic Hat Brewing, told
that conversations about acquiring Coney Island began with Cowan as early as last year.
"It started over a T-shirt," he said. "I called Jeremy because
A&S co-founder Stacey
Steinmetz, wanted to get her dad a Father's Day gift. Somehow the conversation got morphed."
Coney Island was just the latest acquisition for Alchemy & Science. In early 2012, it bought out Southern California Brewing -- home of the Angel City brand -- and announced its intention to sell and distribute that brand's beer. Both Angel City and Coney Island's founders will stay on for a couple of years to guide the transition while also making those beers at their current facilities.
Newman started as a craft brewer, but the brewing operations he's established haven't exactly been afraid of megabrewer-style mergers and acquisitions. Back in 2008, Magic Hat and its parent company Independent Brewers United bought out Seattle-based Pyramid Brewers. Two years later, Magic Hat itself was bought by North American Brewers -- a brewery-buying parent corporation run by
KPS Capital Partners
.
Newman's current work with Boston Beer comes as the Samuel Adams brewer tries to elbow its way to more room on the beer shelves and add to a tap list that already includes its Twisted Tea brands of malt beverages and the Angry Orchard line of ciders. In 2012, Boston Beer moved more than 2.7 million barrels of its various products, which outpaces the 2.58 million barrels Guinness and Red Stripe importer
Diageo
(DEO) - Get Diageo plc Sponsored ADR Report
shipped last year.
Also see: 10 Fastest-Growing Craft Breweries In the U.S.>>
So the test answer has to be "none of the above," right? Goose Island was dismissed because it was bought by A-B. North American Brewers didn't pass the sniff test because it included the Genesee and Labatt brands and was picked up by a Costa Rican company. Jacob Leinenkugel brewing is considered "non-craft" after being sold to SABMiller in 1988, despite the
considering Leinenkugel beers and other brands held by SABMiller/
MolsonCoors
(TAP) - Get Molson Coors Brewing Company Class B (TAP) Report
joint venture MillerCoors' Tenth & Blake division "craft." That must mean that Coney Island's purchase by mass-producing, brewery-swallowing Boston Beer and its Alchemy & Science wing -- which is also producing a line of drinks to combat Leinenkugel's popular Shandy series -- must make it non-craft, right?
Sorry, newb, but that's just not how "craft" beer works. The beer geek's definition of craft beer is much like former Supreme Court Justice Potter Stewart's definition of hard-core porn: They know it when they see it. Until pending tax legislation throws all of these brewers into
based on production, "craft" means whatever a person holding a beer glass wants it to mean.
For the Brewers Association, it means
changing its production limit for craft brewers
from 2 million barrels to 6 million to accommodate Boston Beer. That accommodation makes newly acquired Coney Island Craft Lagers "craft" by association, regardless of where they're made this year or five years from now.
Purists will argue that Boston Beer is still infinitesimally smaller than its competitors at A-B and MillerCoors and that acquisitions such as those of Angel City and Coney Island just keep those craft labels alive. The folks at Goose Island, meanwhile, argue that the A-B acquisition
in similar fashion while retaining the beer's character and quality, if not its home brewery.
Each side has a point, but acquisitions don't do a whole lot to bolster the independent spirit of the brand being bought. If anything, it just makes beer geeks question who's running the show and messing with the formula. The casual beer drinker, meanwhile, sees just about no difference at the taps or beer cooler: They just see different brands and beers to try.
That gets all the small brewers' beards and plaid in a twist when drinkers pick a Goose Island, Leinenkugel or other macrobrew-owned brand over their own. Whether they'll get similarly mad when a brewer they view as one of their own buys up brands and eats up their shelf and tap space is another story. Until then, we're sorry: "None of the above" won't get you any craft credit.

-- Written by Jason Notte in Portland, Ore.
>To contact the writer of this article, click here:
Jason Notte
.
>To follow the writer on Twitter, go to
.
>To submit a news tip, send an email to:
.
RELATED STORIES:
>>Craft Beer Brouhaha Reaches A Head
>>10 Cheapest Beers In The NFL
>>Is All That Halloween Candy And Pumpkin Beer Going To Keep?
Jason Notte is a reporter for TheStreet. His writing has appeared in The New York Times, The Huffington Post, Esquire.com, Time Out New York, the Boston Herald, the Boston Phoenix, the Metro newspaper and the Colorado Springs Independent. He previously served as the political and global affairs editor for Metro U.S., layout editor for Boston Now, assistant news editor for the Herald News of West Paterson, N.J., editor of Go Out! Magazine in Hoboken, N.J., and copy editor and lifestyle editor at the Jersey Journal in Jersey City, N.J.